Interview with Lukas Weis





He is one of the best german Freestyle MX riders. He won the German FMX Championship 2004 and placed 5th in the FIM IFMXF Freestyle MX Championship 2007. His roots are in MX racing, that's why he has great bike skills and won the German ADAC Supercross-Cup 125ccm 2004. We are talking about Lukas Weis, which is a member of the german Wrecking Crew in the southern part of Germany. We talked with Lukas about his former Racing times and his success in FMX 2007.

First of all, tell the guys out there some basics about you - where do you come from, how old are you and what is your mission?
Hi, my name is Lukas Weis, I'm 25 years old, I am living close to Munich/Germany and I love to ride FMX.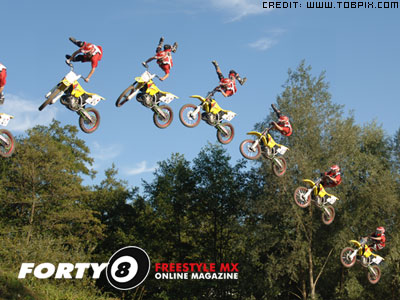 When and how did you start riding dirtbikes? I started 1987 to ride Moto Cross because my father was riding and my best friend Andi Vogl (he was two times German MX Champion 80cc) had a 50cc. So I was trying the bike and I was infected with the MX virus. I told my father after: "Please buy me a bike!" So it was my father and my best friend, which died 1996 at a car accident. That was really hard for me, but he is every time a big motivation for me if I think how we start to ride in former times.

You are one of the greatest Whippers and the people gave you the nickname Whipmaster. Do you like this Oldschool trick and why?
Yes, of course I love this trick, that is the first trick, what I have ever done and I like the feeling, when your head is upside down and the people going every time crazy when you do this trick. That's awesome!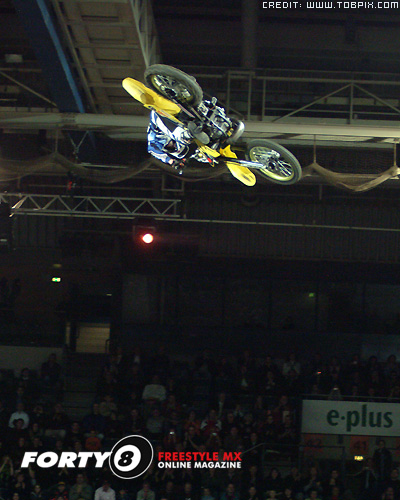 You were a great Supercross Racer and won the SX2 Series in Germany a few years ago. Are you still riding SX sometimes or are you only focused on FMX? I am riding SX just for fun and practising, because I am completely focused on FMX now. The skill level in the FMX scene is so high, that you can do only one thing. I decided to ride FMX professional. And if you want to be in the top 5, you have to practise so hard.

Tell us something about your FMX training compound. How many ramps and stuff to play do you have and what kind of setup?

I have just one ramp and one landing but they are 45 min from my house. I ride the most time with my wrecking crew buddies at the wrecking crew compound in Berkheim. We have there one massive big landing and three ramps and also I gonna ride a lot at Hannes Ackermanns compound- He has one Landing and four ramps and a foampit. I was learning there my Backflips, so big thanks to Hannes and his Family and his friends! They helped me every time out of the foampit.

Do you like Freeriding and do you have some locations to do that? Freeriding is cool but it's so hard to do it in Germany. Yes, I have some locations, but they are secret. If to much people would know it, we would get problems with the police.

What do you think about death of the 2-stroke bikes? Would also ride a 4-stroke in FMX? I don't know maybe. No, I like the 4 Strokes but more to ride on a MX Track and it will be hard to change to the 4 Stroke for FMX, but nothing is impossible!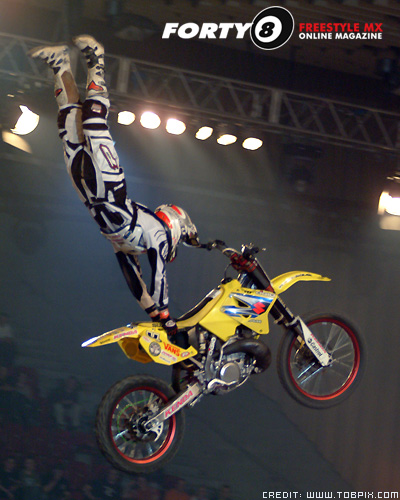 How do you prepare yourself during the cold wintertime in Germany?
I gonna relax a little bit in the wintertime from the stressful long season. After that I ride to Italy and Spain to prepare for the new season.

You ended up are 5th overall in the IFMXF World Championship ranking. What did you exactly do, that you are in the top 5 now?
I was practising this year harder then ever before and normally I'm the safety guy, but I was risking this year a way more than ever and rode really constant. That's why I was ending 5th overall. I'm really happy and wanna thank Marco Bleiker and my Team M-Style, Suzuki Frankonia, Vans, Pro Grip, Utopia, Mefo Sport, Kenda Tires, Polisport and Muddox Tattoo Studio to support me and stand behind me.
What are your plans for the future regarding new tricks and contests?
Now I wanna start with all the Flip Combos and I ride all IFMXF Events this year. I also have planned to ride the Freestyle.ch. My goal for the future is to ride at the X Fighters and I wanna ride in the USA.

In which direction will the new tricks are going and do you like stuff like Wallrides etc? Yeah I like Wallrides and Quarter-pipes and stuff like that. Its hard to say what tricks are coming but I think that's some body-varials and maybe the frontflip...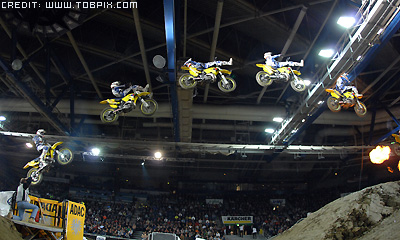 What are you doing beside FMX in your freetime?
I'm playing tennis sometimes and I love my playstation. When I have freetime I like to stay at my Girlfriends parents house and relax with her family and friends!

Okay, now our classical word association. Give me the first word that pops into your head:


Dirt or Ramp: both
USA or Europe: at the moment Europe
Website: www.Lukasweis.de
4-stroke or 2-stroke: 4 Stroke for the track, 2 Stroke for FMX
X Games or X Fighters: X Games
Tattoos: I love it!
50s : Fun
Soccer: sucks
Movies: 8 Mile
Music: Hip Hop
Travelling: fun but stressful

Right on, thanks Skywalker!
Win these Vans and Utopia products!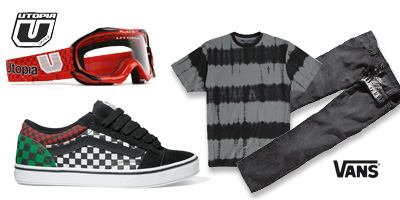 You only need to answer the following question:



When did Lukas Weis win the German FMX Championship?
Deadline of this game was:

March, 31st, 2008

The winners are:
Tim Kerling, Altenkunstadt
Sven Lorenz, Schwedt