Interview with Ilkka Salo


It's more than 3 ½ years ago when we talked to each other during the Lazy Troop interview 2004. A lot of things were happening in FMX. The flip is already a standard trick and some crazy guys were doing double flips … and Kyle Loza is going wild with his new Electric Death. What do you think about the fast progression of FMX?
It s been crazy the last years! It The sport has changed a lot and it involves a lot of work nowadays. But if you still want to be part of it you just have to work hard. We have changed our beer bottles into running shoes ( so we can run faster to the bar !) and all we try is to stick to a certain level.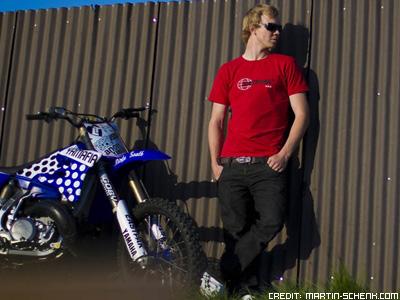 Maybe some guys out there reading this do not know you. Tell us something about you - where do you come from - how old are you - when and how did you start riding dirt bikes and what is your mission?
So I m basically from Finland and lived a lot around europe. I ve moved about 20 times I think, its been hard but now that I look back it s been a great experience. I know a lot of cultures and languages. I finished my finance degree in 2004 since that I m riding my bike. I m 25 years old and I started riding MX when I was 8 as a hobby and from skateboarding and Motocross I came to FMX. And riding my bike is just something I love.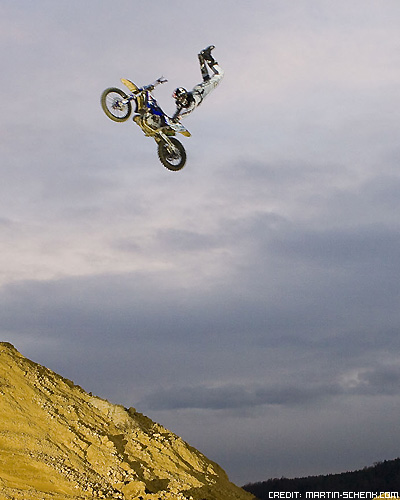 Currently you are hanging around with Martin "Muph" Schenk. What were you doing the last weeks and what are your plans regarding new tricks and contests?
I suffered from a broken ankle ( may 07) and its only now that I feel pretty confident with my foot. I still have 8 screws and a plate so I have to watch out a little. I came down from Finland beginning of march and have been travelling around and riding couple shows with the "Schneck". I was in Marseille riding with the Lazytroop and also at Remis place in Bordeaux where I ve been working on the longflip. All my tricks are back but I still need some practice before hitting a contest.
What about the Lazy Troop – is the crew still alive and are you still a member of it?


Lazytroop is a big "familia" you don t become a member and you don t get kicked out... Lazytroop is like a bad mosquito buzzing around your head, it s a lifetime disease. We organise weird parties, eat huge pizzas, have our own language… and sometimes we ride our bikes. This year it s the 10 th anniversary of the Lazytroop!



You are coming from Finland – right? But where do you live actually?


Yep I m from Finland but I really don t know where I m living. I d say Helsinki because that s where all my bills arrive. Time will tell where I ll be next...

Do you like Free-riding and do you have some locations to do that?
Freeriding is really something I d like to do more. Unfortunately its not everywhere you can do it. I had a lot of fun in South west of France last fall ... there's a freeride park with a lots of dirt lips. It s an awesome place…

Tell us something about your FMX training compound. How many ramps and stuff to play do you have and what kind of setup?
The Famous Lazy compound is now dead. So we had to rebuild a new place. Right now our compound is10 meters away from the Lazy Garage which is perfect. We have about 4 ramps but only one landing at the moment . We have a mini track, we are also building a small sx track next to the park. Oh and we have a watering system !
And of course our garage is pretty cool, we make stickers, build mini choppers.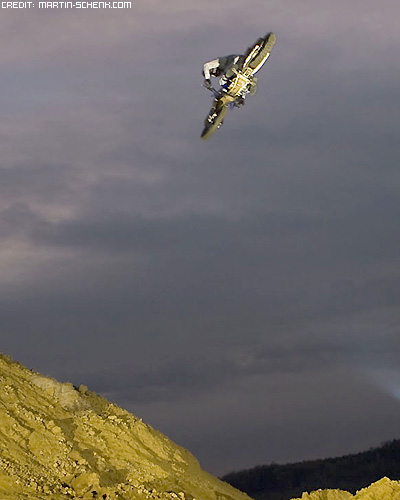 What do you think about death of the 2-stroke bikes? Would also ride a 4-stroke in FMX?
2 strokes are dying and it s sad. If the 2 strokes had followed the same evolution then the 4 strokes these last years we would ride with super cool bikes. I never rode on a 4 stroke but I suppose I ll be sitting on one of them very soon.

Some riders are discussing about learning flips and new tricks with a foam pit or not – what do you think about it?
Foam pits are great ! It's a good risk management option ! No one wants to break his bones... And if you want to learn a one footer look back into foam then go for it if you feel like it !!! As long as you stick it to dirt !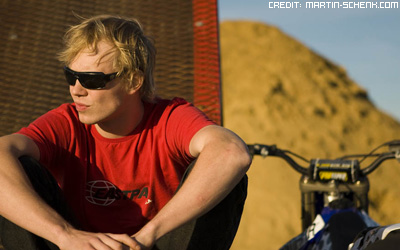 In which direction will the new tricks are going and do you like stuff like Wallrides etc?
I m really wondering what tricks will appear next. Many riders are doing my trick bag but upside down. So what s next ? A frontflip cliffhanger ? Yeah right that's what I m gonna try! ;-)) All the new setups are pretty cool. Wallrides are nice and I d really like to try a quarterpipe someday.

What are you doing beside FMX in your freetime?
I ride my daily 1000km in my car because I need it, listen to music because it s loud, work on the computer because it s safe, fishing because it s cool , look at girls because it sharpens my vision, sauna because it s relaxing , drink finnish milk because it s just so good.
Okay, now our classical word association. Give me the first word that pops into your head:

Dirt or Ramp: Ramp to dirt landing
USA or Europe: Europe for sure ! Bigger doesn't mean better …
Website: www.lazytroop.com
4-stroke or 2-stroke: 2 stroke
X Games or X Fighters: X fighters
Tattoos: some very nice some very ugly
50's : I'm way too big to ride them
Soccer: No comment
Movies: Dikkenek is the one that pops into my mind...
Music: oldschool hip hop, some minimalist electro , rock, and the scarface soundtrack
Travelling: I like it ! I ve eaten the sandwiches from almost every gas station ...
Right on, thanks Ilkka!


Support us: Like and Share it!

Video of the month

Facebook /FORTY8Mag

Partner