Interview with Takayuki Higasino



He is one of the newcomers of the global FMX scene. Last year he came over to the USA and showed a really good performance at the DEW Tour, LG Games doing killer tricks like Seatgrab Indy Flips, Holygrabs etc. 2008 he got invited to ride the ESPN's Navy Moto X World Championships finishing 9th in freestyle. The 23 years old Japanese is riding for Metal Mulisha and definetely one of the top guns - watch out for this kid! We talked with Taka about his time in the USA and his plans in Freestyle MX...

First of all, tell the guys out there some basics about you - where do you come from, how old are you and what is your mission?
I come from Osaka/Japan and I'm 23 years old. My mission is coming to America to steal all their women ;-)


When and how did you start riding dirtbikes and when did you start with FMX? I started to ride MX when I was 8 years. In the age of 18 I started to ride fmx only.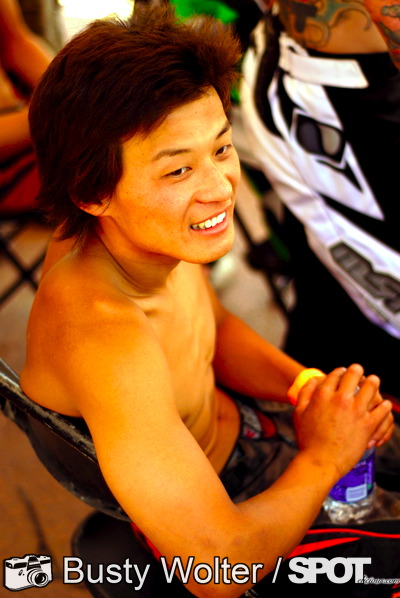 You went to the USA and last year you had great success at the DEW Tour. Tell us something about your experience in the US and how do you feel after such a successful season?
I like the USA. It is really different and you can't compare it with Japan. The people here are great and always in good mood. I had a hard time to find good Japanese food :-/


Are you a member of the Metal Mulisha and what kind of support do you get? On my 22nd birthday I went to Deegans for the first time and Deegan asked me if I wanted to join the Mulisha. I was so stoked to be asked. It was always one of my dreams to ride for the Mulisha. Now I get a lot of support from Twich, Potter, Faisst, Lusk, Susan, Deegan and everyone in the team. I live at Twitch's place, which is so good. Thank you so much to Twitch and Susan.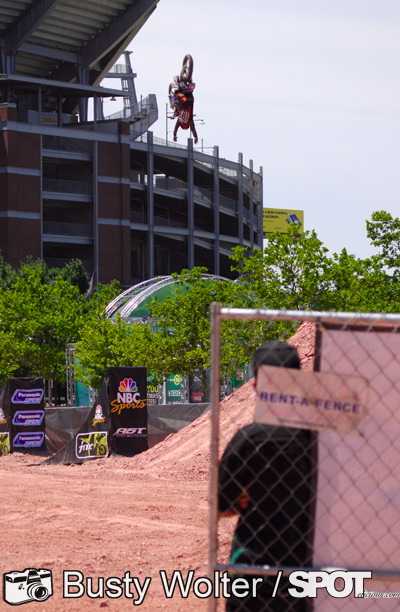 Tell us something about your FMX compound. How many ramps and stuff to play do you have and what kind of setup?
I have an indoor MotoX course and one 75 ramp to dirt lander.

What are your plans for the future?
My plan is to get a green card to stay in the US. I also want to buy a house and win a X-games gold medal.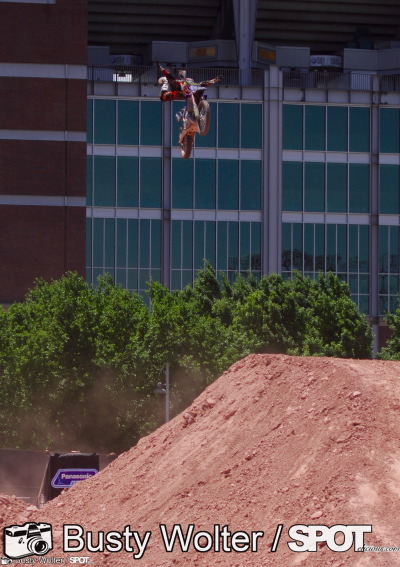 Where do you come from in Japan and why did you decide to go to the USA? I am coming from Osaka and my dream was always to ride in America.

Tell the people out there, what they should see, if they visit Japan?
Especially the infrastructure - Japan is much more populous in comparison with the USA. There are much more cars, houses and people etc.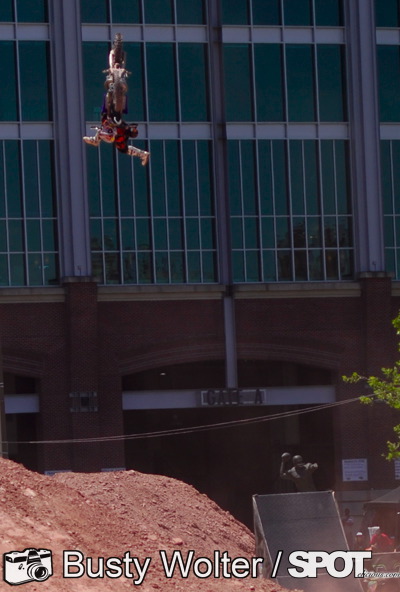 Please tell us something about the Japanese FMX scene. How many riders are there and how are the conditions?10 people ride Freestyle in japan it's not very popular over there.

What are you doing beside FMX in your freetime?
BMX, Minibike, hangout with the boys


Your last words do you want to say something to the people out there? Twitch and Susan, thank you so much for all your help and to all my sponsors and friends and family for your support.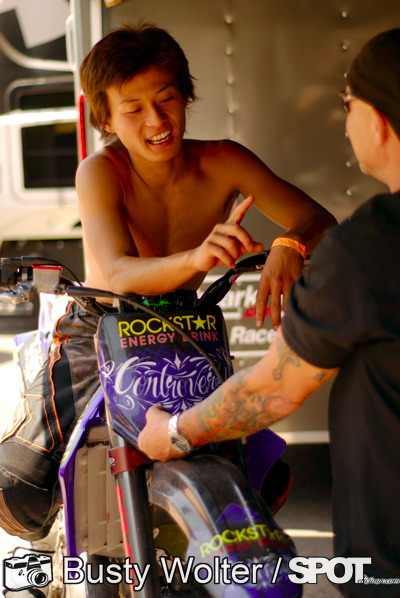 Okay, now our classical word association. Give me the first word that pops into your head:


Ramps: fast enough
USA or Europe: USA
Favorite Website: myspace
Sponsors: contraversy , rockstar, etnies, metal mulisha, electric, shift, zeta, ogio, alpine star, factory fx, high jumper, ufo plastics, smporo, ek chains
Double Flips: gay ... just joking
Natural Terrain: so fun so scary
50's: small, funny
Soccer: used to long time ago
Movie : up in smoke
Travelling: good times
Girls: blonde


Right on, thanks Taka!
Win these etnies products!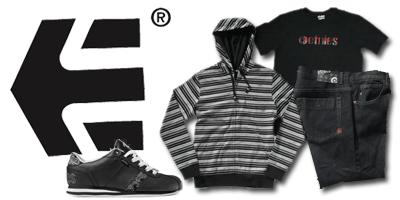 - Shoes TWITCH Pro Model designed by Jeremy "Twitch" Stenberg
- T-shirt - JAPAN FILL
- Sweat Shirt - TOKYO HOOD
- Pants - PARK

You only need to answer the following question:



Which place took Taka Higashino home at ESPN's Navy Moto X World Championships Freestyle Elimination held at Qualcomm Stadium in San Diego, Calif. on April 13, 2008?
Deadline of this game was:

July, 30th, 2008

The winners are:
Sebastian Ruchay, Berlin
Jonas Steinkamp, Essen
Tobias Seibert, Heidenheim
Markus Schmidberger, Vienna



Support us: Like and Share it!

Video of the month

Facebook /FORTY8Mag

Partner