Interview with Alastair Sayer

He is one of the greatest combo-trick-riders doing crazy combos like Onehanded Seatgrab Indian to opposite Onehanded Supercan plus a onehanded lander. We talked with Alastair Sayer from Botswana/ Africa about his success at the last Dubai X Games and his plans for the future...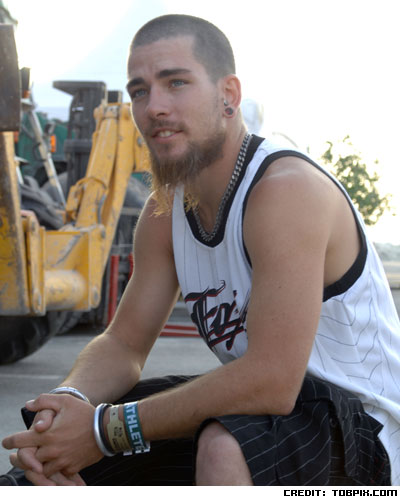 It is almost 6 months ago when we talked to each other during at the Dubai X Games in December 2007. You won the bronze medal in Best Whip and you were the best non-flipper doing a crazy combo (Onehanded Seatgrab Indian to opposite Onehanded Supercan plus a onehanded lander) placing 5th in Best Trick.
Thanks, it would have been a no hand lander if I hadn't missed the landing.

What happened after the Dubai X Games success and what are you doing right now?
At the moment I'm at muphs place in Austria, just finished Martin Korens fmx jam in Prague I got voted the best whip there by the riders which was sweet. Earlier in the year back at the Africa MOD I won the whip and the step up on both nights there , it was cool to beet Renner at both those events.

Maybe some guys out there reading this do not know you. Tell us something about you - where do you come from - how old are you - when and how did you start riding dirt bikes and what is your mission?

I'm 24 and I grew up riding in the Kalahari desert, and salt pans of Botswana. In 92 my folks made my brother and I buy our first bike together with our savings and never looked back.

We travelled all over Southern Africa racing national mx series mainly in South Africa, Zimbabwe, and Botswana.I started riding back then for the airtime so freeriding was a natural way of riding for me , especially with access to certain mines quarries.



You are coming from Botswana – right? Tell the guys out there some facts about this country.


Bots is a pretty layed back country, sweet place to grow, up. Unlike most of the great mother land of Africa, Bots is relatively safe. Boasting a strong military
and government supporting the death penalty for the murderous types. It's also as wild as the African bushveld can get with raw survival a day to day struggle for most of the local people. The sweetest part about Bots is it's a country covered in major debeers diamond mines with so many different sand quarries to ride in, the authorities are lenient letting us ride there a lot of the time. And earth moving equipment has always been easy to organize considering the size of the mines around the country.


Are there some more FMX riders in Botswana?
Not really, we used to have a sweet bunch of guys from the various towns around bots, but different paths were taken. It's pretty much me for fmx, if theres someone else taking it any where I don't really know about them, but theres some good motocross and enduro racers going places.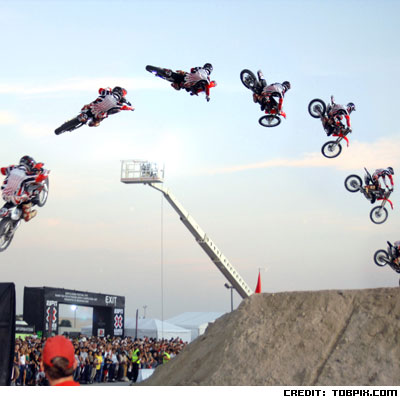 Do you like Freeriding and do you have some locations to do that?


I think that's what riding really is for me is out finding new jumps or ways to get as much air time as possible off naturally shaped lips with not too much shaping needed.. Theres so much to ride all around Southern Africa close and far, all different types , I grew up in quarries and tracks but theres the Kalahari sand dunes in bots leading into the Namib desert. Gnarly grass hills on the whole east coast and then obviously the loads of mine dumps and qurries all over the place.



Tell us something about your FMX training compound. How many ramps and stuff to play do you have and what kind of setup?


I had the sweetest set up, put a load of work into it getting it right, but with money issues the owner of the land opted to cover a world class freestyle park with a paintball arnena which isn't helping the cause. It had so many options for lines and ways to use your imagination. With a bunch of big dirt hits steel hits transfers .Kinda gotta leave it all behind now.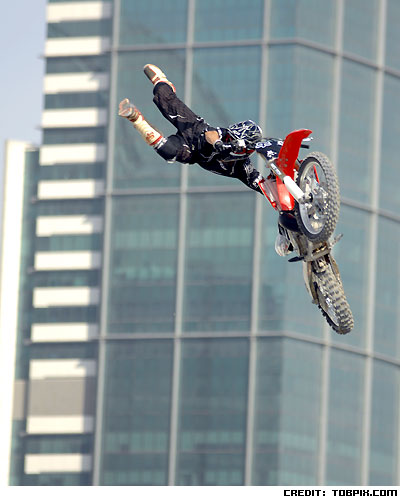 What do you think about death of the 2-stroke bikes? Would you also ride a 4-stroke in FMX?


Bull shit , how many years of developing a bike to just stop production. They are wild bikes and are so sweet to ride, I grew up with our dads riding xt and xr 500's farm style with a beer in hand so I can't help but think of that when I hear the word fourstroke. Four strokes are fun to ride but I just think its limiting our options.

Some riders are discussing about learning flips and new tricks with a foam pit or not – what do you think about it?
Foam pits are a mission but the safest way to learn , respect to the guys who learn't without pits but I played it pretty safe not having access to them back home. Foam pits have really taken freestyle to where it is today no doubt but you still gotta take it to dirt either way.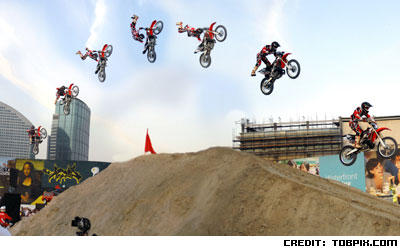 Did you already work on the backflip and some combos?


I have done some work on the flip but not so much, I've had a bunch of shit clouding my mind for a while now and it's starting to clear out and become sunny again. I did pull back to dirt not so long ago.



In which direction will the new tricks are going and do you like stuff like Wallrides etc?


For sure steel jumps only show one side of a riders ability on a bike, stuff like quarter pipes, wall rides, transfers, different dirt lines makes it way more interesting and fun for me and I think for the spectators too.


What are you doing beside FMX in your freetime?


Looking after my daughter, tryna organise more fmx\freeride jams, started tryna live more healthy actually, and deffinately working on staying out of shit.



What are your plans for the future (private and FMX)?


I'm living my life on an unguided path knowing that I gotta use my time well now.

Privately I'm working on my family life, and for FMX I'm tryna put everything back into it, I lost a bunch of time focusing on things that didn't work out and my riding took a bit of a dive so I'm really tryna pull finger there.



Okay, now our classical word association. Give me the first word that pops into your head:





Dirt or Ramp:

Dirt


USA, Europe or Africa:

...Uh Africa


Favourite Website:

mines not up yet


4-stroke or 2-stroke:

2 stroke


X Games or X Fighters:

Just need the invites


Tattoos:

Not enough


50's:

fun


Soccer:

Hola Buccaneers


Movies:

xxx I mean fmx


Music:

Hard


Travelling:

Not enough

Right on, thanks Alastair! Sweet anytime shot bra.



Support us: Like and Share it!

Video of the month

Facebook /FORTY8Mag

Partner