It's wintertime. The most of you guys are chilling on your warm couch and playing computer games. But you can rely on FORTY8. We are working on some interesting interviews. First off all we want to present a talented swiss rider. He is after Thamer Engeli the second Swiss FMX rider with an official KTM Swiss support. Mario Gut had a nice progression the last 2 years. We talked with the Rookie about riding in Switzerland and some other interesting stuff.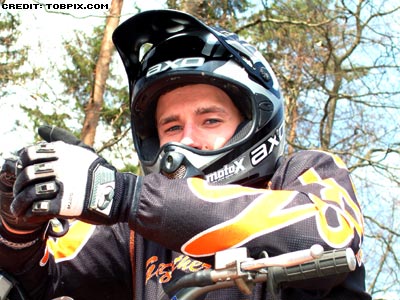 Okay Mario, let's start with some basics. Tell my something about your place of birth and your current residence.
I was born in Winterthur (Switzerland). Currently I'm living on a big farm with my family in a small town called Desibach.

First time you ever rode a MX bike and when did you start FMX?
I have started riding bikes in summer 2000. In 2002 I started riding Freestyle Motocross.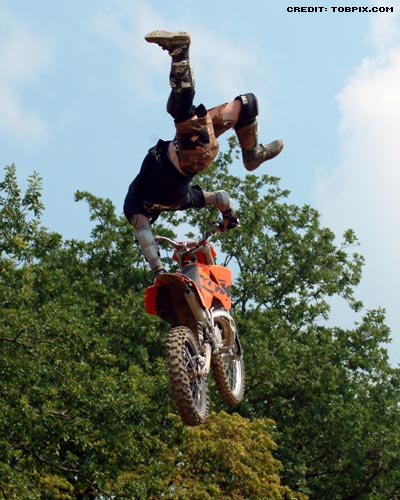 Catnac Seatgrab Indy Variation

Who did inspire you to do FMX?
The Crusty Demons of Dirt Videos inpired me a lot. And after watching some Shows a had the desire to ride FMX.

How important is FMX for you in your life?
At present Freestyle Motocross is one of the most important things in my life.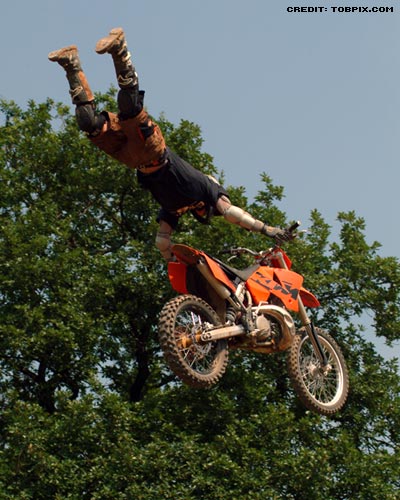 Mario Gut with a nice extended Rock Solid

Tell me something about the actual FMX scene in Switzerland ... how many pro-riders and how many hobby-riders are there?
I don't really know how many FMXers are in Switzerland. I'm riding with my buddies Thamer Engeli, Rico Rinderknecht, Daniel Liska and Kuno Berner.

What would you change to give the FMX sport in Switzerland a better perspective?
Basically there should be some more well organized events like the IFMXF Event in Bern or the Freestyle.ch.

Is it important for you to ride with your buddies and is there a good cohesion between the Swiss riders?
That's the best! We are like a big family.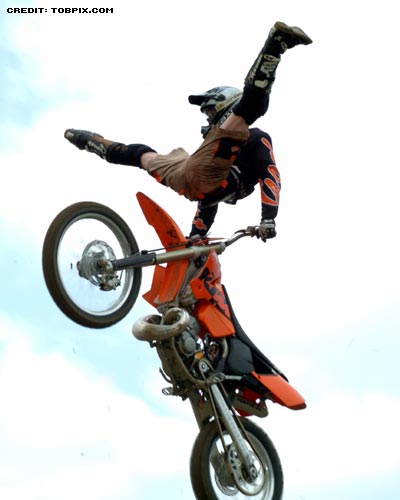 Yogi is doing some stretching | Shaolin


What sport would do you when FMX not exists?
Just chilling around and have a good time.

What are your goals for the future?
Just wanna be a unity with my bike and have fun. Maybe I will win the X-Games Gold in the future!!! :o)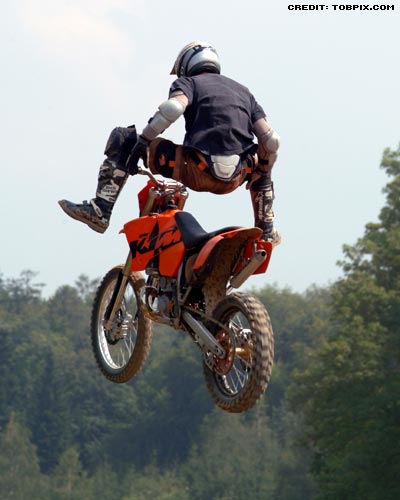 Mc Metz @ his home-compound in Andelfingen/SUI

Did you ever had a bad crash and did you break something?
Yes, I had a lot of bad crashes! I broke my arm the last time.

Favorite location to ride?
My home compound in Andelfingen (Switzerland).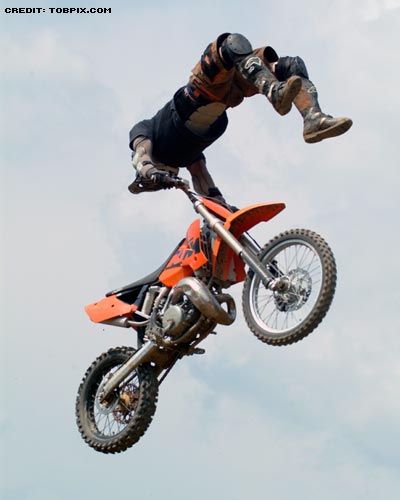 Awesome Dead Body with a great backview

Does music push you to go bigger? What kind of music do you prefer?
I prefer Punk/Rock, swiss & german Hiphop.

What is more important for you - the sport or the industry?
The sport!

What do think about the current situation of the global and the european FMX scene?
It goes bigger an bigger – nobody knows how tricky the level will be in a few year. The progression the last year was awesome.

Do you know some Links to interesting Websites that support the FMX sport?
Hm, I think especially this website rocks ;o)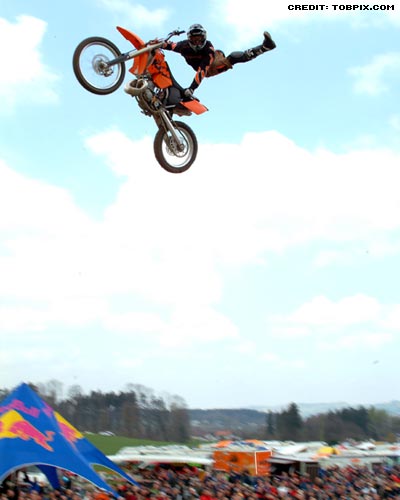 Superman Seatgrab Indian during the FMX Demo in Frauenfeld
Any other comments or do you want to say something to your fellows, sponsors & fans?
I like to say thanks to my sponsors, especially KTM Swiss and my swiss FMX buddies for supporting and pushing me!

Last words … please give the kids some basic tips, how they could start with FMX easily, if they want to?
Start slowly with MX or BMX. The most important thing is to know your bike like the back of one's hand. After that you can start with beginner tricks, like onehander, nofooter … Feel the flow and have fun ;o)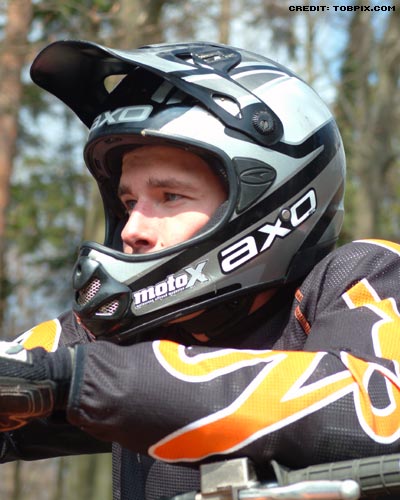 Mario - a Rookie with a great future perspective


Profile: Mario Gut

Name: Gut
Prename: Mario
date of birt: 07.05.1986
place of birth: Winterthur
residence: Desibach
nickname: JOGI
Bike(s): KTM 250, Honda XR 50
Team: FABAG
Hobbies: Work on my XR 50
Favorite food: Pizza
favorite drink: Beer
FMX since: 2002
Favorite tricks: Shaolin, McMetz
Sponsors: KTM swiss
contact: marioguet@hotmail.com