Interview with Mat Rebeaud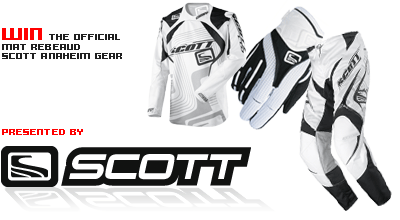 In retrospect Mat Rebeaud is one of the big winners 2008. He won four of six Red Bull X Fighters contests. You wanna know his secrets? Riding constantly without making big mistakes and injuries. We talked with the Scott Teamrider about his season and the big success this year...


Mat, you earn your living as a professional freestyle motocross rider. Sounds like an interesting but dangerous job!
Rebeaud: There is always an element of danger in sport, particularly at the highest level. But to be honest everything can be dangerous – even everyday life.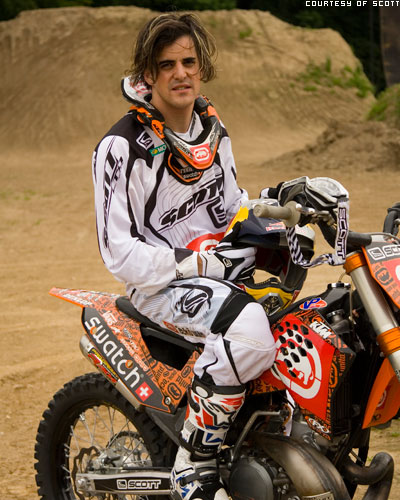 You have said that winning Red Bull X-Fighters was always a dream of yours. What does it mean to you now that you have finally achieved your aim?
Rebeaud: Really? I can't remember saying that! OK, of course it was and still is a dream of mine. My hard work has finally been rewarded with big-time success; as you can imagine that makes the whole thing just fantastic. I can't put it into words.

What has been your personal highlight of this season?
Rebeaud: Without a doubt the win in Fort Worth (Texas). All of my runs were faultless and when it came to the final I could even up the ante a little. Those sorts of days are rare; I was really feeling it and I knew that everything was going to go well. On top of that, it was my first ever win in the United States.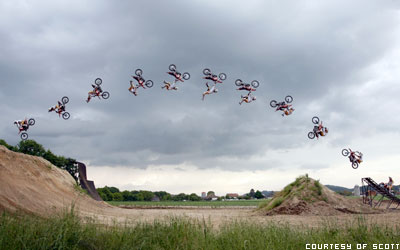 Certain tricks have weird and wondrous names such as Kiss of Death or Heart Attack. Do FMX riders have a death wish?
Rebeaud: I don't think so. Driving on the highway can be dangerous too and something can easily go wrong. I know my limits and work hard on myself and my body to be able to push it as hard as possible while at the same time minimising the risk.

You began with motocross when you were still a child. How did you manage to convince your parents?
Rebeaud: I got my first bike from my father at the tender age of four. That shows that my family is right behind me. As my mechanic my father still accompanies me to all my events.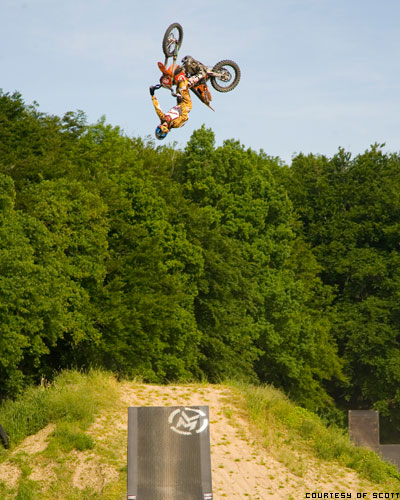 What about groupies and fan mail? Have you received any marriage proposals yet?
Rebeaud: I'm sorry if I don't manage to write back straight away. Especially right after a win my mailbox is flooded with messages. I really do receive mails and letters on a daily basis. I can't remember ever having received a marriage proposal, but there are of course some girls among my fans.

FMX continues to grow and grow. In which direction do you think the sport is developing?
Rebeaud: I think we are pretty big already and will continue to grow. I can't really say in which direction the sport is developing. I'll wait and see.

What is still possible as far as tricks go? What is the trend?
Rebeaud: I think we will see lots of new tricks next year. All of the riders want to up the ante and are training pretty much day and night. For example, there are new tricks such as double backflips or frontflips.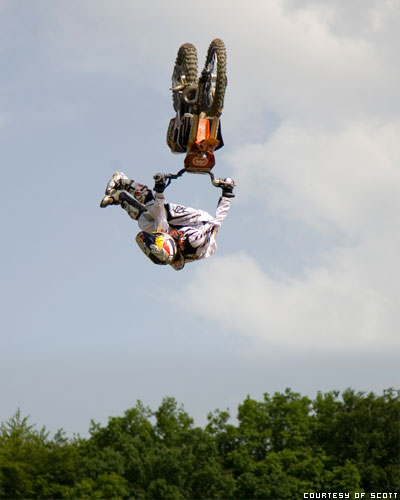 FMX legend Travis Pastrana is set to make his first appearance of the season at Red Bull X-Fighters in Poland. How much of a rival will he be for you?
Rebeaud: Travis Pastrana's achievements in FMX are incredible and he has already secured his place in the history of the sport. But when it comes down to it I will have to concentrate on my own game – even if the Travis question is one I am asked a lot.

Saturday marks the end of this year's Red Bull X-Fighters and you will be officially crowned overall winner of the 2008 Series. What are your plans for the next few months?
Rebeaud: First and foremost I am looking concentrate on the event in Poland and really go for it. Afterwards it will be time to celebrate the title properly! This victory is one I have really had to work hard for. Then it's straight off to America next week for the next dates in my diary. I won't have a chance for a holiday before December or January.
Mat's website: www.myspace.com/matrebeaud
Win an official MAT REBEAUD Scott Anaheim gear!
You only need to answer the following 3 questions:



Question 1: This year Scott celebrates an anniversary - which one?




Right answer: 50 years







Question 2: When did Scott entry in the Motocross Market with the first ever motocross specific goggle?




Right answer: 1970







Question 3: What is the new goggle name that Scott introduce in their 2009 collection?




Right answer: Voltage ProAir




All answers and more information about the Scott product range: www.scott-sports.com
Deadline of this game was :

October, 31st, 2008


The winner is:

Andy Barth/Germany