Interview with Swiss FMX Champion
Vivian Gantner
Today we want to introduce a Swiss FMX rider, who is really talented. No, it's not Mat Rebeaud - Switzerland has more FMX riders as you might think. There is a bunch of great riders like Thamer Engeli, Daniel Liska, Mario Guet and last but not least Vivian Gantner. Especially Vivian was stepping up this year like a rocket. He won the Swiss FMX Championship and was invited to attend at the Freestyle.ch and the IFMXF NOTJ Contest in Basel this year. After receiving a video clip of Vivian we contacted him to get more input about him...

First of all, tell the guys out there some basics about you - where do you come from, how old are you and what is your mission?
My name is Vivian Gantner, 25 years old, I`m from Zurich Switzerland (its a nice country but its shit for Motorsports). I reached my dream: to live from FMX. And now I try to make it somewhere. I love to entertain people with showing them what i love to do.

When and how did you start riding dirtbikes and when did you start with FMX?

I`m not from a Motocross Family so i started late with riding. When I was 16 years old I saw the Crusty Demons 3 Movie and I fell in love. Since then my dream was to have a dirtbike and go out and ride like the guys in the video. So a couple weeks later i borrow some money and bought my first dirtbike a Suzuki RM125. But i coudn`t go riding often because i didn`t have a car licence to go on a track and i coudn`t ride in the backyard.

So I really start riding in the age of 18. I started to ride on motocross tracks and soon jumping ramps, with the other swiss FMX Riders like Thamer Engeli, Rico Rinderknecht.

Especially this year you were really stepping up. You rode the Freestyle.ch and won the Swiss FMX Championship. Tell us something about your experience riding Pro Contests and how do you feel after such a successful season? Yeah this year was a great year for me. And I was very happy to get finally the Flip done, after that i was very motivated and continue with trying to do flipcombos and it works good :-) And I did also the IFMXF Contest in Basel, it was very difficult for me to ride there, but it was a good experience and I saw also that I was not the only guy with Problems in this small hall, but I did it good and I was satisfy.


The swiss FMX Championship was a very good thing that Marco Bleiker realized! It was a good project for all the swiss Fmx Riders to present ones more the fmx sport in Switzerland! It was a important part to let the fmx growing up in switzerland. And I`m proud to be the first SwissFMX Champ. I`m very motivated and i`m looking forward for 2009!

Tell us something about your FMX compound. How many ramps and stuff to play do you have and what kind of setup?


Hmm, I don`t have my own FMX Compound. It`s very very difficult to have a compound in Switzerland or to do any kind of motorsport. So i always have to go somewhere to practice. I go almost everywhere in Europe: in Czech Republic to Libors place, to Belgium to William van den Puttens place, to Rebauds place, to Italian to the DABOOT Crew, France, Germany to Bauersachs place... But mostly I go to Belgium to Williams place,so I will introduce his compound: right now there are two dirtlandings, one 9m Ramp, 2 8m Ramps, a kicker Ramp, a foampit and a good party area!!
What are your plans for the future? My Goals for this year are to do more competitions and train my ass off to get some good result. But the most important thing is still to have fun with it, ride with some friends,do some cool sessions, do shows with them and just enjoy it!!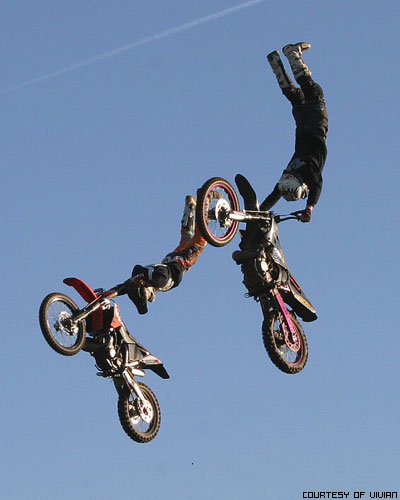 Tell the people out there, what they should see, if they visit Switzerland? Cities you have everywhere, one is more nice or cool the other less, but in Switzerland we have some of the most beautiful mountains!

Tell us more about Sickrider, ChaosFMX and mstyleriders. What are those crews exactly?

Sickrider Society was an association with some Swiss Freestyle Riders, Downhillriders and Dirtjumpers but it fell pieces.

Now I`m riding with Daniel Liska, Mario Gut and Lukas Weis for Marco Bleikers Suzuki M-Style Team, we are the m-style Riders.

Bleiker is a good Team-Manager he always try to realize some project. To present us and the FMX sport and to show the swiss people that Freestyle is a real sport and it`s also in Switzerland growing up! ChaosFMX is William van den puttens FMX Riding Crew.

I train a lot with him, because its just the most fun to ride with him and to some cool riding sessions! He is one of not many guys which is not just talking, he is doing a lot. And its always cool to be in Belgium by the ChaosClan! RIDE ON!

There are some rumors that Kyle Loza has a 360 bike with a 360 degree spinning rotor and he is working on the tailwhip. Did you hear about it and what do you think? Yes I heard about it. In one kind i like Kyle Loza, because he takes fmx to an other level and he is showing the other fmx pros that you can do other tricks than Flipcombos to win a best trick contest. and not only once!! I think he will make it soon, because he thinks it`s possible.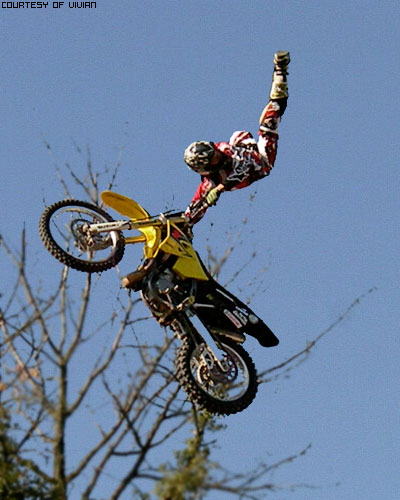 Please tell us something about the Swiss FMX scene. How many riders are there and how are the conditions? It`s a small country so we don`t have many Riders. Yeah one of the worlds best fmx rider Mat Rebaud lives here but the Conditions sucks here, because we have many people against us like the green people, the government and many more. And the weather could be better. We have not a lot of shows or contests here, but some very good ones like the freestyle.ch, Supercross, HighFly. But now we have our own championship here and i really hope that Marco Bleiker can realize it one more time in 09!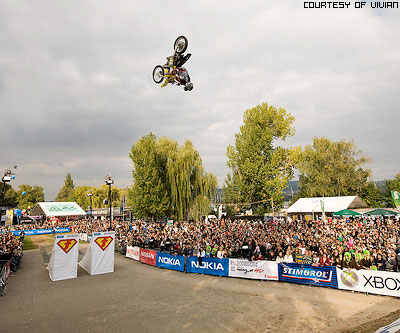 What are you doing beside FMX in your freetime? I train as much as i can in my freetime or go snowboarding, downhillbiking or motocrossriding.
Do also ride Minibikes, Snowscoot or BMX? A little bit somtimes.
Do you want to say something to the people out there?
What ever your passion is, do it with love and enjoy it!!



Okay, now our classical word association. Give me the first word that pops into your head:
Ramps: good to practice tricks
USA or Europe: now both
Favorite Website: forty8.de, Crustyeurope.com, chaosfmx.com, metalmulisha.com
Your own Website: www.myspace.com/viviangantner
Sponsors: Crusty Demons, Fleshgear, Suzuki M-Style Team, Alpinestars, Metal Mulisha, Moto-Marketing, Dakine, Pro Grip, Castrol, MIBAG
Double Flip or Tailwhip: both is very crazy, but i would like to see once a tailwhip on a dirtbike
Natural Terrain: its a dream to have one. Desert rocks!!
Tattoos: got some
50s: nice Toys
Soccer: sucks
Movie: crusty demons and comedy
Travelling: good sides and bad sides
Girls: got one
More latest News, movies, pics etc. about Vivian on his myspace site:
www.myspace.com/viviangantner