Interview with Peter Pilat
Petr Pilat is one of the european young guns. The seventeen year old KTM team rider from Czech Republic had a very successful 2008 season. He rode some events of the Red Bull X fighters and placed 3rd at the Freestyle.ch in Zürich. We talked with one of the most talented Euro-riders about his passion FMX and his plans for the future ...

First of all, tell the guys out there some basics about you - where do you come from, how old are you and what is your mission?
Hi everybody! So ... I am 17 years old, live in Pysely which is a small village about 50 kilometres from Prague. My mission? I'm trying to recognize where are my true limits... That is the point for me. Enjoy every day, have fun with friends, I am simply happy to be alive. Ride hard, play hard.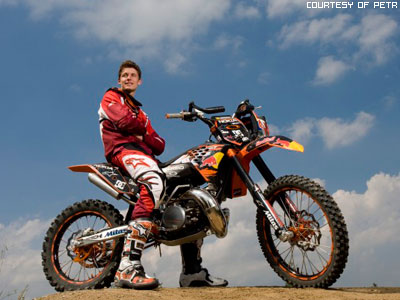 Almost every rider has a cool story how he started with MX. Do you also have one? How and when did you start riding MX bikes and what affected you to do FMX? It's kinda boring story I guess. My daddy was MX rider and than mechanic after his career. So when I was about 4 years old he gave me my first bike. I started my FMX career at the age of eleven when Petr Kuchar built the first ramp for me. I would like to thank Petr who is with my dad the most important person for my riding. I rode motocross and than did FMX when I had some free time but after some time I decided to do FMX like full-time job.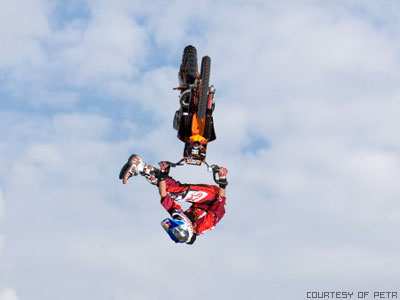 Training is one of the most important bases of FMX. Do you have your own FMX compound and how do you train? Yes I got my own compound in Cercany which is a small city near my place. I got about five ramps right now, one landing and a foam pit. I ride there three times a week usually and I organize there a show in the summer. All Czech FMX riders are there, my friends who do BMX have an exhibition and people are crazy about it I think! There were more than 1500 spectators there this year. Free ticket for everybody, just funny jam!


You are doing different kinds of Backflip Combo tricks. How do you like the 360° and is this trick on your to do list? Ou! Already landed 360 on my pitbike but its really tough job… Its not on my trick list right now because I don't want to kill myself. Maybe later I was so scared when Charles Pages crashed at Madrid.

You are a KTM Factory rider. Tell the guys out there more about this deal and how did that deal happen? I am very very excited about it! Yes I can say that – I am factory rider. Sounds great, ha? I am factory rider for two years now and I am so proud about it. Its great help for me because when I have some troubles with my bike they send me everything in a few days. I would like to say: Thank you everybody of KTM!
You rode some of the Red Bull X Fighters events this year and placed 8th overall. Do you like the X Fighters events and have you planned to ride in the USA, too someday? I love X Fighters! I joined RB XF this year in Mexico and I was so nervous. Bike wasn't prepared and my dad had lot of work with it. I crashed in the qualification when I tried to pull the Full Can Can Backflip. It was lot better than in Madrid and Wuppertal. I enjoyed these two contests 100 percent and I would be proud if they invite me again next year.

USA - I would love to go there after I finish my studies but Its science fiction right now because of my school. I know that school is important for me at the moment so I have to concentrate on it. But I know that it is important to live in place where are good weather conditions. Look at Mat Rebeaud – he is in the States for six maybe seven months a year and he is one of the best riders in the world.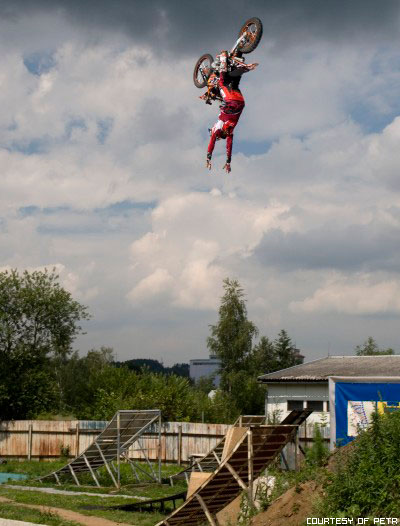 The Czech Republic has some really good and talented riders like you, Libor Podmol and Martin Koren for example. Do you know the guys well and are you training with them? Yes, sure! It's great to have trainings with these guys, because they are pretty good riders. It's a great experience to ride with them.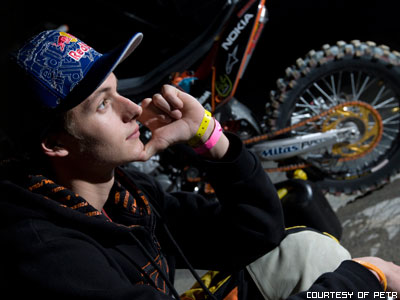 What are your plans for the upcoming season and the future?
No plans, please - I enjoy every day. I would like to have some new tricks on my trick list, be a part of Red Bull X Fighters again and – of course - stay healthy!

You are 17 now. Are you going to school or do you have another job apart from FMX? I go to school – I will be a great car mechanic one day.




What are you doing in your freetime except FMX?
Soccer? No thanks I do snowboarding in the winter, I like to spend my free time with my friends and family. Love music, movies like everybody.
Do you want to say something to your fans and friends?
Thank you: mother, father, sister, my friends, SPONSORS, Red Bull, KTM. Thanks forty8.de for this interview. I would like to say: I love FMX but girls too And I am single right now :-)


Okay, now our classical word association. Give me the first word that pops into your head:
Ramps:
Sponsors:
Favorite Website:
Goonriders:
Double Flip:
Natural Terrain:
Tattoos:
50's:
Best Trick:
Biggest success:
Movie:
Travelling:
Girls:

Better safe than sorry
Friends
www.travispastrana.com
I don't care
Crazy
Have only few experience
My father hates it – unfortunately
Fun
My best trick? Maybe Shaolin flip
I am alive. I am serious.
xXx
Love it!
They are out there...

Right on thanx Petr!


Also check out this video clip including Petr Pilat:


More information and pix about Petr on his website: www.petrpilat.cz