Interview with Paul Smith
Pix and Interview by Tobias Seibert
FORTY8 is well-known for interviews with people which are not as popular as big dogs, but they have that certain something and that's all about it. Our Wrecking Crew buddy Tobi went over to the States and visited Paul Smith at his home compound in Florida. He is a impassioned FMX rider in the age of 42 and does better extended tricks, than some media hyped big dogs - so check out the interview and the great pics...

Paul, first of all tell the guys out there some basics about you?
Hey, my name is Paul Smith and im going to be 42 in feb... yup 22 with 20 years experience... ha ha. im from the east coast of Canada, Nova Scotia to be exact. I grew up in the city of Dartmouth, wich is across the harbour from the Capitol city of Nova Scotia, Halifax. I was recently in Tempera Finland for a contest with my buddy Jussi Seljas and was surprised of how much that city reminded me of my home town. Canada's weather is also similar to finland and i need to be somewhere that i can ride all year round so i live in Florida for the winter months ... usually from october till march or april. we have built a great fmx training compound at Hard Rock Cycle Park in Ocala florida.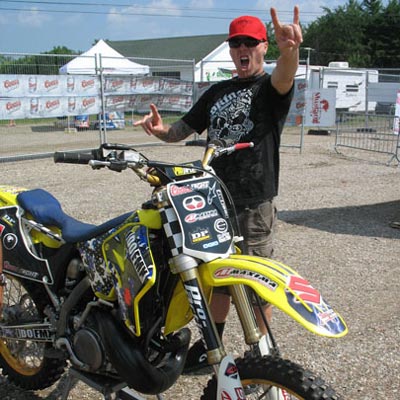 When did you start riding FMX?
I had raced for about 10 years and was an ok rider... qualified for a canadian pro national in 2003 but was way off the pace, it was at that point i realized that if i wanted to ride my bike for a living I needed a new plan. I trained 5 days a week to race and i was still running in the 25-30 th positions at a pro national.

A few weeks after the nationals i got asked to ride at an arenacross in central canada ... the promoter saw me practicing at my local track, little did i know he didnt want me there to race. I told him i would be pumped to do the arenacross, what class did he want me to ride , 125 or 250 ? no no he said, i saw u doing tricks off the finish line, i want u to ride the fmx demo during half time, and ill pay ya 500 bucks. And thats how i got started.


I have just visit you at your park and i ve got to say it looks awesome. So please tell everybody out there some facts about your park.
Yea i was pumped that u made it out to the fmx park. We have put a lot of time and effort in making a practice area that has the obsticles that would prepare a rider for almost anything that would come up in a contest.

i ride nearly every day the weather allows and im not traveling. it usually works out to about 4 days a week. the park has two parts to it ... the fmx compound and the freeride loop, cool thing about it is u have to jump across a road to get back and forth.

So now i have 3 big landings with 2 freeride's, 1 ifma, 2 rev1's and a super kicker for ramps. 12 dirt hits ranging from 35 foot to 90 foot, hips and strait on jumps and a 20 foot fun box. then across the road we have a 3/4 mile freeride loop with 5 big hits... they go like this 90 foot, 110, 145, 140, and then 135 ... all 3 and 4th pinned !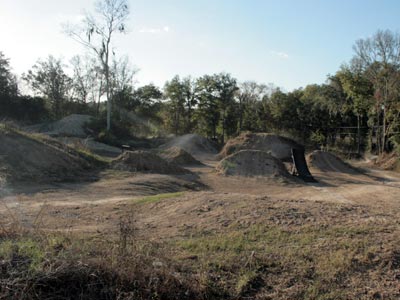 Why exactly did you move to florida? And why do you prefer the east coast and not socal like many other riders?
Well i had to get away from the canadian winters so i could try to keep improving my fmx skills ... i love canada in the summer, but not much chance riding at home during the winter months. So i have been coming down to ocala and riding at hard rock for about 8 or 9 years, i would ride here in the winters to train for the canadian racing season. I met the Knox familly, who own Hard Rock cycle park, and they have been great friends and let me build a fmx training facility last year.

i would really like to hit so cal someday soon ... but i need to get flip variations down first! the level of riding out west is a bit higher than the east coast ... there are guys on the east coast, like Brody Wilson, Rich Kerns, and Jack Rowe that can hang with the west coast guys, but the quantity of good riders on the west is higher so u need to really be on your game to stand out in cali.

one of the cool things about the internet is that it keeps u intouch with the fmx scene all over the world. so i keep tabs on what the standards are and untill i get to the top pro level im going to keep practicing hard here in florida.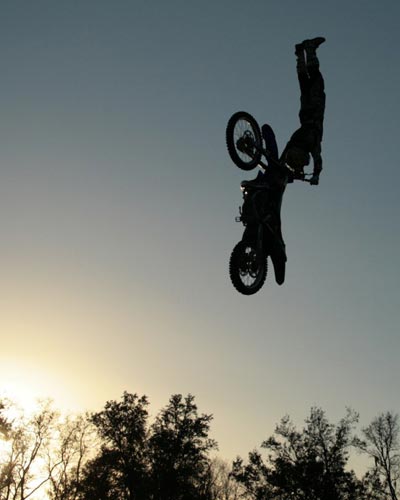 Tell us something about the FMX scene in Florida and the whole East Coast! Who are your buddies?
Thats another thing i really like about the fmx scene on the east coast ... we have a real fmx familly here. I have ridden the IFMA series, Monster Jams, Bike Weeks, and jumped at half time during supercrosses. With that many different events i get to hang out with riders from all over the eastern and central USA. We just had a great jam session a few weeks ago here at my place with a lot of the riders i do shows with... Brody Wilson, Jason and Jack Rowe, Rich Kerns, Shawn Connors, Adam Cousino, Dan Newth, Scotty Hanlon, Jadd Knox, Tricky... and then i do a bunch of shows in Mexico and South America and get to ride with another bunch of great american riders like Chuck Carothers, Derek Cook, Clint Esposito and Julian Deseau. and during the summer i get to go back to canada and jam with my homies Dustin Swan, Ben Milot, Jeff Banks and Jeff Ferr.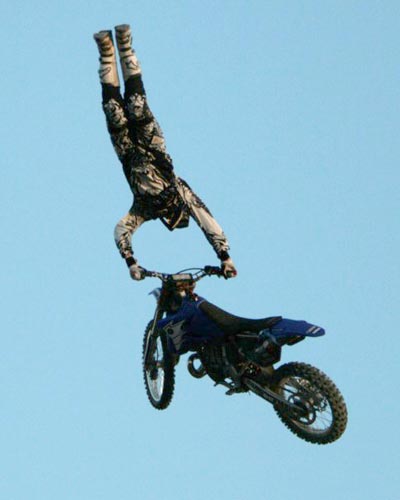 You have a big bag of tricks, probably almost every right side up trick i could imagine, but when do you plan to flip again?
thx dude ... i do practice a lot and like to learn new tricks, so i have been able to put together a pretty good trick list and titlehough im satisfied with my right side up tricks, i really need to get flips and flip variations together again soon. I was doing well with flips a few months ago, and had 3 days of 70 foot flips to dirt under my belt when i started coming up short and crashing. I had shows in canada for suzuki that weekend so i put it on hold cause i needed to ride well and could not get hurt. When i got up to canada we found out that instead of 1 weekend it was going to be for 3 weeks. By the time i got back i was not ready to start flippin to dirt again. I have talked with Brody about flips and he has helped with with why i was coming up short... so im heading to the pit for a few practice flips, then im heading back to dirt !

Today every kid is begging for flips during a show, just like me two seconds ago;-), and even the biggest soccer lovin hillbillie knows the flip but no other trick, 14 years old kids want to start fmx and learn the flip before they could even jump. So do you think the flip was good or bad for fmx?
I think the flip is good for fmx. i just wish it wasnt the only focus. I think it has created a great interest in the sport but at the same time has let the rest of the aspects of fmx die off. Iwatched the red bull events of 2008 and was surprised how many flips i saw in each riders run. and i dont think its the riders that want to flip every hit, i think judges are giving the high scores to the riders that flip 20 times during their runs so to win u need to do more flips than the other guy. I would like to see a combination of flips and strait up tricks. i think flips should be treated like other tricks and after 2 or 3 variations the rider starts getting docked points. This would let the sport grow with flips and right side up tricks.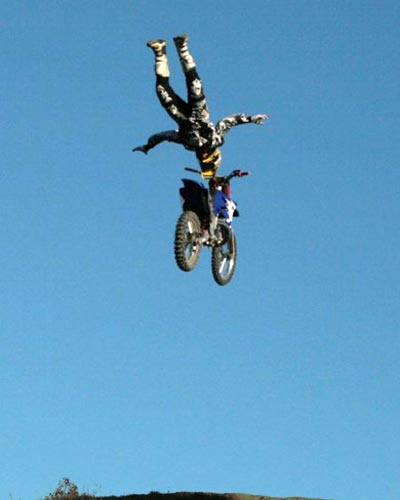 I miss seeing guys like Dustin Miller doing a "one hand indy to one handy indy to rock" or his "no foot can to holy to double hart." I think you would also get more true "freeriders" if the events continue to have different obsticles. One weekend of a fmx series the "extra" obsticle would be a 1/4 pipe, next week a fun box, next week a wall ride ... this would keep things interesting i think.

When will the european crowd get to see you over here and what events are you riding this year?
Man i love Europe ... i was there for a 10 week tour 3 years ago and had one of the best times of my life. I hope i get over there soon... i need to get my flips consistant first and then id like to get in on the Night of the Jumps/IFMXF. These are great events and it look to be super fun. I also have a lot of respect for the euro riders and some of the other non american fmxers. During that tour a few years ago I met some super good riders and cool guys, Nick Dewit, Frog, Jussi, Jimbo from fmx4ever.com and lots of others. This year will be mostly Suzuki Canada, IFMAs, Monster Jams, and Bike week shows.

Tell us something about IDOFMX!
well thats a company im putting together to keep me involved in fmx after i retire from full time riding. it stands for International Department of Freestyle Motocross and its my way of getting videos, events and eventually, new products out to the fmx public.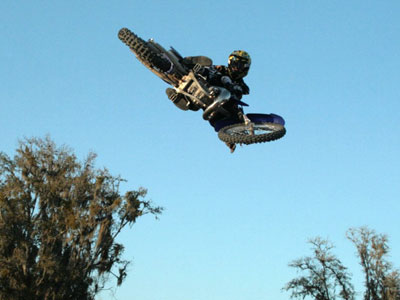 Just a little game. Imagine you could build the perfect FMX rider, which tricks and styles would you combine?
ok cool .... im going with Dustin Millers combos, Willey Fulmers extention, Danny Tores tricks, Twitches flip skills and Brody's release tricks.

Charly pages just sticks a decade air to dirt a couple days ago, what do you think about these BMX related tricks and his rotor bike?
i think its awesome, truly innovative and progressive! Charly and his brother Thomas are killer riders and have made great contributions to the sport. I did the montreal sx with Thomas and he has amazing skills and i know those two are going to be top riders for a long time. only downfall is the cost of this type of mods to the bike.

Now the classical word association...

Ramp or dirt - Dirt, im a racer from way back
Website - www.paulsmithfmx.com
Canada or USA - Canada, i'm a homeboy and love my heritage
50s - bad ass ! i love to rip it up on my mini !
Tattoos - great form of expression, kinda like fmx
Movies - usual suspects, worlds fastest indian, and grandma.s boy
Music - Iron Maiden, Metallica, Avenge Sevenfold, Motley Crue.
Sponsors - Mountain Motorsports, fmxtour.com, No Fear, Steel MX, Boyesen, Crusty Demons, FCR Suspension, Menace Clothing, Innova Tires, EVS, DP Brakes, SDG, Maxima, Skin, Ogio, Alpinestars, Spider Grips, Ready Filter, Fast50s, Advanced Performance Accessories and Chuglife Clothing.
Last words - Just want to thank my mom, brother and girl friend Amber for stickin with me through the good and bad times. I still have a few good years left in me and im gonna put in the work to make things happen.


Support us: Like and Share it!

Video of the month

Facebook /FORTY8Mag

Partner