Interview with Lance Coury

Interview by Tobias Hannig | Pics by Red Bull



After talking with Destin Cantrell a while ago, we interviewed another young gun from the West Coast of the USA. He is 19 years, rides a 4-stroke bike and has great riding skills. We are talking about Lance Coury from West Hills/California. Oh yes, he likes cooking food ... and he is doing sick Flip Combos and big tricks like extended Tsunamis and Double Grab Lookbacks. We talked with Lance to know more about this talented guy...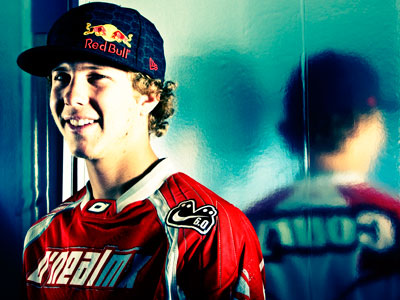 First of all, tell the guys out there some basics about you - where do you come from, how old are you and what is your mission?
Lance Coury is my name and I was born and raised in West Hills, California since March 3rd, 1990. My mission is to have fun and make the best of life!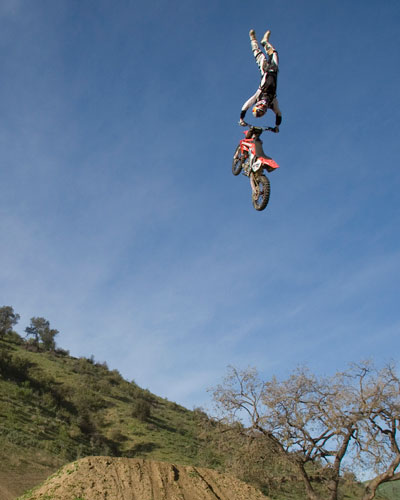 Almost every rider has a cool story how he started with MX. Do you also have one? How and when did you start riding MX bikes and what affected you to do FMX? Well, ever since I was born motorcycles were all around me. All of my family had motorcycles, so as soon as I was ready I got on a PW 50. I raced most my life growing up then I decided I had more fun jumping than racing.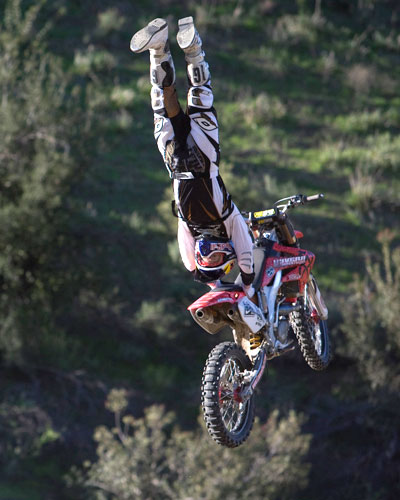 Training is one of the most important bases of FMX. Do you have your own FMX compound and how do you train? With the help of my father and a good friend Scott Price we built a FMX facility at "The Wyvern Ranch" where I could build an entire course to rip! Recently Red Bull got involved in our project and has evolved into the Red Bull Compound and includes every kind of riding for dirt bikes you could ask for.

You are doing different kinds of Backflip Combo tricks. How do you like the 360° and is this trick on your to do list? The 360° is a very cool trick, I am not setting my standards low.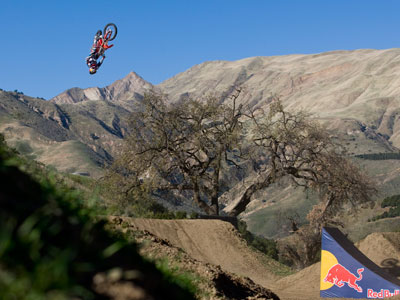 You are riding a 4-stroke Bike – want advantages has a 4-stroke bike compared with a 2-stroke bike for you? I don't really see any advantages. I just wanted to be on new technology. I raced 4 strokes and felt comfortable on them.

The Westcoast of the USA has some really good and talented riders like you, Destin Cantrell, Kyle Loza etc. Do you know the guys well and are you training with them? Yes, I know them, but don't train with them….I have done shows with them.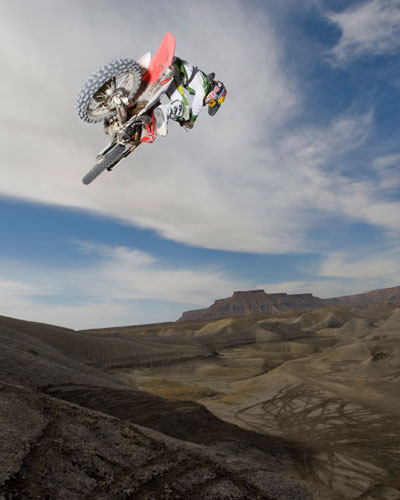 What are your plans for the upcoming season and the future?
Film, and have fun!
What are you doing in your freetime except FMX?
I enjoy cooking.
You are 19 now. Are you going to school or do you have another job apart from FMX? My job is to have fun and ride my motorcycle!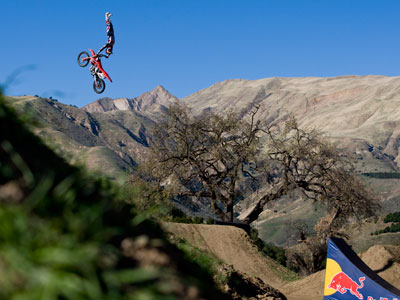 Do you want to say something to your fans and friends?
To the Fans, Thank you for the support, I am glad you like what I am doing. To my friends, I love you guys! haha!!!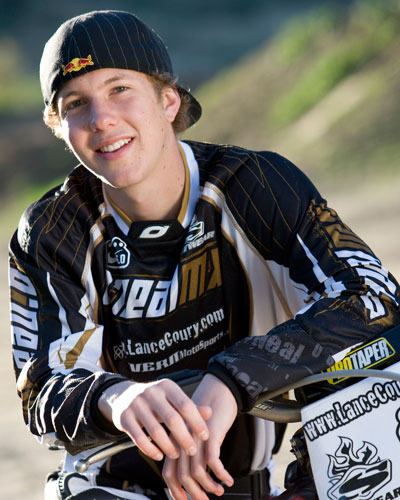 Okay, now our classical word association. Give me the first word that pops into your head:

Ramps:
Sponsors:


Favorite Website:
Goonriders:

Double Flip:
Natural Terrain:
Tattoos:
50's:
Best Trick:
Biggest success:
Movie:
Travelling:
Girls:


There cool
Nike 6.0, Red Bull, Swatch, O'Neal, Setwear, Kal Gard, Wyvern, Gaerne, FMF, RG3, Pro Taper, Bell, No-Toil, SCR
www.LANCECOURY.com
What about them? If your having fun on two wheels I don't have a problem.
Good stuff
A lot of fun
Yep
No… 110's
The one up my sleeve.
Being happy everyday.
Step Brothers is pretty funny
With friends, and anywhere adventurous
I like em.
Right on thanx Lance!
Win one Lance Coury O'Neal gear!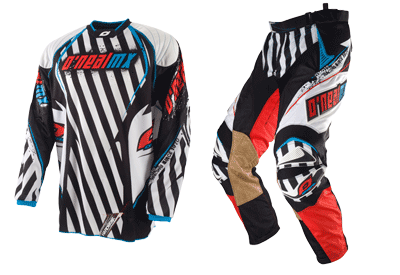 O'Neal Hardwear Combi 2009 limited Edition "white stripe",
Jersey 49,90 € / Pant 159,90 €, availible on www.oneal-europe.com




You only need to answer the following question:



When was Lance Coury born?



Right answer:

1990/03/03

Deadline of this game was:

April, 30th, 2009

The winner is:
Georg Thomas, Hamburg