Interview with Steve Sommerfeld
Interview by Tobias Hannig | pix by courtesy of Steve
He wrote his own book for FRMX called the Ultimate Guide to Freestyle ... he is coaching FMX newbies ... he works for FreeriderMX Magazine ... he has a diploma in Remedial Therapies, a degree in Business, majoring in Management and Marketing ... and he is a professional Freestyle Motocross rider. We were talking with multi talent Steve Sommerfeld from Brisbane/Australia to get more input about him and his life ...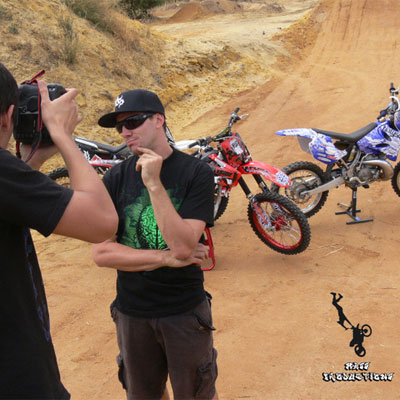 First of all, tell the guys out there some basics about you - where do you come from, how old are you and what is your mission?
Brisbane, Queensland. Australia, 24 Years old
Almost every rider has a cool story how he started with MX. Do you also have one? How and when did you start riding MX bikes and what affected you to do FMX? I started riding when my dad bought me a PW50 on my 4th birthday. The first day I rode it I hit a tree in the front yard and by the afternoon dad took me on a 2km round trip to round up the cows for milking. Being I was from a dairy farm, Moto's were more of a tool than for fun. When I got a bit older I started jumping my dad's ag bikes until I broke my DT 175 in 6 places and dad finally let me get an RMX250. That way I still had the lights for chasing cows at night, but could get upto mischief as well.
I moved to Brisbane for Uni and all I wanted to do was ride FMX. Bought a rust-bucket RM250 in 01 and thats when it all started.
Australia has some really great riders like Bilko, Schui, Maddo etc. Tell us something about the Australian FMX scene and why does Australia has such great riders? It's hard to put a finger on why exactly Australia has great talent, but I think a lot of it could come down to the sheer distances we have to travel just to ride with our mates, then to perform in shows and compete in competitions. If riders have to invest so much time and effort into travelling, then we basically train harder so we are not wasting our time. I think there's a lot of drive from within the large group of Australian FMX'ers to push each other along and it's been like that for many years now.
Are there also some national contests in Australia or a kind of FMX series? There's a couple, but not too much. The biggest comp would be the Australian FMX Championships which are held in Narrogin every November. But the weird thing is, Narrogin is located 2 hours from Perth in Western Australia.. most of the FMX scene is on the East Coast, so there's some 4000km's between the scene and where the biggest comp is. Last year was the first year we had the SuperX series which was the racing scene Chad Reed started with the Crusty Promotors 'GAS and FMX was the filler between races. It was only 4 jumps as it was more an expression session but FMX really received a lot of mainstream exposure on Free-to-Air TV and also Pay-TV. We can only hope it's on again for 2009.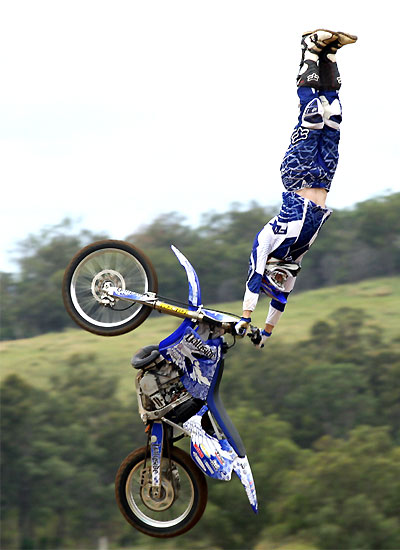 Do you have your own FMX compound? Yep, I have my own compound roughly 2 and half hours north of Brisbane where I currently live. My compound is on my parents farm and I've built it bigger and bigger over the years. I have a semi-circle downramp so it looks like half of an X-Fighters downramp. I have dirt hits from 60ft to 85ft around it and 3 different ramps which all angle onto the downramp at different angles. I've then built supercross style jumps around between every jump so there's always something to jump and if I feel like it, I can have my own Speed and Style while I'm training. I've just built a Minibike track as well for my Fiance Rachael, so far she hasn't ridden it and I've torn it apart haha.
Let's talk about the Flip... I haven't actually landed the flip to dirt. I've been practicing into the Foam Pit at Schuie's the last month or so. I've been flipping off the superkicker which I hated years ago when I first went into the pit, but now I'm used to it. It's now just a matter of waiting for the bad summer weather to go away long enough we can actually use the pit to get the 75ft flip down.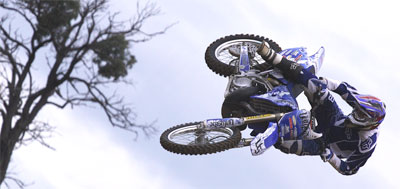 Do you think, that the people hype the Backflip to much and the judges are score them to overpriced? Yes and No. I think its worthy to note just how crazy the flip is. Even though it's just another trick now, it still takes a lot of work to get right. Even the top guys have to think about it while they're riding.The flip combo's that are out now, it's hard not to give them very high marks for them, they deserve it. But smaller flip combo's I think will start to take a back-seat as they probably shouldn't be given as much points as they did 3 years ago when they were cutting-edge.

What do you think about tricks like the double flip and the frontflip? I love seeing FMX evolve and especially when a trick is defined as 'it can never be done' and then you see Pastrana come out and stick the Double Flip, or Jim De Champ come out and stick the Front Flip. They're scary looking tricks, but no doubt in a year or two time, we'll see a handful of guys doing them in their runs, it just means the guys who really want to win will push it that much more to get it.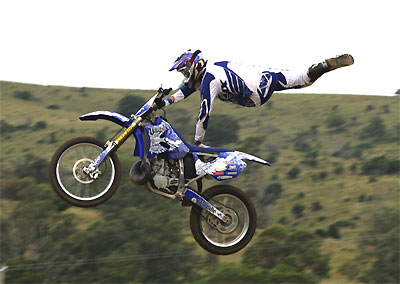 You told me, that you want to ride overseas. What are your plans for the upcoming season and which series and contests you are interested to ride in? This year I want to keep my good time rolling. 2008 was an awesome year, lots of good results and won my first international comp in New Zealand right at the end of the year so I want to keep that up. I really like what the Europeans are doing, there's lots of events on and that seems to be the place to go. I'm trying to get more contacts in the area to head over and compete, and I've been looking at a possible trip to South Africa where a few Euro guys have competed as well. I'll definitely head back to New Zealand for the Farm Jam competition, it's a natural terrain comp and thats where I have more fun as well.

Do you have another job apart from FMX?

Nope, FMX is full time for me. Between shows I write for FreeriderMX Magazine, I wrote my own book for FRMX called the Ultimate Guide to Freestyle, I coach newbies on FMX and just do anything I can to keep riding.
I'm actually working at the moment with Matt 'Schuie' Schubring who's been one of Australia's best riders for many years to hopefully build a new Dirt Bike Park close to our home towns near Brisbane.
We've found land that is perfect for the park, we've had tests conducted on the land and we went through the ups and downs of a state election only a month ago which could have seen us getting a few million dollars of government funding to build the park. Unfortunately the election went the other way, but we are still very determined to work with the current state government to help fund our park. It's more of a community thing to give moto rider's somewhere to actually ride, instead of riding illegally in forests and back-roads.

I have read your are a student – right? What do you study?
I was a student for many years. I finished in 07 actually. The first diploma was in Remedial Therapies, sort of like Physiotherapy. I was over that so I went back to Uni to do Degree in Business, majoring in Management and Marketing. My last semester I was in China for 3 weeks riding shows, did shows around Australia for another 3 weeks so I spent only 7 weeks out of 13 on the road and riding and did no study what so ever. Funny thing is I got my best ever marks, High Distinction, two distinctions and a credit.
Marketing has helped a lot with FMX though, basically a rider is a marketable product so sponsorships and PR is a lot easier to deal with now. I'm now helping other riders with their sponsorship needs as most people don't know how to get started really.
What are you doing in your freetime beside 2-wheelers? I barely find free time these days. If I'm not riding my bike, I'm working on my bike, or I'm thinking about riding my bike. The rest of the time I spend doing research into building the bike park, it's really taken over my life lately, so hopefully it works so I don't have to think about it so much! I used to do a fair bit of wakeboarding and I'm really wanting to get back into that.

Your last words – do you want to say something to your fans, friends etc?
I've just had so much fun in the last couple of years riding. Riding with Schuie has helped improve my bike skills a lot and I don't have the nervousness I once had. Rachael has always supported me and my mum has also supported me, especially letting me build all my jumps right out the front of her house. She can watch me ride while making a lasagne for dinner, so someone's always checking up on me incase I fall off.
My sponsors have helped out alot. Like right now I'm writing this out on my new Toshiba Laptop, docking station and 22inch monitor I just received from my new sponsor Lakes Networking today. They're also designing and hosting my website which should be up within the next month.

Okay, now our classical word association. Give me the first word that pops into your head:

USA or Australia: Australiaeived on les, ets, Tag and Motul should be up within the next month. Thanks also to my other sponsors, FOX, Valyside
Sponsors: FOX, Valyside Clothing, Lakes Networking, Maryborough Motorcycles, GB Orthopaedics, Q-Magnets, Race Tech, Tag and Motul
Favorite Website: Forty8 of course!
Goonriders: Great for a laugh
Double Flip by Pastrana: Insane
Natural Terrain: Love it
Tattoos: I'm a clean skin
50's: Can't really call a 180cc mini bike a 50 anymore.
Best Trick: Backflip by Carey Hart
Biggest success: Writing a book. Never thought that would happen!
Movie: The Castle (Funniest Australian Movie ever!)
Travelling: Beginning to enjoy it and want more of it.
Girls: Rachael
Right on thanx Steve!
More information and pix about Steve on his website: www.stevesommerfeld.com