Interview with Jose Miralles



¡viva España! Spanish weeks on FORTY8. We will introduce you spanish riders the next weeks. Jose Miralles is the first startalker and this guy is definitely one of the newcomers of the 2009 season. He rides the IFMXF FIM NOTJ WC series and won the Contest in Berlin. We talked with the former racer and IFMXF Shooting star to know more about him and his plans for 2009...


First of all, tell the guys out there some basics about you - where do you come from, how old are you and what is your mission in FMX?
My nickname is "loco Miralles". I live close to Barcelona in a town called Sabadell. I'm 26 years old and my mission in FMX is enjoying life with the people that love Freestyle.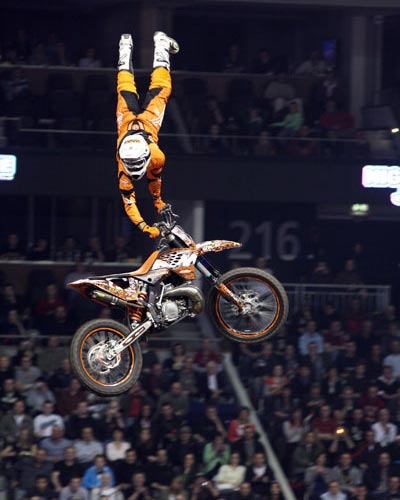 Awesome signature Crack Nac of Jose

Almost every rider has a cool story how he started with MX. Do you also have one? How and when did you start riding MX bikes and what affected you to do FMX?
My MX history started when I was 4 years old. My first Motorbike was a Montesa 25 ccm. My father and my uncle were both MX riders and they wanted that I ride MX. One year later, I went to "la Molina" to ride a competition for children. I finished the races in 1st position in my first competition! Then I rode all the National Championships and I won a lot National Championships when I was a child. In the age of 12 years another rider crashed and the bike landed on my body. I had a big accident, my Femur and my leg was broken. After that accident I quit riding MX. I had 5 operations in my leg later and I couldn't ride Motocross anymore.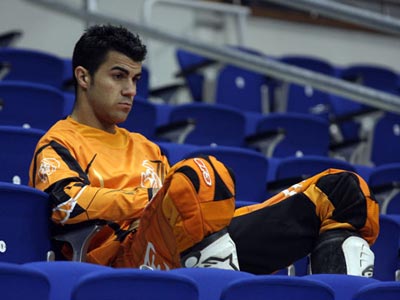 Concentration before the contest ...
When I was 19 years old, all the surgeries were finished and I was ready to start a comeback on the MX bike. But not with racing – I was doing some fun riding ... and also a bit Freestyle. I rode with Edgar Torronteras. I had a lot fun and all the people enjoyed my whips! My first Freestyle Event was in Tenerife in the age of 21.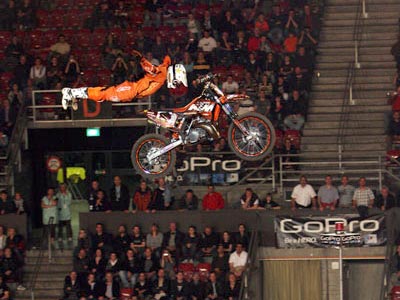 Rock Solid

Training is one of the most important bases of FMX. Do you have your own FMX compound and how do you train your tricks?
Yes, I have my own FMX compound, but I don't really train a lot! The best training for me is riding Events! I don't like the foam pit that much, but I think the time is arrived for using the foam pit, because I need more Flip Combos to be even more competitive.
You are riding the IFMXF NOTJ / FIM World Championship since last year. You have a lot Top 3 results and you won the Sunday in Berlin. Was it a great feeling for you to win this contest?
Yes, of course! It was an awesome feeling to win an IFMXF Contest. I can't wait to win a series like the FIM World Championship!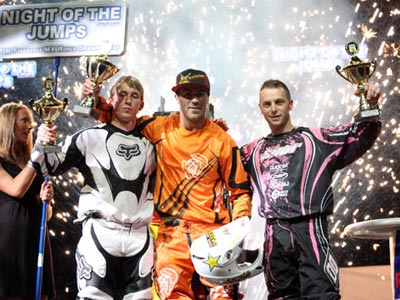 And the winner is ... Jose Miralles
Were have you been before your attendance at NOTJ and where did you ride? I rode events like the National FMX Championship in Spain, a lot of events in South America or France. But the most of the time I was in Spain. It is difficult to get international riding deals. I am really happy to have a deal to ride the World Championship in 2009.
And how did you come into the IFMXF NOTJ series?
Thanks to André Avilla, a very good friend of mine. He helped me to close a deal with the promoter of the IFMXF NOTJ Series. André called me, because he was injured caused by a big crash. This was a good opportunity for me and now I will ride all the FIM World Championship Contests in 2009.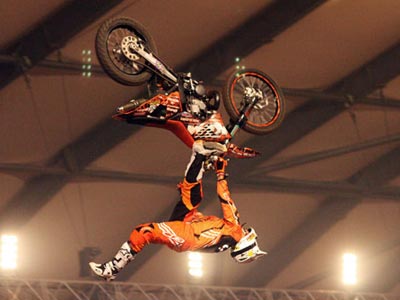 Superflip Indy

You are doing different kinds of Backflip Combo tricks. How do you like the 360° and is this trick on your to do list? The 360º is not in my tricklist, yet. Because I think that trick is very difficult to execute it safely. I prefer other combo tricks like the Underflip more!
Spain has some really good and talented riders like you, Dany Torres and Edgar Torronteras. Do you know the guys well and are you training with them? Yes, I do. The guys are very good friends. But I can't ride with Dany, because he lives around 1100 km away from my house. With Edgar I am riding sometimes, but he has an own FMX team and it is difficult to arrange a training session with him.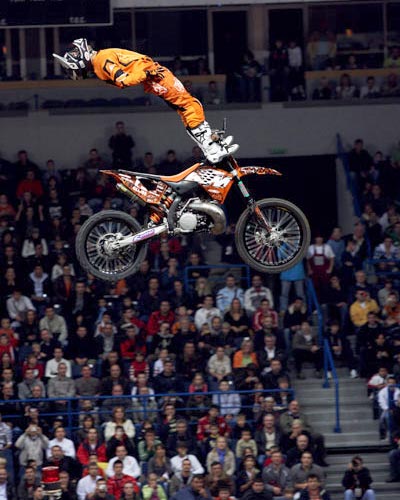 Another signature trick of Jose - looks like a torero cliffhanger
Tell us something about the Spanish FMX scene. Are there a lot of contests and events and how is the situation with young newcomer riders? Actually in Spain are a lot of FMX events, but I think that the system is always the same. They need to change the system using more ramps and designing new tracks. The newcomers are younger and have a lot of motivation. That is very good for the future of FMX in Spain! I know 3 young guns that learn tricks very fast and in a few years they might be on top! Riders like Dylan Trull, Xavi Dols and Luisito Moreno.
Would you ride the Red Bull X-fighters in Madrid, if they invite you this year? Yes, for sure. I would like to ride this event! I don't know why the promoter never invited me, yet. I think riding at X-Fighters in Madrid would be very good for the people and for me! Maybe they invite me this or next year, when I am on top in the FIM WC overall ranking.

What are your plans for the upcoming season and the future?
Enjoying my job riding dirtbikes is the most important thing for me. My goal is to learn new tricks and flip combos and making consistent results in the contests!

What are you doing in your freetime except FMX?
FMX and organizing things is a fulltime job for me. I have a lot of work to do. I am managing myself getting new sponsors and I help my friends to get into the events with me - I like helping the young riders.

<< hot seat and the spanish flag
Jose's first ever IFMXF victory
Do you want to say something to your fans and friends?
I would like to say thanks to all the fans, friends and my family. I'm a very happy person and we have a really good time together – thanks so much for all the great moments.

Okay, now our classical word association. Give me the first word that pops into your head:
Ramps: long
Sponsors: thanks
Favorite Website: www.ifmxf.com
Goonriders: Andre Villa
Double Flip: Travis Pastrana
Natural Terrain: sweat!!!
Tattoos: Nothing
50's: One
Best Trick: Whips
Biggest success: Backflip
Movie: History of Travis Pastrana
Travelling: When I come to my house.
Girls: Bugui, my girldfriend.
Right on thanx Jose and good luck for the future!
Win one official of3 gear!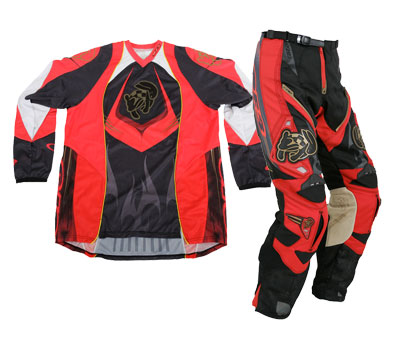 You only need to answer the following question:



Which of the following IFMXF Night of the Jumps Contests won Jose Miralles 2009?
Deadline of this game was:

May, 31st, 2009
And the winner is:

Dominik Bentler


Support us: Like and Share it!

Video of the month

Facebook /FORTY8Mag

Partner