FlowStyle with Andrè Villa
He is definitely the shooting star of the 2004 season. Andrè Villa from Norway is one of the European riders with a really smooth style. Watch his pics or video sequences and you will see this guy has a lot of flow. We talked with Andrè how he came to the FMX Sport and what we can expect from him in 2005 ...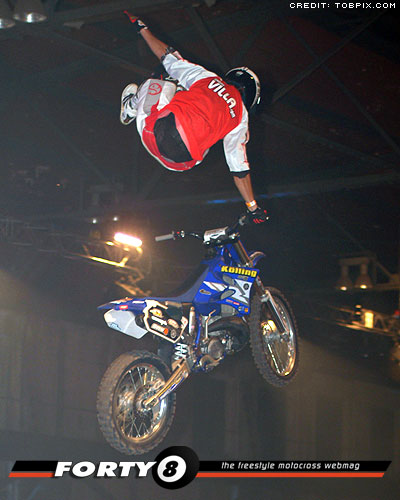 Turntable(rocker) in Dresden
Okay Andrè, let's start with some basics. Tell my something about your place of birth and your current residence.
Hi man. Yeah, I was born in Lillehammer, Norway which is close to a little village called Vågå, where I've been raised. It's a quiet and nice village with 4000 inhabitants. It's in the area where the biggest peaks in Norway are. So my life was based on skiing in the winter and doing MotoX in the summer. Or, I could ski all year, it was like fifty minutes to glacier skiing. Now I'm in Spain the most of the year. It rains to much in Norway. Better riding down here.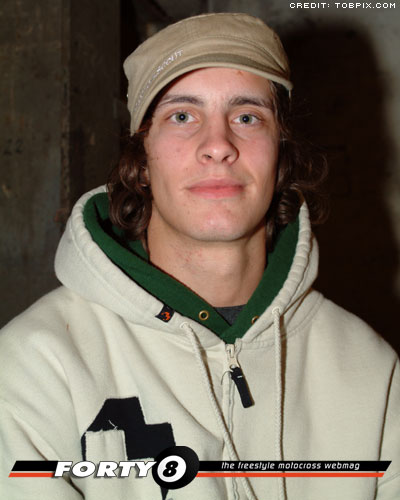 Andrè in the house

First time you ever rode a MX bike and when did you start FMX?
It' strange, I can't remember the first time I rode a dirtbike. My father and uncle have both been Norwegians champions in Motocross, so I guess it was natural for them to give me a bike before I was four years old. It's just been there all my life, that's why I can't remember. I actually learned to ride my pw50 before I could ride my bicycle. Pretty strange when I think about it.

Who inspired you to ride FMX?
I'm not sure. To jump with bikes is what always have been inspiring me.

Tell us something about your own backflip experience and what do you think about tricks like 360 and the backflip seatgrab?
Backflip it's fun, but dangerous. It's a pity. I just flip the superkicker yet, but my foam pit is finished in a couple of days, so a new experience is waiting for me. 360 and backflip seatgrab. I wish Travis never did them. It's looks scetchy, but really funny. I guess there are coming up in Europe soon, it's just a matter of time.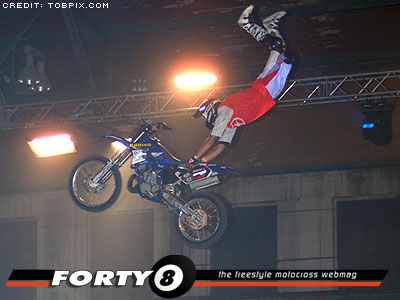 Double Hart Attack

Without a foam-pit there would be no 360's. Is the training with foam-pits the future of FMX and do you have one?
I never jumped in a pit, but like I wrote, the pit is build soon. 10m x 16m x 4m with bling bling foam. That's where all my money went from 2004. I think the foam pit is a important tool to bring this sport further. And it's also a tool for having fun in spare summer time.

Is it important for you to ride with your buddies and is there a good cohesion between the riders in Norway?
Yeah, It's really important and motivating to ride with friends. That's one of the things this is all about. I would say everything is cool between the riders in Norway. I spend the most of the time in Spain. I havn't got much opportunities to ride with for example Ailo and Øystein. Ailo is down here in Spain riding with me now bye the way.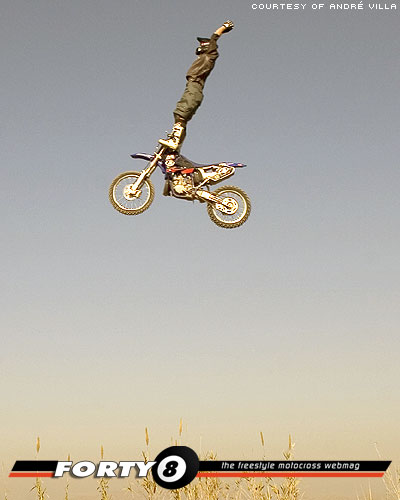 Norwegian Airlines alias Andrè Villa checkin' the spanish airspace

What importance have Contests for you?
It's a lot of fun as most of the time, as long the course is good and everyone is smiling. Fun is important. But I also admit that I've got a lot of competition instinct in me and always want to do good, and get my ass as high as possible on that podium.
What are your goals for the future?
Have fun, ride much better. Be on the bike as much as possible.

Did you ever had a bad crash and did you break something … if yes what?
Yes, I had a lot of hard crashes in MX and skiing. I got 13 broken bones in my body, and got a bolt in my for arm on 18 cm which is staying there for life. I call it my "lucky bolt". I had a lot of problems with my neck, and that was the main reason I have to quit MX for some years ago. I can't ride much MX anymore, but in FMX I can easy control it, and it works fine.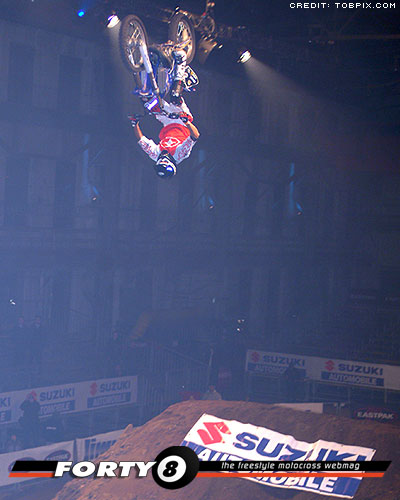 Superkicker Backflip during the qualification in Dresden
Favorite location to ride?
Molina Spania, Secret spot Norway, Vågå Norway.

What do think about the current situation of the US and the European FMX scene and what is the difference between both continents regarding FMX?
US is US and it's always been like this in extreme sports. They're leading the shit and they always will. Or at least for some years to come. We are getting closer to them, but the steps are small and it will take some time to match the Americans big guns. So let's move to US.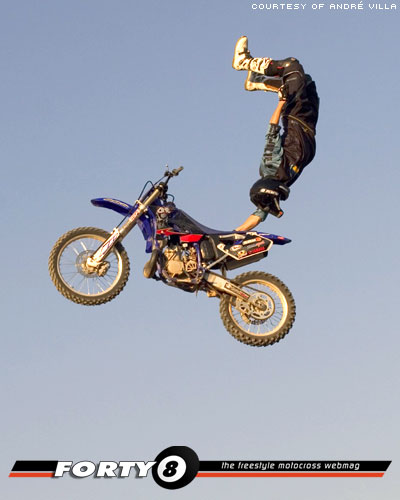 Awesome Onehand Scorpion Lookback

How did you like your time in Dresden/Germany?
Hehe. Dresden. They got a really good go-go girl there I remember. She was HOT! It was a good event, but I smashed my head really hard in the qualify. I had a good feeling riding there, felt comfortable. Everything went as they should before I met the sneaking catapult.

What do you think about the European Trick level of the riders?
The normal trick level is good, and maybe as good as the Americans. We just need more skills on inverted tricks.

Any other comments or do you want to say something to your fellows, sponsors & fans?
Thanks for reading this text. Peace!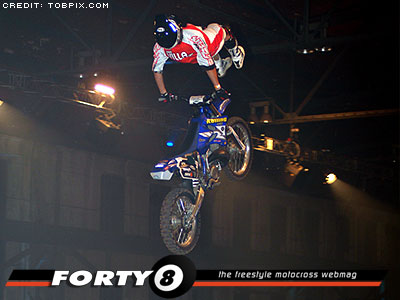 Just relax with a dead body ...

Pr ofile:

> Name: Villa
> Prename: Andrè Visdal
> date of birt: 27-04-82
> place of birth: Lillehammer
> residence: Vågå Norway, Murcia Spain
> Bike(s): Yamha yz250 fmx, Yamha yz250 mx, Yamaha TTR-90
> Team: Goodtimesfmx
> Hobbies: Skiing, mx
> Favorite food: What ever is on the plate
> Favorite drink: Christmas soda.
> FMX since: 2001
> Favorite tricks: Candybar
> biggest success: Manage to ride my bike for a living
> small resume of your career (results): 2004 Spanish champion, Coca cola open burn tour 2. In Norwegian Speedcross. 2. IFMX Nimès, France. 2. Huelva, Spain. 2. Almeria, Spain.
> Sponsors: Yamaha, No Fear, Dragon optics, One Industries, Braking, Motorspeed, PSE parts, Golden Dragon, Arai, Sweet protection, ESP-1tech.
> Website: www.andrevilla.com