Story and pix by John Rajic
Approximately 21000 fans fill the Calgary Stampede Grounds. The tar mack is completely full, fans standing shoulder to shoulder. Young and old are amazed by the skills of many freestyle motorcrossers who are here from all parts of the world. They fly through the air like like missiles, but with a more graceful touch, like aerial pilots. The show continues with no hick ups and the king is crowned, Robbie Maddison, from Australia.

John Rajic got a chance to speak to Jeff Fehr during the Red Bull X-Fighters and asked him a couple questions in a small interview...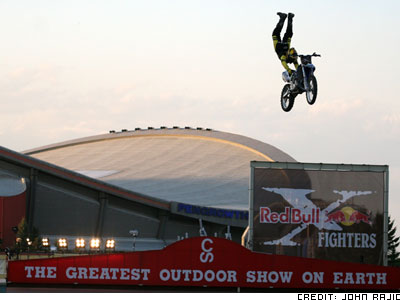 What's it like to be competing on Canadian soil?
It's absolutely amazing. It's great to see this event being showcased and it is a such a prestigous event. The Calgarians will go nuts
over it!



You took 8th place in 2009 in Mexico City, what was that like?
Getting 8th place was amazing. Seeing 40000 Mexican fans screaming made me so pumped!
Why do you ride your motorcycle, your bio saids you get the same answer now.
Because I have fun doing it! I cannot live without it.




What do you get out of trick jumping?
I get to show off and I like the technical side of it. You have to be precise and I love the fan appreciation.
Thanks for the interview and good luck for the future!