It takes a little extra something to stand out from the crowd these days. And in most cases, those who stand out do it fairly effortlessly. One look at Kyle Loza, how he rides and the innovation and individuality he's brought to Moto X in the last few years and you instantly realize he's one of those people. Kyle epitomizes what etnies is, and has always been about... and that's why we are so proud to welcome him to the etnies apparel team. Recently Kyle spent a few minutes with our MX Team Manager, Matt Chapman and discussed the matter, as well as a few other crucial topics.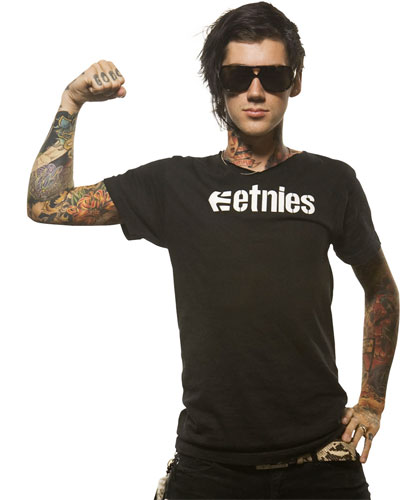 So Kyle, first off I wanted to say I'm stoked to have you on the etnies apparel program now. What made you want to be a head-to-toe etnies rider? I've been amped on etnies since I was dirty little kid! This is one of the coolest deals 'cause I can design signature shirts, pants and shoes all day long and now someone can actually make all my "amazing" ideas come to life. etnies is the land of the free...

We're going to be making some Loza-designed shoes and apparel next year… what would you like to see happen with that? I just really want to create this D.I.Y. atmosphere around everything I'm involved in. Stuff that makes everyone want to kick a hole the wall while still having control of your foot.
I know you're really into music and art in your free time. What's going on with that? I've been playing guitar, drums and microphone since I was seven. My cousins Erik and Noah, along with my wife and myself have been shredding together for a while now. I just built a recording studio so we decided it was in the stars to start letting people enjoy our music. Our band Piranha Fever is a healthy mix of electronic dance and thrash-your-face-off rock 'n roll. PiranahFever.com will be live and rockin' on July 25th.
You also like to skate at the etnies training facility... How long have you been skating? I've been skating since I was seven and uh... yeah, ouch! I eventually was given a broken jaw, right wrist three times, left wrist two times, both elbows, both legs, and some rather nasty pieces of skin left around south county. This was all before MX.
Who are your favorite skaters? Jamie Thomas kills it! Geoff Rowley and Reynolds are bad dudes too.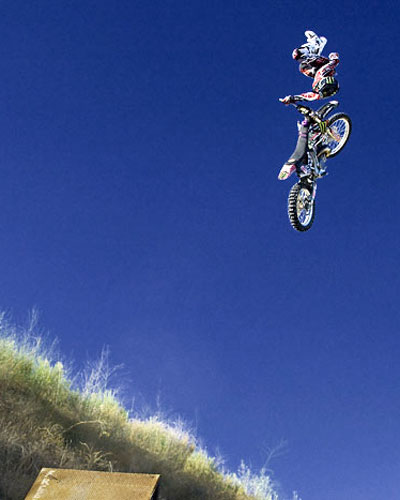 What other sports or activities are you into? Guns.
How is married life going? You got married this year? Yeah. My wife Casey is the coolest woman on Earth! But our 10 month-old year old daughter, Sade, is right up there too.
When did you start riding? I was 15 and I guess it came naturally. I just ride every night and thank God for the stage he gave me to shatter the Christian stereotype.
How is training going for X Games? X Games is unbelievably stressful! Sike! It's just doing what I do everyday, so I'm confident that I'll be confident when it's time to do something to dirt that I've never done before... crap.
You're the only rookie to ever win the Best Trick and the only rider to ever win back-to-back. Do you feel any pressure for this year?
I feel pressure every year, but I accomplished way more than I ever thought I would, so I'm content with that. Winning again would be rad but it's more about creating to me than winning. That's how it's always been and always will be. God is in control!
How is your wrist doing after surgery a few months ago?
I'm pretty much riding with a broken wrist. Lame, man. Lame.
What do you have planned for after X Games?
I'm going to Hawaii with my family and gonna make some more babies!
Anything else you want to say?
Recycling is the new black. Piranha Fever rules all. Getting hurt means you're progressing or your dumb.
Win one etnies package* "Head to Toe"!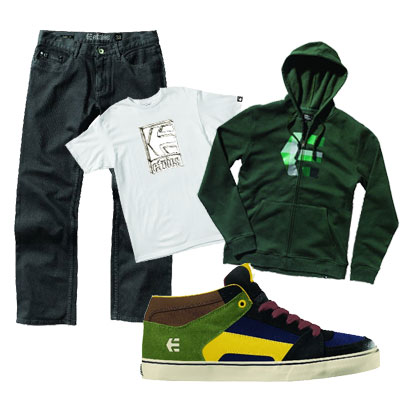 *The styles and colours shown is not guaranteed by etnies

You only need to answer the following question:

How often won Kyle Loza the X Games Best Trick Gold Medal?*
*including X Games 15 / 2009)
Deadline of this game was:

August, 30th, 2009



And the winner is:

Matthias Friebe


Support us: Like and Share it!

Video of the month

Facebook /FORTY8Mag

Partner