A few years ago we were missing some newcomers in the german Freestyle Motocross scene. Now, I few years later we are happy to present some new german blood. Today we are talking with Kai Haase from Berlin. Kai, 18 years since a few months, has great riding skills, because he started riding MX in the age of three. We talked with him about his progression the last years and how he got infected with FMX.

First of all, tell the guys out there some basics about you - where do you come from, how old are you and what is your mission? Hey, this is Kai Haase. I 'm 18 years old and I come from a little town which is called Berlin in Germany ;-) And of course, I ride Freestyle Motocross!!!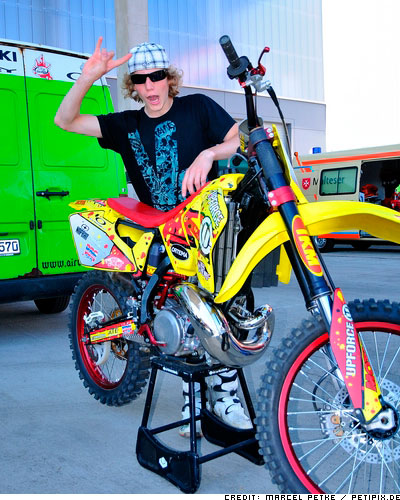 Almost every rider has a cool story how he started with MX. Do you also have one? How and when did you start riding MX bikes and what affected you to do FMX? I started riding MX when I was 3 years old. I rode a few regional championships, where I won a lot races. 2005 I did my best season, I placed 6th in German Championship and 1st in Regional Championship 85ccm class. 2007 I rode the 125ccm class and 2008 I started to ride Freestyle Motocross. Busty Wolter is knowing me, since I am a little child. Also the mechanic "Mini" is knowing me for a long time. After some troubles with my dad I said I will ride without him. Mini and Busty did everything, that I can ride!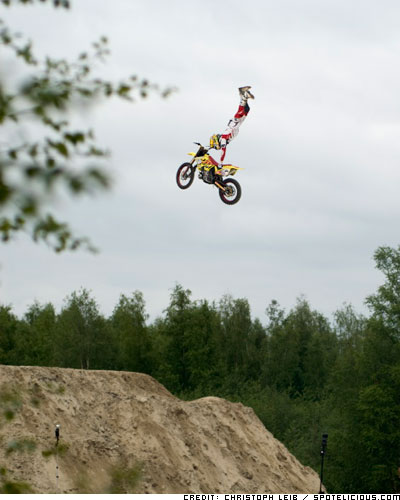 Do you have an own FMX compound? Yes, since 3 days I have my own compound. It is at the Motocross track in Schenkenhorst. Busty Wolter was the "president" of the club. But he will move away to another city. So, now I have my own park and some plans for the future :-)

Let's talk about the Flip... Do you think, that the people hype the Backflip to much and the judges are score them to overpriced?
YES! Did you see any cool non-backflip tricks? No, almost every contest is still a backflip contest! I know the flip is hard, I have really respect to all riders which are doing Flip combos ... But I would like to see more style tricks!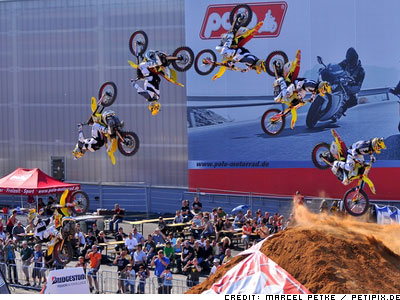 What do you think about tricks like the double flip and the frontflip?
Doubleflip: stupid! One flip is enough.
Frontflip: impressive, looks crazy (the frontflip of the Pages brothers)

Do you have planned to try the frontflip or the doubleflip sometime?
Doubleflip: I hope I don't need to do this trick in my career.
Frontflip: after Backflip tricks and Underflips I think I would try this trick.*dream*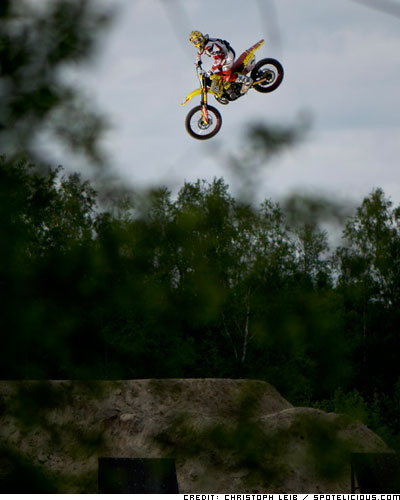 What are your plans for the upcoming season and which series and contests you are interested to ride in? Here in Germany you only can ride the German FMX Championship. I will ride this. But first of all, I will ride at the Red Bull Compound in the USA. I won this trip at the Rookie of the Year Challenge 2009.

Do you have another job beside FMX or do you go to school/college?
I'm in a work-school of 2-wheel mechanics (scooter). In two years I will do this job perfectly – I hope so.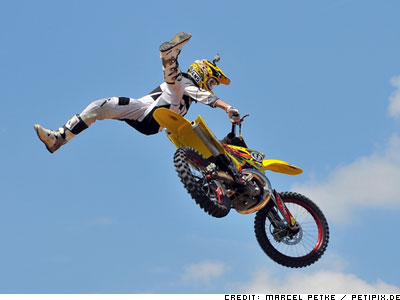 What are you doing in your freetime beside 2-wheelers?
Ride MTB Dirt ... ohh, It's also a 2 wheeler ... mmhh ... my week looks like
sleeping, go to work, sitting at the computer, sleep, (if it is weekend) riding, computer and sleep ...working. Right now I am riding the german SX race in SX2 class – it was just a big dream for me!

What kind of music do you like?
Rock, Punk and Hip Hop.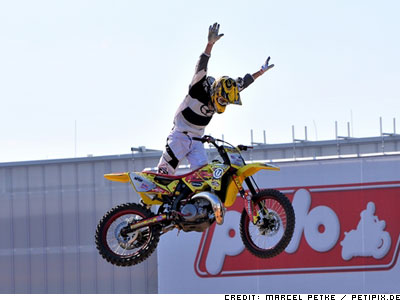 Your last words – do you want to say something to your fans, friends etc? Hey, check my website – at the moment the page is under construction, but in some days (or weeks) you will find a new website ;-)
Check www.kai-haase.com

I really want to thanks my sponsors, Upforce, Vans, BRC, MG-Sport.de, Ortema, Oakley, Maxxis, Skullcandy, Eterna MX, Lechmann Engineering
without these guys I know I can't ride! And thanks to forty8.de for this interview!
Okay, now our classical word association. Give me the first word that pops into your head:
USA or Europe: USA
Sponsors: Upforce
Favorite Website: www.kai-haase.com
Goonriders: Busty ahh..josh hill
Double Flips: no
Tattoos: I don't have any
50's: really funny
Best Trick: whip
Biggest success: rookie of the year 2009
Movie: EPIC
Travelling: take a while....
Girls: some are really hot!
Day of birth: 08.10.1991 , like Travis Pastrana :)

Right on – thanx for the interview and good luck in the future!
Deadline of this game was:

December, 31st, 2009

Right answer: 4th place

The winners are:
Matthias Weihermüller, Altenkunstadt wins a VANS OTW Hoodie
Soeren Sellmer, Berlin wins 2 pairs Vans Whips Shoes