Interview with Tim Kerling
Another german Newcomer is Tim Kerling from Bavaria/Southern Germany. The training partner of Fabian Bauersachs was riding the German FMX Championship and the Flight Club Tour 2009 and placed in the Top 10. Tim is famous for his extension – especially his Cliffhanger. We talked with Tim about how he came into the sport and his plans in the future...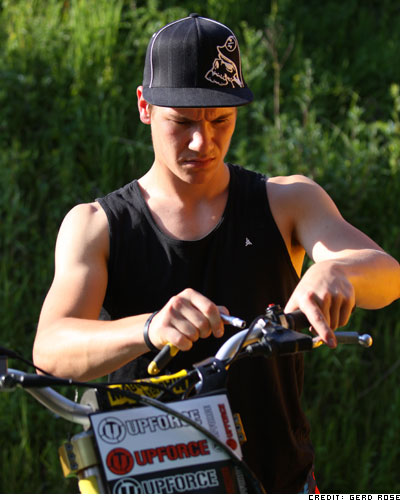 First of all, tell the guys out there some basics about you - where do you come from, how old are you and what is your mission?
Hey everybody, I am Tim Kerling from Altenkunstadt in Bavaria/Germany, and I'm 24. Well, my mission is to have fun and make people happy with my sport.

Almost every rider has a cool story how he started with MX. Do you also have one? How and when did you start riding MX bikes and what affected you to do FMX? My dad was riding Enduro in the 80ts, when I was a little boy I escorted him on every race. So I got my first MX Bike in the age of 9. When the first crusty videos came out they really inspired me to try tricks on my own.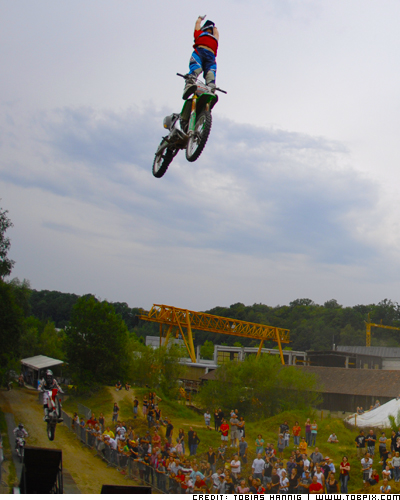 Do you have an own FMX compound? Nope, I'm riding on Fab's compound.
Let's talk about the Flip. Do you think, that the people hype the Backflip to much and the judges are score them to overpriced? No, but I just think you should do not more than a certain number of flips in a run.
What do you think about tricks like the double flip and the frontflip?
Crazy, I think it is not possible to control these tricks for 100% and so they can be to dangerous.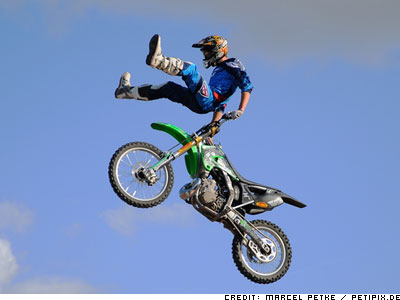 Do you have planned to try the frontflip or the doubleflip sometime?
First of all, I have to learn the "normal" backflip. hahaha!
What are your plans for the upcoming season and which series and contests you are interested to ride in? Learn new tricks and have fun.
German Masters and Flight Club Series.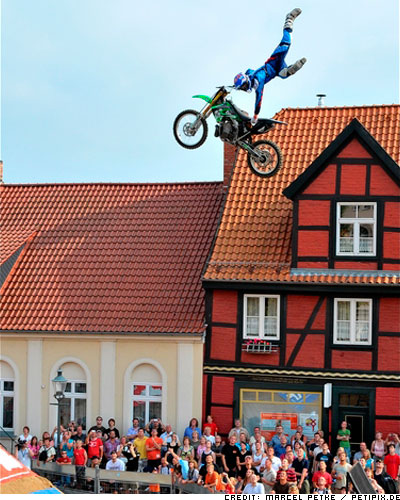 Do you have another job beside FMX?
I did a education as a technical draftsman, but at the moment I work with my father on our farm.

What are you doing in your freetime beside 2-wheelers?
Spend a lot of time with my friends an my girl friend.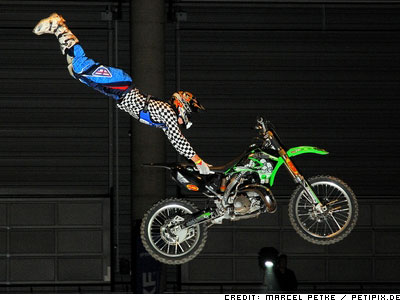 What kind of music do you like?
Punk Rock and Indie Rock.
Your last words – do you want to say something to your fans, friends etc? Live every day, it would be your last.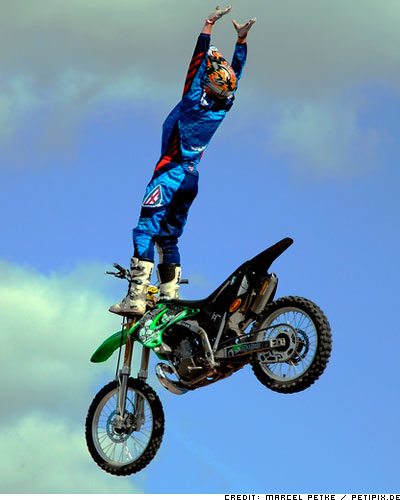 Okay, now our classical word association. Give me the first word that pops into your head:
USA or Europe: Europe
Sponsors: Upforce, obg
Favorite Website: forty8.com
Goonriders: Busty Wolter
Double Flips: Travis Pastrana
Tattoos: I like it
50's: to small
Best Trick: Cliffhanger
Biggest success: Upforce Rookies Contest 3. Place
Movie: on the Pipe
Travelling: travel jam sucks
Girls: got my own
Day of birth: 26.10.1985

Right on – thanx for the interview and good luck in the future!
Thx and cheers
Your Website: www.tim-kerling.de (comming up in january 2010)