Interview with Mike Metzger
Almost every (F)MX fan knows Mike "The Godfather of FMX" Metzger. Mike is always in good mood and entertains the people around him. After winning two gold medals at Summer X Games VIII (2002), where he did the first ever backflip to backflip, Mike is a living FMX legend. We talked with one of the originators of FMX about the past 10 years and what's going on right now and in the future...

For those who do not know you, tell us some basics about you – where do you come from, how old are you and what is your mission? Born in Huntington Beach, California 1975. My mission is to be the best I can be at anything I do.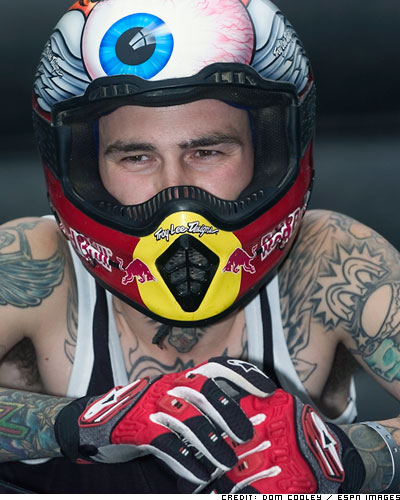 The most riders have a cool story how they started with MX. Do you also have one? How and when did you start riding MX bikes and what affected you to do FMX? I started riding bikes with my dad as soon as I was born. Started riding by myself at 3 yrs. Old. My grampa built me my first ramp at 3 yrs. and I rode a Suzuki JR50. I started racing at 6 yrs. old and competed full on until I was 18 yrs.
Looking back the past 10 years, you are definitely one of the originators of FMX. I think your highlight were the X-Games VIII where you won two gold medals in Freestyle and Best Trick – right? Winning X Games was a big highlight in my career and taking backflips from 50 feet to 80 feet doing the first backflip to backflip. 2002 I won two Gold medals and one Silver.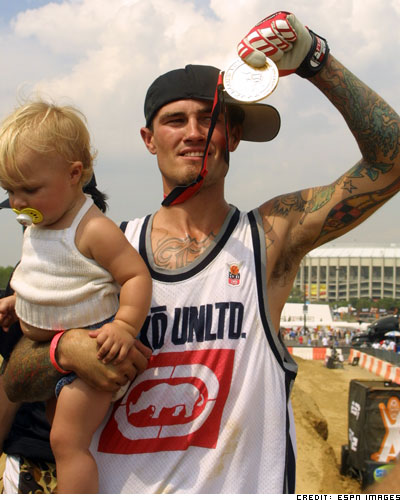 Here is a video clip of Mike's backflip to backflip at Summer X Games 2002:



After that year the Backflip Combo Battles started. It was getting more dangerous year by year. What do you think about the progression of the FMX sport the last 10 years? I think it is by far the best thing to happen to the motorcycle industry. Riders pushing each other to innovate is what it is all about.
A few years ago you quit riding the big FMX Contests. What was the reason? After winning X Games medals I wanted to do other things like race roadrace bikes, super-moto, and off-road short course. I helped with bringing super-moto into the X Games and got to compete which was a lot of fun.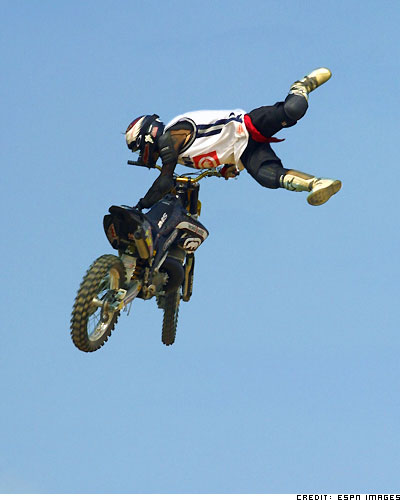 Do you think, that the people hype the Backflip (Combos) to much and the judges are score them to overpriced? Backflips are now a standard issue trick. If you are not doing flip combos you are not a top freestyler. Eventually we will see more 360 combos and so on.
FORTY8 is thinking about a Best Trick Contest without Flips and started a Voting on our website. Because we want to support more Non-Flip Innovations, than Backflip Evolutions in the future of Freestyle Motocross! What do you think about our idea? I think there is plenty of guys learning non-flip tricks like Kyle Loza and Paris Rosen. We will see more new talented riders in the future doing non-flip tricks, flip combos, and 360 combos in FMX runs.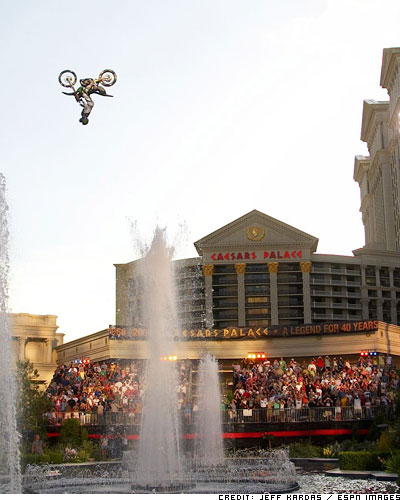 What do you think about tricks like the double flip and the frontflip?
I think riding motorcycles is dangerous and when you bring tricks like the double backflip and front flips into the game the crashes become more violent.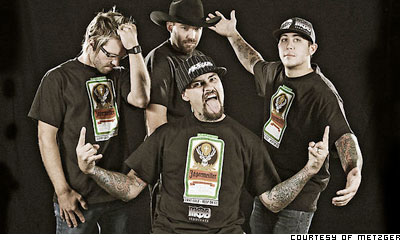 For what bike brand are you riding in the moment?
I am riding Jägermeister KTM 250 two-strokes.

Recently I saw a video clip of you riding a boost mobile contest. You looked great on the bike and really motivated. A lot of riders applied for the X-Fighters Ranking Session. Did you ever think about a comeback and applying for this X-Fighters Ranking? I just ride as much as possible now a days and have a lot of fun. I don't need to put pressure on myself to win contests. I already did that and won Gold medals.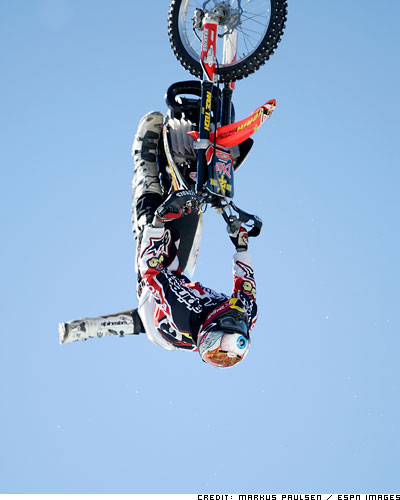 What are you doing in your freetime beside 2-wheelers? I am working on marketing my Team The MOB Syndicate, MetzgerUnlimited.com (The Worlds Premiere Freestyle Outfitter), filming for my online talk show Xpress With METZ, and my Metzger merchandise line.
You are also a great artist. Please tell us more about your pictures and tattoos. I have drawn and been into artwork since I was a kid. Both my parents are very creative people. I started tattooing at 18 yrs. Old and have been slinging ink since. I tattoo at Monster Tattoo in Temecula, CA and have a lot of my canvas paintings on display in the gallery.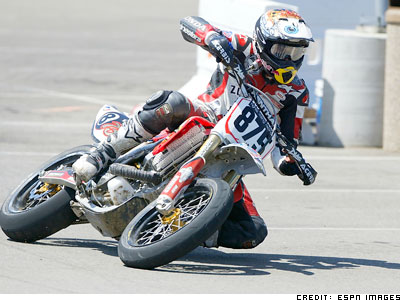 You are also doing Supermoto and Truck Racing. Are you doing these sports with the aim to win or just for fun? If aim to win – What were you best results? I raced super-moto and short course off-road for awhile. Both are very expensive. I would like to race trucks again in the next couple years.
What are your plans for the upcoming season and which shows, series and contests you are interested to ride in? My main focus is to do all 28 events of FMX shows at the AMA Supercross and AMA outdoor nationals for Jägermeister KTM.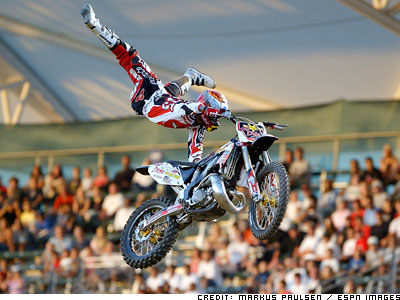 What kind of music do you like – your top 10 tracks on your ipod?
I like a wide variety of music. I really don't have any favorites.
Your last words – do you want to say something to your fans, friends etc? Always do your best. If you really want it get it. Mistakes will happen. Learn from them and be successful.
Okay, now our classical word association. Give me the first word that pops into your head:
USA, Asia, Australia, Africa or Europe: ONE
Sponsors: OAKLEY
Favorite Website: MetzgerUnlimited.com
Goonriders: FUN
Double Flips: PASTRANA
Natural Terrain: OCOTILLO
Tattoos: PAIN
50's: KIDS
Best Trick: NACS
Biggest success: X Games
Movie: Frezno Smooth
Travelling: WORLD
Girls: TROUBLE
Day of birth: 19
Future: WIDE OPEN
Right on – thanx for the interview Mike and good luck for the future!