Interview with Thamer Engeli
Thamer Engeli is one of the coolest dudes I know and also a good friend of the FORTY8 Family. Looking back into 2002 he won the famous Freestyle.ch event in Zürich and got invited to ride the Red Bull X-Fighters in Madrid. After losing his training compound it was getting quiet around the Swiss rider. This year we met Thamer at the Flight Club Contest in Biberach/GER, where he rode really smooth – and of course he won the Contest.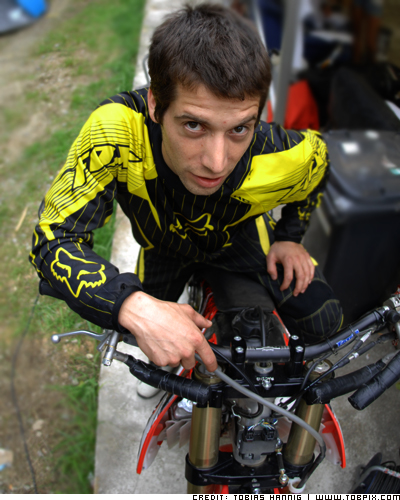 First of all, tell the guys out there some basics about you - where do you come from, how old are you and what is your mission? My name is Thamer Engeli, coming from Switzerland and I am 26 years old
My mission is having Fun and enjoy what i do.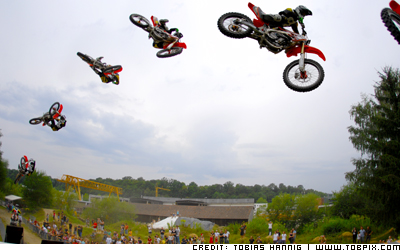 Almost every rider has a cool story how he started with MX. Do you also have one? How and when did you start riding MX bikes and what affected you to do FMX? I started riding when I was 3 years old with the help of my Father, I was racing in several championships, also in Germany with a lot of famous riders like Max Nagel, Kevin Strijbos, Chittaro, Brockel. I started FMX in the early days on a 80cc Suzuki I think it was around 1996-1997 with no footers and no handers, around 2000 I took it serious and quit the racing.

A few years ago you lost your FMX compound and you weren't able to train consistently. Are you still searching for a new one? Yes that's the way things went… was a great time at the Spot, we had two landings couple of Ramps a Foampit and any thing we found was turned into a Jump, Hip, Bowl or any kind what we could build. Till now we are still searching for a spot… its hard to find one because of the Nature funds and the People they been against any kind of Motocross. Sometimes i went to Germany for practise with Tobi Seibert or to the French part of Switzerland with Bernard Correvon and Mat Rebeaud.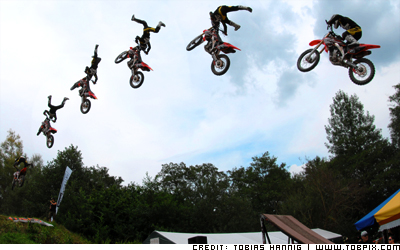 Let's talk about the Flip... You have learned the Flip 2004. Meanwhile a lot of crazy Combo Tricks were invented. Do you think, that the people hype the Backflip to much and the judges are score them to overpriced? To do a Flip was pretty intense, even when I did the first couple on dirt, it was scared as hell. No I think they do score it in a right way because the riders taking some big riskes to do stuff like that and every time they take it to a new level.
What do you think about tricks like the double flip and the frontflip and do you have planned to try tricks like the frontflip sometime? That kind of Tricks scared me, not even me ask some other riders… If you get me a Rotorbike, I would try a Tailwhip into a Pit but never a Double flip or a
Frontflip.




A lot of riders applied for the X-Fighters Ranking Session in the USA. Did you ever think about applying for this X-Fighters Ranking, too? Yeah why not, first i need to speak with my Girlfriend… hahaha

What are your plans for the upcoming season and which shows, series and contests you are interested to ride in? I hope that the Swiss championship gets back like it was planed a while ago, maybe one or two of the Flight-Club series and for sure the legendary Free4style in Estavayer le lac.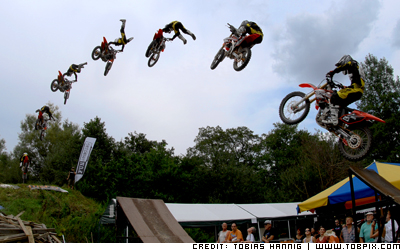 Do you have another job beside FMX?
Yes, working as a Metalconstructioner in a Factory
What are you doing in your freetime beside 2-wheelers?
Riding Snowsccot with you Dude, BMX and virtual MX pracrise on a PlayStation.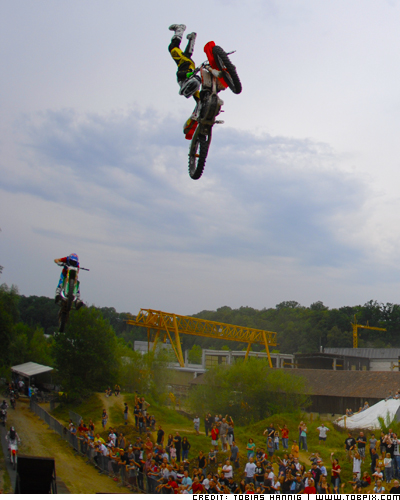 Switzerland is famous for it's good food. What is your favorite meal?
Fondue & Raclette

What kind of music do you like – your top 10 tracks on your ipod?
1. Eddy Grant "Electric Avenue"
2. Madvillain "Monkey Suite"
3. Daniel Pemberton TV Orchestra "Rock the Jungle" (Little Big Planet)
4. Slick Rick "Memories"
5. Ramstein "Moskau"
6. Dragon Force "Through the Fire and Flames"
7. Aretha Franklin "Jump to it"
8. Jungle Brothers "Buddy"
9. Prodigy "Warrior's Dance"
10. KRS One & Buckshot "Robot" (true lyrics)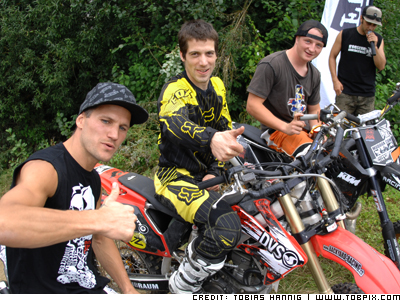 Your last words – do you want to say something to your fans, friends etc? Enjoy what you do & the way how you do it! Thanks Toby 4 supporting me.
Okay, now our classical word association. Give me the first word that pops into your head:
USA or Europe: Switzerland
Sponsors: Keetch, VonZipper, FORTY8 and my Wallet
Favorite Website: Forty8, Racerxill
Goonriders: Busty Wolter
Double Flips: Crazy
Natural Terrain: Love it
Tattoos: couple
50's: Fun till they wreck
Best Trick: Nac,Whip and Scrub
Biggest success: 1st freestyle.ch and still riding for fun
Movie: Home (documentary)
Travelling: …is hard
Girls: got a good one
Day of birth: 13th

Right on – thanx for the interview Thamer and good luck for the future!
Thank you Toby