Interview with Photographer
Marcel "Petipix" Petke
After talking with more than 60 FMX riders the last years, we thought about to interview a person, who is standing behind the camera and doing a good job. We are talking about Marcel "Petipix" Petke, who joins almost every german contest and event to take great pix and sequences...
Marcel, when did you start taking F/MX pictures and how did you get in touch with F/MX? 5 or 6 years ago I met the Motopunx and watched them riding. I never had a MX Bike, so I began to make pictures and small movies. I realized that I had a good skills for photography, or should I say fingers? I always got great feedback from the guys and so it happened that I am more and more focused on photography. The Motopunx have laid the groundwork for my passion – taking pictures.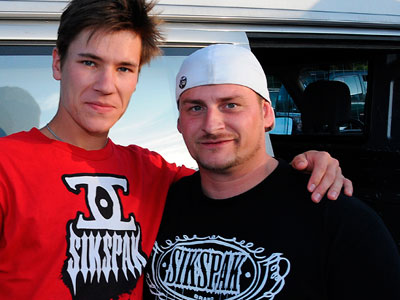 Tim Kerling and photographer Marcel "Petipix" Petke

Which was your first camera?
Oh god, my first camera was a pocket camera, like everyone owns one. But soon I recognized, that I need a SLR camera to take great pictures and sequences.

What is your favorite FMX Trick?
Backflip-Stripper, Cordova-Backflip, Tsunami-Backflip!

Which of your pics is your favorite - and why?
I have no special picture, but when I take a picture of a rider in full extension and all the camera settings are alright, I use the picture for creating collages, wallpapers and posters.

Click here for the "Best of Gallery" of Marcel Petke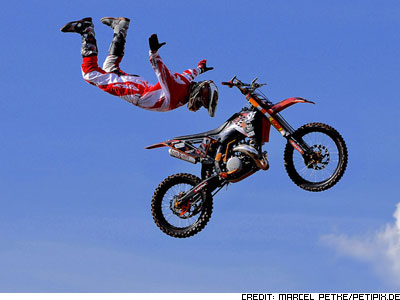 What cam and lenses are you using?
At the moment I use the Nikon D300 with Nikkor lenses 16-85mm and 70-300mm. Of course, with a big flash and other small things that you need to play. But I want something new. New camera, new fast lenses. Very important for photos in indoor arenas. So I hope Nikon reads this and sends me a case with a new equipment ;-)

Who is your favorite rider?
There are so many sick riders, so I can't tell you who is my favorite. The main thing is they all remain healthy and show awesome tricks.

What are your goals regarding photography?
To get as good as Chris Tedesco has become. His pictures are very good. I hope that I can play in this league someday.
Okay, thanks fort he interview Marcel and good luck fort he future!

More information about Marcel: www.petipix.de