Interview with Hannes Ackermann

The first time we met Hannes Ackermann he was a young kid doing crazy tricks on his 80 cc Suzuki. Now, almost 10 years later Hannes still rides FMX and has already won 2 German FMX Championships and he ended up in 9th in the actual NOTJ FIM Freestyle MX World Championships season. We talked with Hannes about the past times and the future...

First of all, tell the guys out there some basics about you - where do you come from, how old are you and what is your mission? Hi, I 'm Hannes Ackermann, 19 years old and I come from Niederdorla/Germany (a small village in the middle of germany :))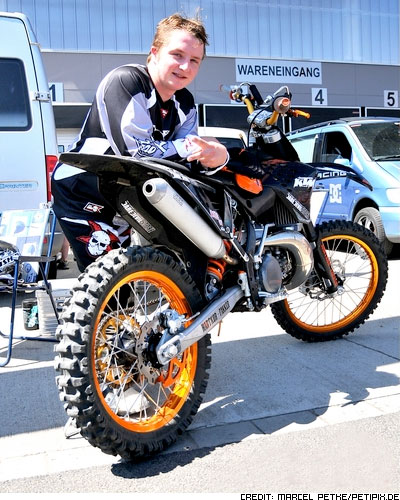 Almost every rider has a cool story how he started with MX. Do you also have one? How and when did you start riding MX bikes and what affected you to do FMX? I started riding in the age of 8. My father rent a 50ccm 3 weekends in a row and I told him that I want to ride more so he bought me a bike...after 2 years of racing I started with fmx because I had so much fun by doing jumps...we built the first ramp and a landing and I jumped as much as possible.

Can you remember our first get-together 2000? You were riding the FMX Jam in Reutlingen with Busty, Marc and Gino. A lot of things were happening meanwhile. What were your worst and best experiences? Yeah, I remember our first meeting in Reutlingen – it was a good time without stress and some good jumps ... my best experience of this sport is to ride my bike all over the world and meet new cool people.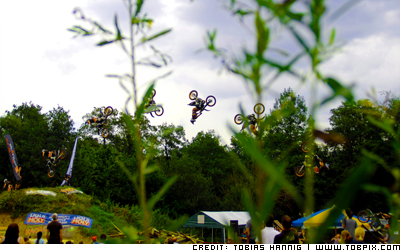 Do you have your own FMX Compound? Tell us some details about it. Yes I have an own compound. it is 200 meters away fom my house. it is an old soccer place but we built a landing, a foampit and a 50 track on it... also I have a halfpipe for bmx and skates and a small but very funny pumptrack for mtb.

Let's talk about the Flip... You are doing the Flip and a lot of Combos. Meanwhile a lot of crazy Tricks were invented. Do you think, that the people hype the Backflip to much and the judges are score them to overpriced? I think that the new tricks are very heavy to do but all of them are looking awesome. The backflip now is a standart trick but its a long way to do. I think that the crowed overhype the flip to much but the judges underscore it everytime. this trick is dangerous and hard to do perfect but its a good feeling.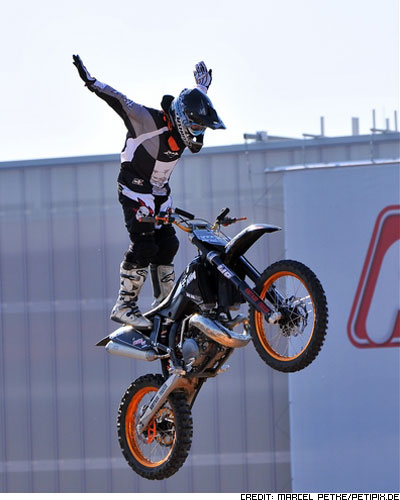 What is your favorite Trick (one flip and one standard trick)?
my favorite trick is defenetly the shoe box and indyflip

What do you think about tricks like the double flip and the frontflip and do you have planned to try these tricks sometime? This tricks are very hard to do. I did double flips with my mtb and bmx into the pit but with the big bike I wont try. I also tryed frontflips with the bmx in the pit but the bike is not rotating.

A lot of riders applied for the X-Fighters Ranking Session in the USA. Did you ever think about applying for this X-Fighters Ranking, too? Yes, I thought about 2 go in the states to do x-fighters qualification but my level is not ok 4 this right now. I will go when im ready for it. But for the next winter I planed to go riding in the states.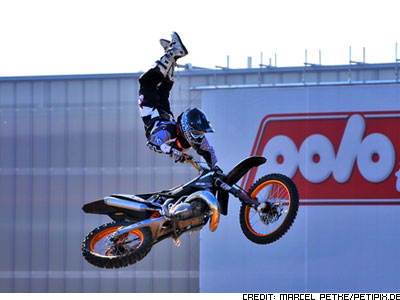 What are your plans for the upcoming season and which shows, series and contests you are interested to ride in? Next season I will ride flightclub, german championship and hopefully the ifmxf series again. on free weekends I will ride shows or go practice with some friends

Do you have another job beside FMX? I dont have a job besides fmx. I finished my school two years ago and from this point im a fmx pro. when im at home I help my parents out at work.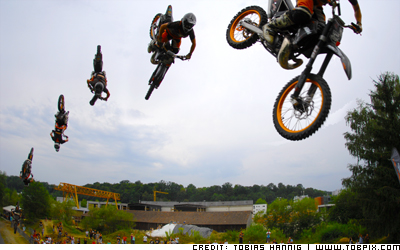 What are you doing in your freetime beside 2-wheelers? when I have freetime I go swimming meet some friends or just relax at home

What kind of music do you like? My favorite music is hardcore. favourite band is raised fist but raise against, slayer, slipknot and death by stereo are also pretty good.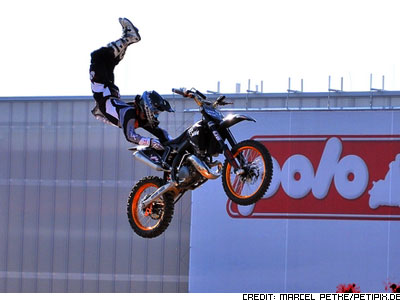 Your last words – do you want to say something to your fans, friends etc? Thanks to my family, sponsors, friends and fans for pushing my forward and helping me doing what I do: FMX.

Okay, now our classical word association. Give me the first word that pops into your head:
USA / Europe: Europe now USA later
Sponsors: KTM Racing Germany,Marushin Helmets , www.muddox.com, Dare Devil Store
Favorite Website: www.hannesfmx.com
Goonriders: Gilles Dejong
Double Backflip: Crazy
Natural Terrain: fun
Tattoos: have one get the next in march
50s: bmx with engine
best trick: indyflip
biggest success: 2007/2008 German FMX Champ, 2009 German FMX vice Champ, 9th overall IFMXF Worldchampionship
movie: Kill Bill
Travelling: Awesome but flights are boring
Girls: have none but like them
day of birth: 05.03.1990
Right on – thanx for the interview Hannes and good luck for the future

More information about Hannes: www.hannesfmx.com