Interview with Clinton Moore
Australia has a bunch of great FMX riders like Blake Williams, Robbie Maddison, Cam Sinclair and many more. But watch out: there are also some newcomers we want to introduce you! Today we are talking with a Rookie called Clinton Moore from Bundaberg in QLD. It seems this guy will be soon one of the top riders in the world. His Tricks – especially the 360 are awesome...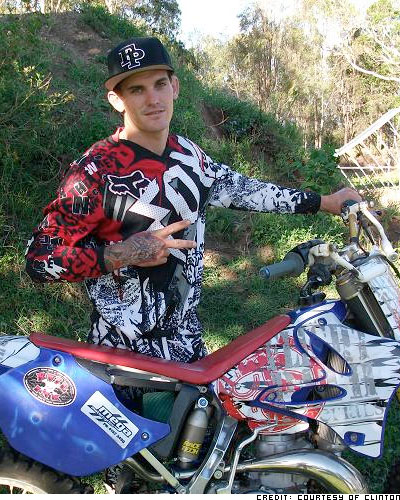 First of all, tell the guys out there some basics about you - where do you come from, how old are you and what is your mission?
My name is Clinton Moore i'm 21 and I live in a small town called Bundaberg in QLD Australia, with my 2 kids and girlfriend. My goal is to forfill my dream of becoming a well known freestyle MX rider.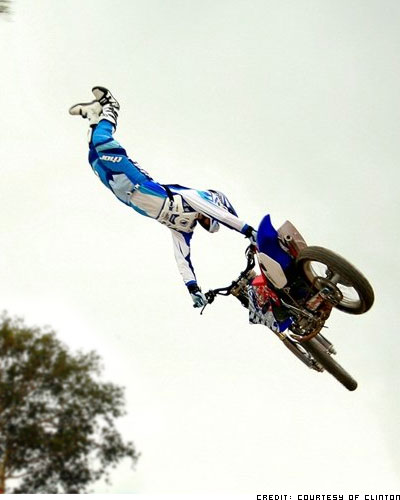 Almost every rider has a cool story how he started with MX. Do you also have one? How and when did you start riding MX bikes and what affected you to do FMX?
I grew up on a farm where I always had a bike to play on and being on a farm had the perfect place to explore my interests. My older sisters boyfriend lent me some old moto vidoes of freestyle, ones I saw them I new that was what I wanted out of my life.
Do you have an own FMX compound?
My compound is on dads farm its about 6 acres which has my foam pit, dirt jumps and ramps.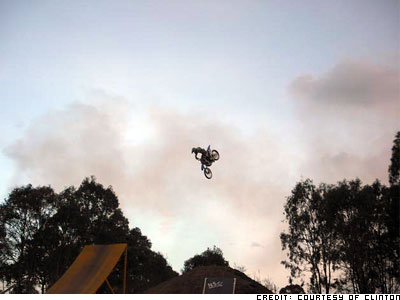 Let's talk about the Flip.
I did my first flip when I was 15 in 2004. Not long after I had a bad crash after under rotating over 45 ft. I broke both my arms. The backflip is the best thing that has come into freestyle, it shows a riders full skill and abilitly if they are able to consistantly flip.
Do you think, that the people hype the Backflip to much and the judges are score them to overpriced?
I think in Australia the judges don't appriecate the backflip and don't score high enough. Where in the US I reckon you get more respect from the judges for flipping, because all riders are doing it.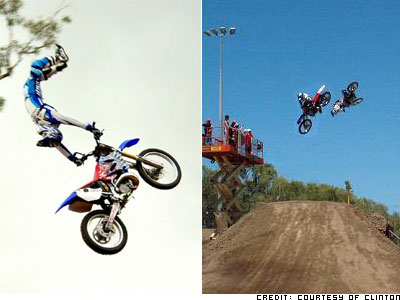 What do you think about tricks like the double flip and the frontflip?
Its good for the sport,to show ppl that anything is possible and how far ppl will go to bring new things to the sport.
Do you have planned to try the frontflip or the doubleflip sometime?
Tried to double in the pit, its not as easy as it looks and the front flip, maybe down the track.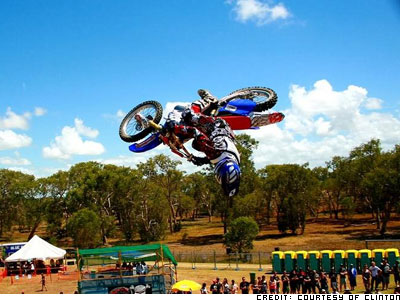 What are your plans for the upcoming season and which series and contests you are interested to ride in?
X-Kings which is being held in my home town, and ill just wait and see what comps I hear of, as far as riding contracts, nothing is set in stone yet. Kicking off the start of '2010' with 3 shows in indonesia.
Do you have another job beside FMX or do you go to school/college?
I am a qualified escovater driver so I do that when im not riding in shows or riding in comps.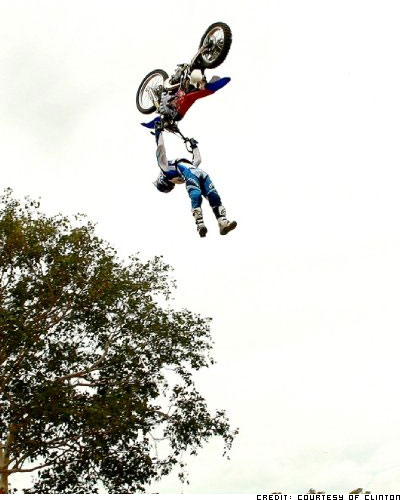 What are you doing in your freetime beside 2-wheelers?
Im hanging out with 2 kids and girlfriend and friends.
What kind of music do you like?
I listen to heavy metal, rock and rap, a bit of everything.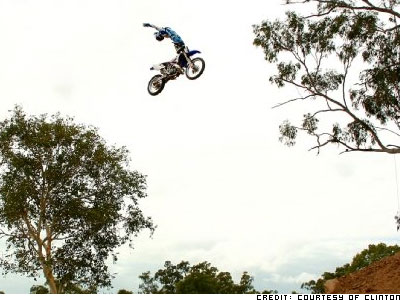 Your last words – do you want to say something to your fans, friends etc?
Thanks to my family for understanding and supporting me and my sponcers flightpathmaterials.com, mega motorcycles, evil ink and pink bits productions. To my fans, thanks for the support.
Okay, now our classical word association. Give me the first word that pops into your head:
USA or Australia: gidday mate
Sponsors: flightpath materials
Favorite Website: don't no
Goonriders: jason rozycki
Double Flips: crazy
Tattoos: sick mate
50's: good for fun
Best Trick: 360
Biggest success: backflip when I was 15
Movie: snatch
Travelling:gay
Girls: Taken
Day of birth: who remembers that?

Right on – thanx for the interview Clinton and good luck in the future!
Also watch: Clinton's Red Bull X Fighters Submission Video