Interview with Lance Coury
Lance Coury is one of the hottest young riders on the international FMX scene. In an interview, the American talks about his friendship with Red Bull X-Fighters Champion 2008 Mat Rebeaud, his career highlights so far and his burning passion to ride at the second stop of the Red Bull X-Fighters World Tour 2010 in Egypt.

As you know there was a newcomer to the Red Bull X-Fighters World Tour 2009 by the name of Levi Sherwood. What do you expect in Egypt?
When Levi Sherwood first came to California he slept at my house and ended up staying for about three months! We rode together every day, and it really opened my eyes to the fact that there are young kids out there who can take on the older guys and win. That really pushed me. Now I have my own chance! I won't go for it too hard in front of the pyramids – I want to take it slowly at first and get used to the ramps and the atmosphere. If I manage to do that, nothing can go wrong.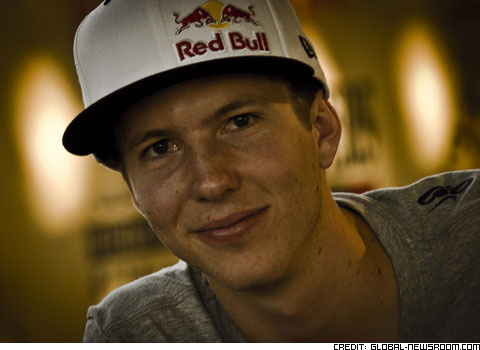 You live in the USA and train there night and day. All the guys from Europe like Andrè Villa and Mat Rebeaud are now moving to your home country to live and ride. How do you interpret that?
California is like the Mecca of motorcycles in general – all the main factories are here. We have great weather almost all the year round. There is a bit of rain every now and then, but that is good because your body needs a rest. This is the place to be to ride: all of the magazines are here, all of the film makers are here. It's good to get publicity for the sport.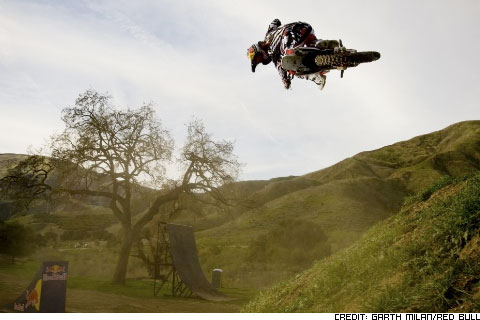 How long have you known Mat?
I think we first met when we were 16. We hooked up through Red Bull, and he didn't really have a place to ride in California, so we went riding together. It was a good chance for me to push myself, and he had a chance to ride. Now we meet up maybe four to five times a week and have become really good friends – he's like an older brother to me.
What was your biggest event and biggest challenge in 2009?
I rode the Pro Am IFMX A, where I ended up getting first place. That was my first bigger competition. I really want to get into the Red Bull X-Fighters and have been working really hard towards that. I've been taking Mat's advice on what I need to do to do well in it, so now I'm really ready to throw down.