Interview with Massimo Bianconcini


Daboot = Pasta, party, smooth riding style and finest Italian FMX. One of the Daboot riders is Massimo Bianconcini. He has great riding skills and did start riding dirtbikes at the age of 3. That's the reason he looks strong and smooth on the bike while doing tricks like Underflip, Tsunami Helicopter, Double Hart etc. We met Massimo during the NOTJ Contest in Basel and talked with this great guy about how he get into FMX and his future plans...

Ciao Massimo! First of all, tell the guys out there some basics about you. Where do you come from, how old are you and what is your mission regarding FMX?
My name is Massimo Bianconcini - as you already know. I live in Loiano, a small village near Bologna. I'm 30 years and I started riding FMX 7 years ago. I still try to improve my riding skills. I will ride until it will still give me pleasure and until my body will let me.

A lot of riders have an interesting story how they started with riding MX. Do you also have one?
I started riding MX when i was 3 years old, because my dad i my uncle gave me a little bike as a present. I don't really remember how it happened, but I took part in my first race at the age of 6. I liked it so much that I started riding regularly.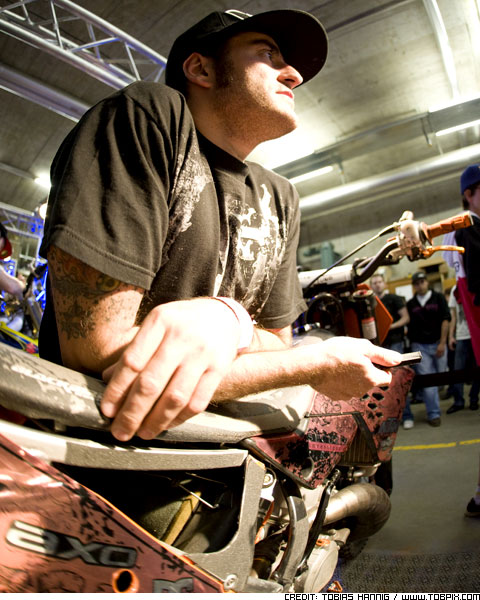 You rode very good at the NOTJ FIM WC in Basel and qualified for the final on both days. You also won the highest air and best whip on saturday. It seems you have great riding skills. How and when did you start riding MX bikes and what affected you to do FMX?
I started being intrested in FMX during my visit in Belgium. I was riding Supercross with Jimmy Verburgh. He had a ramp and he encouraged me to jump. After 10 jumps I felt comfortable and started taking hands of the bars and doing some easy stuff. I really liked it, so me and Miki Monti decided to build a ramp in Italy. And that's how all the story began.

Practising is really important do ride safe. What kind of training are you doing to be in shape and do you have an own FMX compound?
When the weather is good I'm riding in my park. Sometimes I use my foam pit to train some more difficult tricks. I ride everyday, so if the weather is not good enough to ride FMX, I'm riding MX with my friends, which helps me to keep good balance on the bike and not loosing my shape.


The Italian FMX scene is getting bigger year by year. Especially the Daboot Crew has a lot of members – how many actually? Tell us more about Daboot and the plans of the Crew?
Now Daboot has 12 members. The group was invented 8 years ago by Alvaro dal Farra, Jader Toninello and me. Now Daboot focuses on organising shows around Italy (every weekend we have a show!) and we also opened 2 FMX schools, where we try to teach young people how to ride and we create possibilities for them in the freestyle world. We keep on developing, we want Daboot to be known – not only in Italy.


You are doing a lot of Flip combos. What tricks do you have planned to learn the next weeks?
This summer I will do the Underflip Nac Nac. One month ago I learned how to do the standard underflip. I was really surprised after the first time it went out perfectly. I hope I will be lucky also with Nac Nac! Another thing I want to do is the Cordova Flip and I have to refresh some of my old tricks, like the Seatgrab Flip.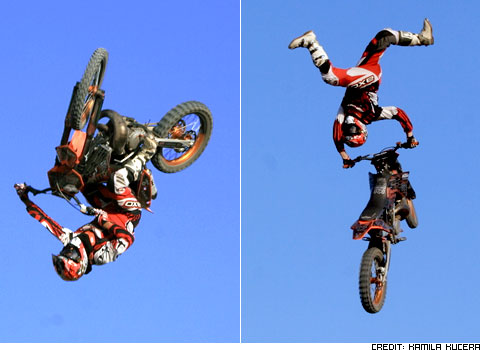 What do you think about tricks like the double flip and the frontflip and do you have planned to try the frontflip or the doubleflip sometime?
I never wanted to do this kind of tricks. I love life and i don't want to kill myself. This is way to dangerous, because you don't have any control. If the rotation is not perfect, you can just pray. I prefer to control the situation and have bigger possibility to survive after the crash. It's not funny when the bike falls on you (check my video from Mannheim where i broke my jaw, and I had a lot of blood in my head). I don't want to risk that much.

What are your plans for this season and which series and contests you are interested to ride in?
This year I will ride all Night of the Jumps series and propably I will be on Red Bull X-Fighters in Italy. I think you could also see me on Masters of Dirt, but for now I don't have any news. I'm very busy (I won't mention my shows in Italy)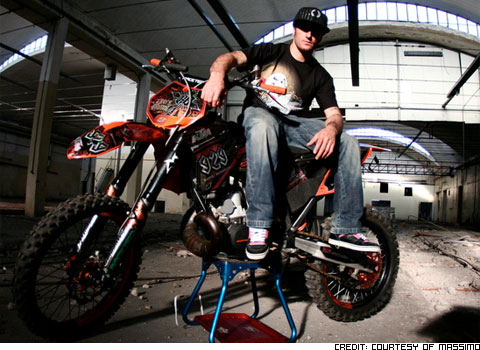 What are you doing in your freetime beside 2-wheelers?
I was reparing my Harley the last weeks and it's almost done. I also like to take care of my dodge and willy's from II World War. I don't have too much free time!

What kind of music do you like – for riding and for chilling?
I listen to rock music. My fav gropus are: ac/dc and metallica. Although I don't understand what they are singing – hahahaha!

Where are you living in Italy? And what city or place should people visit, if there are travelling to Italy?
I live in Loiano - a province of Bologna. But I will move out in some other place soon. People who want to visit Italy should definitely see Venice, Rome or Tuscany!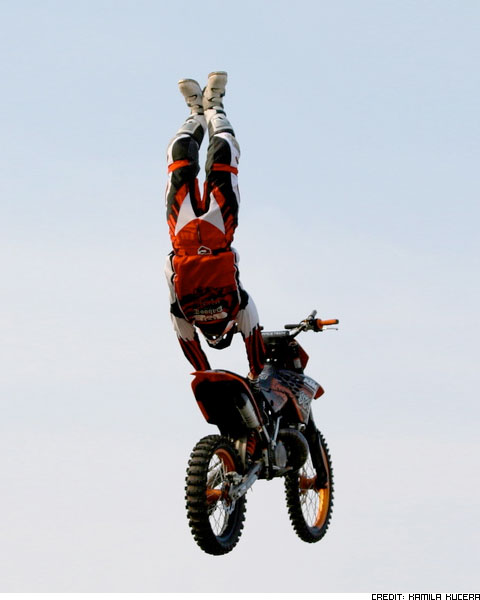 What is the typical italian meal – and what do you like to eat most?
Typical Italian meal is pasta! You can choose between thousands types and tastes. I'm a big fan of pasta and pizza from my cousin's pizzeria!
Your last words – do you want to say something to your fans, friends etc?
To all my friends, fans and fans-to-be (:P) : follow my website and facebook and visit my shows! If you ride, then keep on riding and always remember to use protection!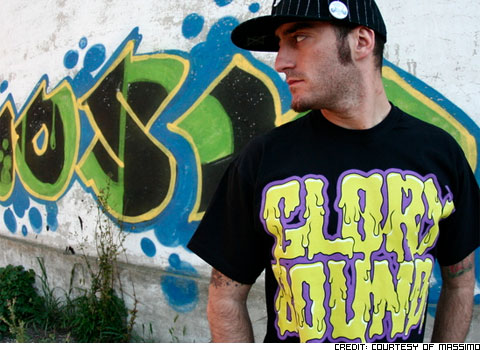 Okay, now our classical word association. Give me the first word that pops into your head:
USA or Europe: Europe
Sponsors: ktm, security group, dc, axo, tcx, x-lite, oakley, goldentyre, race tech, marzocchi, motorex, pbr, logica, scarrov
Favorite Website: forty8 ;-)
Natural terrain/freeriding: Beaumont California
Daboot: friends, shows and party
Tattoos: one of my passions
50's: the bike of my girl
Best Trick: Underflip
Biggest success: whip contest on the Night of the Jumps
Movie: The Godfather
Travelling: Poland
Girls: my wife Kamila Kucera
Date of birth: 27-10-1979
Right on – thanx Massimo for the interview and good luck in the future!
More information about Massimo:
www.bianco929.it
www.facebook.it/massimo bianconcini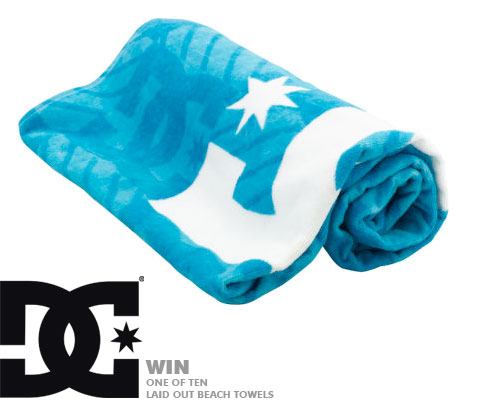 You only need to answer the following question:
Which FMX crew is Massimo Bianconcini riding in?


Right answer:
Daboot
Deadline of this game was

June 30th, 2010

The winners are:
Manuel Wenner
Pauline Puchner
Jürgen Schwegler
Jochen Hofmann
Marco Haas
Sabine Walz
Emil Maran
Sven Wieland
Corinna Stephan
Pavel Kroupa