10 Questions with Beau Bamburg
One of the most solid riders in FMX is none other than Beau Bamburg, an American FMX star from Grisham, Oregon. Known for perfect flips, great style and reaaaaaalllllly big whips, "The Basher" has been on the gas lately, with strong finishes in the X Games, Mountain Dew Tour and a few European events. We recently checked in with Beau and talked about Barry Bonds, Santa Clause and Strippers. Check it out!
1. First off Beau, what have you been up to lately?
Just traveling a lot. I spent two weeks in Spain and came right back to the Orlando Dew Tour stop.

2. You are a family man with two little boys at home, how are they doing?
They're doing great. I swear they get bigger everyday. Mason, my 3 year old is riding and can hit a baseball like Barry Bonds. Myles is 1 now and he rides a little electric Kawasaki around the yard.

3. A lot of people are saying that FMX is dying out lately. Any thoughts?
I don't think it's dying out. With all of the variations of tricks coming out now I think it will continue to grow.

4. What do you think the sport needs to get itself into better shape?
I think that there needs to be more focus on all of the riders instead of just a select few. I think people get burned out on watching the same 3 riders all the time. Also, I think that the industry people get so caught up on the image part of the sport and overlook the actual riding. I won't mention names, but I know of a gear company whose highest paid rider doesn't even ride, but he has his own TV show. I guess that is what matters to sponsors.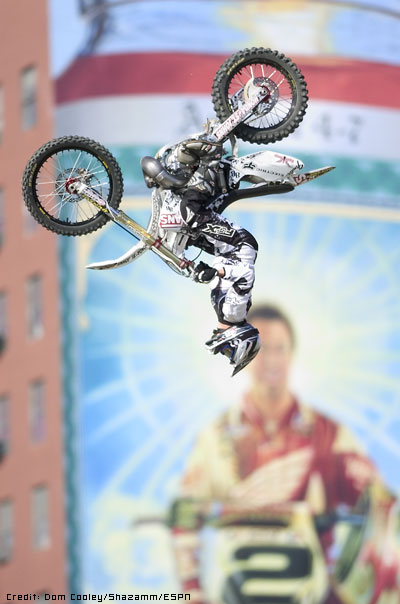 Beau flipping @ X Games 2005 in Los Angeles

5. You are known as one of the most consistent flippers on the circuit. Have you been working on any new upside down tricks?
Not really new, but new for me. It's hard to learn some of the flip tricks when I don't really have access to a foam pit.

6. You don't have a foam pit?
No, but I asked Santa Clause for one and I've been really good this year.

7. Why the hell don't you do strippers anymore?
Strippers are too hard to deal with. None of them have any morals, and I think they all have some serious daddy issues. (Note: We were talking about strippers as the trick!)

8. What do you think about Travis Pastrana's bar-spinning bike at X?
I think it was the gayest thing since aids.

9. What are your plans for the upcoming season?
I plan on becoming a more well rounded rider. I've been training at team Quest in Gresham, OR and those guys have been beating my ass into shape everyday.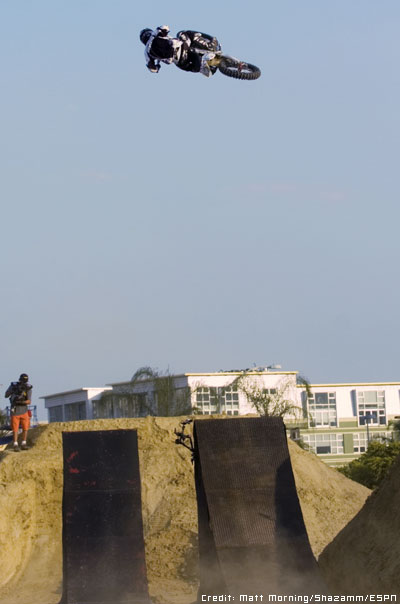 Beau whippin' it out @ the X Games 2005 in Los Angeles


10. Ok, word association. Give me the first word that pops into your head:
Ramps: Consistent
Europe: Bad food
Judging: Water heads
Home: Relaxing
Sponsors: Vans, Ogio, Liquid charge, Honda of St. Johns, Pro Circuit, Works Connection, Maxima oils, Lovesac, Electric.
Goonies: Baby Ruuf.
Adam Jones: Water head
Natural Terrain: Fun
Tattoos: I need to get some good ones to cover up my bad ones.
Baseball: Roid rage
Spain: Bad food with a side of smoke.
Movie: Tombstone, Dumb and dumber, Major league, (censored – but you would be surprised!)
Airplanes: Prison
Donkey Shows: Ask Ronnie Renner

Right on, thanks Beau.
Word!