Startalk with Scott Murray
Interview by Oliver Franke
Can you remember the X-Games Best Trick contest back in 2007? There was a guy with work gloves trying a double backflip – unfortunately he failed and crashed. But 2008 he came back and successfully rode that trick out at the best trick contest of the Navi MotoX World Championships and also during a show in Genua/Italy. We were talking about Scott Murray from Michigan/USA. This guy is special and fits not the cliche of the typical FMX rider. We chatted with Scott about the good- and the bad sides of the Double Flip, the prejudice that he can't do other tricks and some other interesting stuff.


Hey Scott, when did you start doing Freestyle Motocross?
I started in 2002 at local racetracks here in Michigan. I made my way through the ranks in racing but couldn't quite beat the younger A riders so I found myself doing tricks to entertain the crowd as we raced.8 years later here we are.

Where do live and practice? Do you have your own compound?
I live in a very rural area in northern Michigan. A few of my close friends and I have built a compound that would rival any other. Fully lit FMX park and foam pit, a Supercross style track around our pond, and what is becoming a fun little motocross track. Wintertime is always interesting up here. We have snow for a good part of the season so we do alot of foam pit riding to keep on the bikes and travel south to friends houses to ride. Ocala FL, Oklahoma, and other warm places.

How did you came up with the idea of doing the double flip?
Well I was still practicing the single flip and starting to put variations to it. I found myself over rotating a lot when setting up for no footers and what not. I had only been single flipping for about one year at this point. Then I see Travis Pastrana doing double flips in his foam pit and I thought I would give it a shot.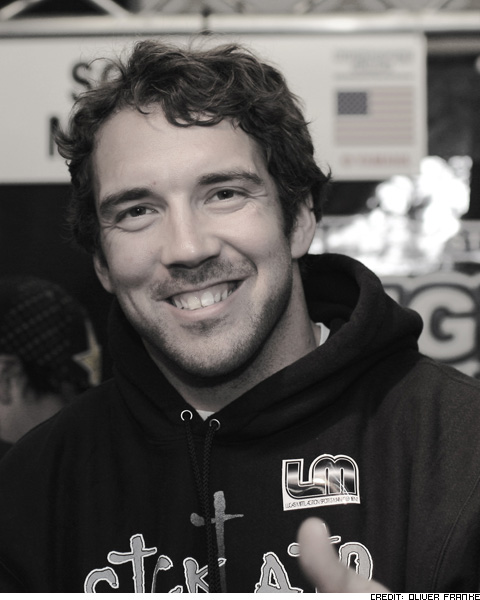 How many times you did in the foam pit, and at what point you choose
to go on dirt? Well I worked on consistency for about a year in the pit and then the opportunity came with the X Games and I had to be prepared. of course my results dont show my preparation. I worked so hard and took so many shots trying to dial it in at home on my Industry first "Resi" lander. After landing numerous doubles on that I took it to dirt at X. I was very unhappy with failing and took the first opportunity to try again and that came in November 2007 at the Genoa Supercross in Italy. There I was successful. It has been a roller coaster for me ever since.

What do you think is the difference between you and the other double
flippers? At this point there are three double flippers, Travis Pastrana, myself, and Cam Sinclair. For starters, Let me say I have the utmost respect for the other two. The difference between us is they Are sponsored and they, so far, land the jump with more consistently. When you have an industry backing you, paying you and giving you everything you need, I would imagine it makes life a lot easier for training and wearing out equipment. The problem I found myself facing year in and year out is Financial. I earn every dollar performing at FMX demos. So do the other riders however they do not rely on that income alone and most have whatever they need given to them by sponsors along with a healthy paycheck. I pay for nearly everything on some level and I am financially not sponsored. This can make things very difficult.
There is a lot of speculation on why this is this way. Let me clarify. 2007 I received an invite to the X Games best trick comp two short weeks before the event. I did not have the time to speak to potential sponsors and agents about the upcoming event as I had to train hard in a very short time frame. I was flooded with calls and had I chose to stay on the phone I am confident I could have lined up a great deal of sponsors however not only did I need to train but my family had got me where I was and I wanted them to receive the credit due. After the First X Games appearance and the failed attempt pretty much every sponsor turned a cold shoulder at me and I was deemed the unsponsorable. It has been this way ever since. Now I have select sponsors for things like suspension work and bike parts but no financial help what so ever. I am making it happen this way but money is tight.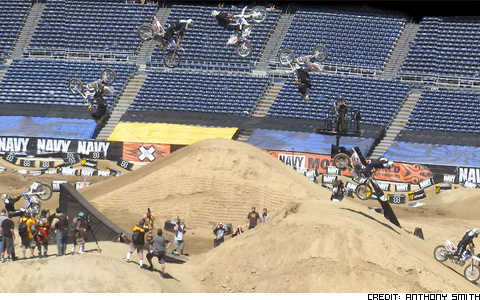 What about other tricks? Are you training on them or do you stick on the double flip?
I am working on my FMX abilities all the time. That is how I make my everyday living. I won't claim to be as good as some of the other riders out there but most people think I can't event ride my bike. Regardless of a few mishaps on national television this is false. I am a decent FMX rider. I flip and have variations of flips. I have 360s dialed in my pit for some time along with some big flip tricks too. I just enjoy riding so much! All of it! It just happens that when I am in the public eye I am required to double flip so my focus lies with that and I stay away from the rest of the show. I plan to change that now.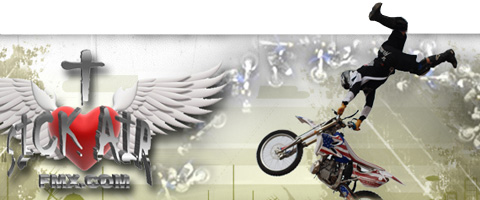 What about the X Games. You have been a couple times at the best trick. This year it looks like pretty tight to get an invitation. I won't be going to X this year. I think I need a year to "hang on the vine" so to speak. Besides my credibility is in the toilet and I don't wish to be where I am unwanted. I don't want to be left behind and I know I am capable of variations of a double (I was last year) however this year I have a lot going on and it is very hard to train for something when you aren't really wanted there. The industry does not like me for a number of reasons and a number of the riders don't really want me there. Maybe it is because I refuse to be like everyone else. Maybe it is because I do my own thing and don't fit the program. I don't know. I don't really care. I am going to keep riding and having fun. The lack of sponsors has not kept me from doing what I love. Nor will the lack of the X games. I am going to keep on being me and push my own limits as long as I can.

Have you thought already about Double flip combos?
Oh you could say that! I have footage of some pretty sweet double combos in my pit. I also have other things I am working on that does not include the double. But those are for the future
What about Europe? After your crash at the NIGHT of the JUMPs in Ostrava last year, we heard nothing about you. Will you come back to Europe?
I am not sure. I will go where I am wanted. Ostrava was a nightmare. That was one of the first shows where I allowed others to handle important things. The whole thing was a mess. I would love to go back there and redeem myself but the way it looks I am becoming more unwanted than ever even over there. Not by the fans. My fans are always awesome! But the promoters and the sponsors of the events. They skimp on providing what I need then I am the one who looks bad for failing. It was like that for me on the crusty tour in 2008. I would have been better off to not try because things were not handled according to my contract. It is difficult to make a decision like that when the fans are already in the stands and you are supposed to do your job. I am not one to not try. With all that said I don't know if I will be back to Europe or not. My former manager and my failed attempts gave me a bad rep over there.

What plans do you have for 2010 and for 2011?
Restore my credibility. Have fun and shut the mouth of an industry. My wife and I are having our first baby this august and I am in the process of building my own mobile lander. So the way it is looking I will get back to how it was before the x games and perform demos. It was way more fun that way anyway. And who knows. I wont stop progressing just because I am not wanted at X or any other "Prestigious" events. One thing I never cared about with all this is the fame. I just love to ride my bike. I am content with what I am doing. The good Lord will have me where he needs me to be.


More information about Scott on his website: www.sickairfmx.com