Interview with Nate Adams


After looking back in the past we realized, that we never made an interview with Nate Adams ... what a shame. But here it is! We talked with the X-Games medalist, Red Bull X-Fighters- and AST Dew Tour Champion about his passions Freestyle Motocross, Arts & Design of the brand Deft Family and of course his latest music project...
Hey Nate, after winning X Games gold, the Red Bull X-Fighters Tour, AST Dew Tour etc. almost every FMX fan knows you. But for those who not, please tell the guys out there some basics about you – where do you come from, how old are you and what is your mission? Hahaha I actually hate that name! 'Destroyer' haha it was given to me as a joke a while back..it just stuck I guess haha.. Anyway, well thanks. I'm 26 years old, I'm from Glendale, Az and now live n Temecula, Ca. My mission?..well I guess to make a living out of doing what I love, riding bikes, creating styles,..traveling the world..meeting/ seeing new people and places... its working so far!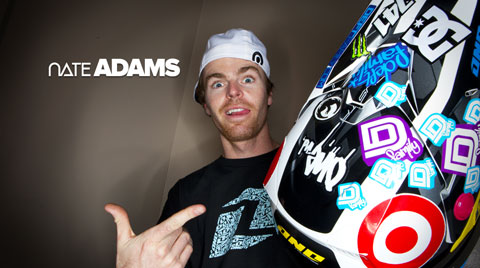 Currently you are 2nd in the RB X-Fighters Tour. Only 20 points behind André Villa. It seems you wanna win the series again? And the chances are good – right? Yea, I definitely want a repeat in the RBXF championship. I've had a bit of a slow start this year, but still solid. I've been on the box every round so far with two 2nds and a 3rd. But I wanna get some W's! Everyone is riding so good, its tough. But it makes the series that much better.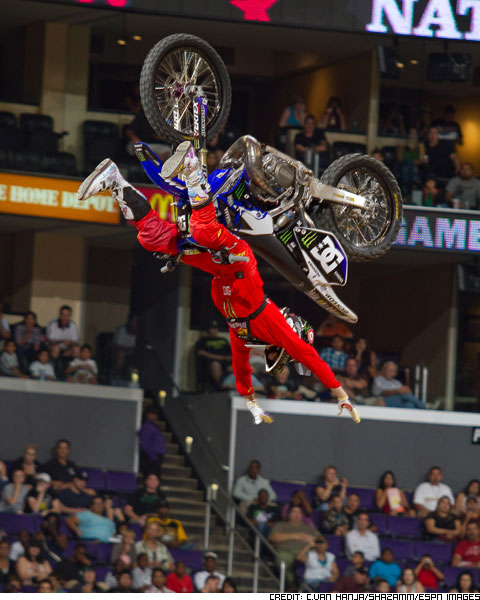 Let's talk about the X Games. You were nominated to ride Freestyle and Speed & Style. How was the event? I love it. I actually ended up bronze in fmx and silver in speed and style. So X went great this year... obviously golds are the goal, but I was extremely happy with my riding, so it made it sweet.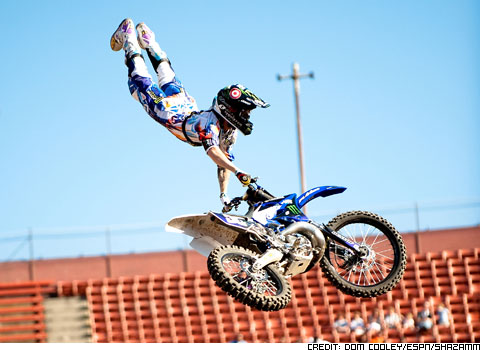 Do you have any new tricks in your bag?
Yea I actually brought a brand new trick for me. A one handed take off back flip. Its more technical then flashy, but the judges recognized it I believe... and I got bronze behind two killer riders so I was happy with my runs.
The last months I heard some people say, that the X Games are getting to much commerce and that's the wrong direction. You are riding the X Games for many years by now (winning 7 medals). What do you think about this argument?
Yea, this summer was actually my 10th straight summer X! I can't believe it.., but I'm not sure exactly on that one..I know that over the years X games has gotten worse for the riders. With so many events in the same stadium, back to back due to live tv, it leaves no time for track prep or maintenance. For example, this year the course faced east and west. We had practice at 8am and competed at 7pm. Every time we rode we were facing the sun in one direction and flat light on the other and next to zero course maintenance. It makes it tough, not to mention more dangerous than it needs to be. So something needs to change...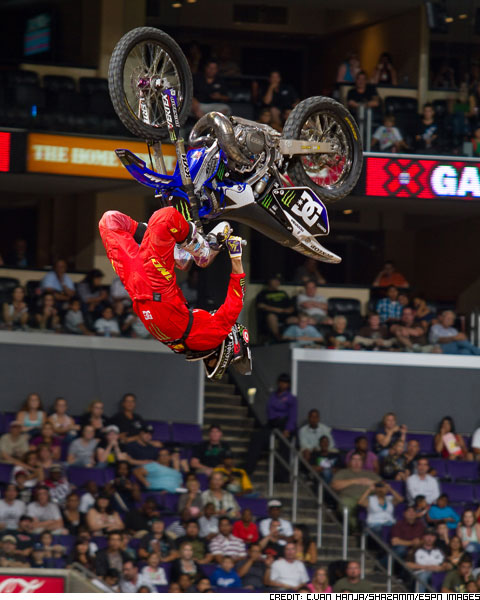 Recently you aka "Patchy" released your first ever first full-length LP, "Life, and Other Things...". I downloaded the album and listened to it. It sounds great and it's eclectic. There are some vocal parts with a woman. Did you cooperate with some other musicians? No unfortunately not. I've got some buddies who make beats (IggyChop), so I mostly get the beat as-is and rhyme to it..I'm really trying to up my hip hop by working with other artists. I've mostly just been a loner with my music, until now. But mostly I do all my music, writing, rehearsing and recording by myself. I performed at a Deft Family, Ethika party at X Games this year with a group called Hoodstarz. Those dudes are dope. Band Aid and Scoot, they're tight on the mic too.
When did you start making this kind of music and do you have any musical inspiration? I started writing when I was about 20. I've had always had hip hop in me. I just wasn't raised in a hip hop environment. It took a while to make its way to the surface haha. I started rhyming shortly after that, and here I am. I can't recall any one mc who inspired me to make music...but guys who I listen to daily are People under the Stairs, Mos Def, Method man, Talib Kweli, Doomtree crew, Slug,..and whoever else I'm bumping at the time..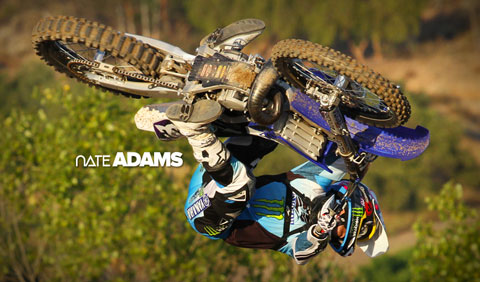 What are your future plans regarding music and would it be possible for you to make it professional after your FMX career? I'm not really sure. I don't want to think too far into the future on that one...always seems like energy waisted anyway. I'm just doin my thang. I love it, and want to keep progressing in it. So that's what I know.
Beside music you have another passion called Deft family. Please tell us some background information about Deft and the mission of this kind of family. Well, a few friends (Logan Darien, Brian Foster, Nate Hawley) and me, wanted to bring something different to the front of moto, but at the same time not be labeled a moto-only company. Moto is so stale when it comes to companies, change and style. We knew we could change a bit of the industry and have a following of people, or a fan base that has basically been un reached in moto. And through that process, make the sport more inviting as a whole, we're keeping style fresh and #1 on the list, as well as bringing a different way to go about everything from riding to business. And its turning heads like its our job.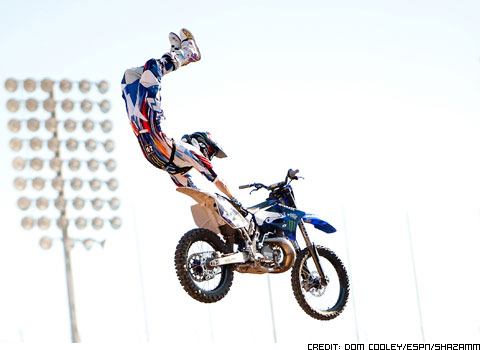 Are you the founder of Deft and what can we expect from this great brand the next years? Not really, but yea! Haha like I said, it has and always will be a group effort – a Family. In the next few years you can expect us to grow as a company, for sure. But more importantly, our fans can expect quality products, the best gloves, dope designs and styles..and that goes for both riding and lifestyle. And MOST importantly, a company of riders, for riders, making products we know.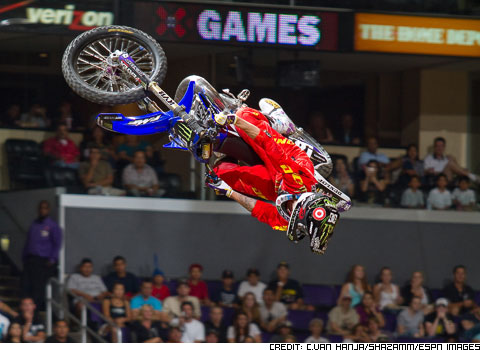 Any things you wanna say to the people out there?
Thanks so much to all my fans out there! And especially our Deft Family following the support has been huge! That doesn't even describe it actually, its been life changing! I want everyone to know they are supporting riders who are making products for riders. We see each and every order that comes in, every dollar, every glove, sticker, t shirt that goes in and out of here. Thank all of you so much for your support with Deft Family. It truly is impossible for us to do this thing without you guys. God bless, and stay positive! Peace.
Okay, that's it for now. Good luck with Deft, X-Games, X-Fighters and of course your music project. Big thanks, stay up. Peace!
Win an AT-250 shoe and butcher T-shirt!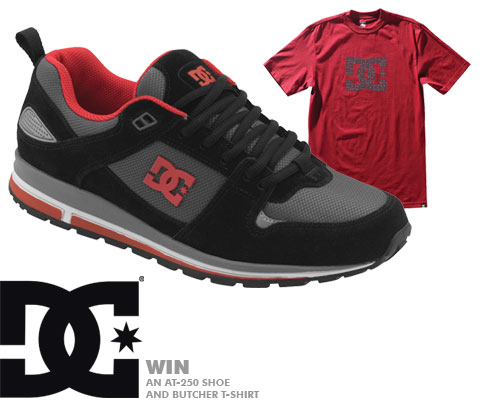 You only need to answer the following question:

Which place made Nate Adams in the X-Games MotoX Freestyle competition?
(here you will find the right answer)
Deadline of this game is:

September, 30st, 2010


Right answer:

3rd


Winner:

P. Brehme