Interview with Hannes Ackermann
Interview by Oliver Franke

Upcoming Saturday the final of the German Freestyle Motocross Championship will be held in the ringarena at the Nuerburgring. Hannes Ackerman, 2-times German Champion an on 2nd position in the overall ranking, will attack Fabian Bauersachs, who has the lead in the series. We had the chance to have a small interview with Hannes during his practice on his compound.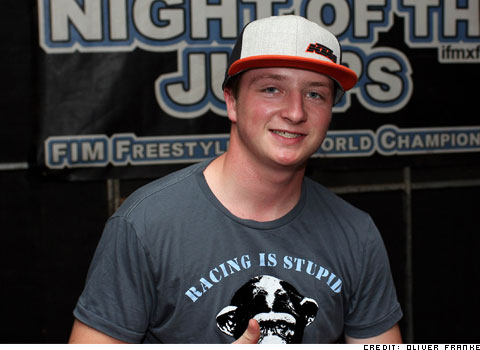 Hey Hannes, 2 days to go for the last round of the German FMX Championships. How do you feel? "I feel pretty good right now. I used every sunny day here in Germany for practice. So we will see what happens?!?"
You are on 2nd position behind Fabian Bauersachs. Will you attack him and try to grab your 3rd German Championship title? "Yes i`m currently on 2nd position and I am willing to attack Fabian. I won the series in 2007 and 2008. Last year i ended up on 2nd place only one point behind Freddy Peters. This year the only chance to win the series, is by beating Fab. It's hard because this year the rider level is pretty high, so i have to push it even more!"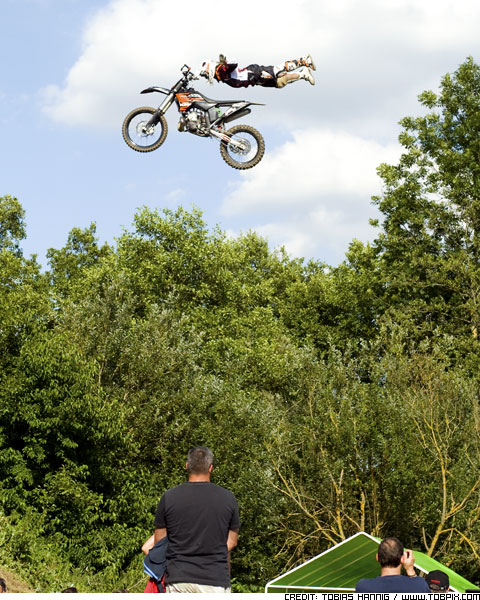 The ringarena is the only contest at the German Championship that is held indoor. Is that an advantage for you or is it better for our outdoor? "For me and I think for every rider it´s better to jump indoor, because there is no wind and no rain. FMX outdoor here in Germany has to deal the whole year with bad weather. Also the crowd in the arena is even louder and that is pushing me more."

Have you trained on new tricks for the last round?
"Yes i tried a few new tricks for the last round. Some are working very good, but for some other tricks the final of the German Championship is to close and I can show them. But Icome to the Nuerburgring and see my new tricks!"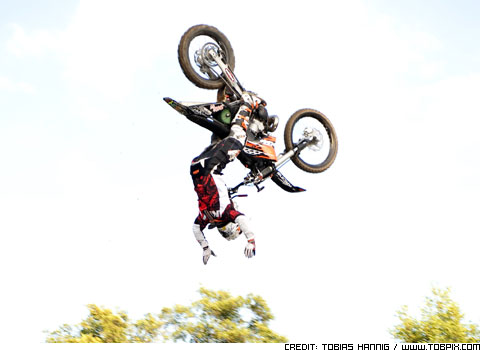 You just won the Flight Club series. Will that push you even more for the German Championship? "Yeah i won Flight Club series and i`m really happy about that! But the last stop was the hardest contest with riders like Lukas Weis and Thamer Engeli. I had to show nearly every trick to win this day. But in the end i made it and i`m pumped about that."
What you think about the German Championship series in general?
"I think the series is very important for the German freestyle scene because the amateurs can ride together with the pros. Every year there are coming young new riders that are pulling backflips and so on. Hopefully next year the series will have again more stops then just two like this year. With only 2 contests it´s hard when you even fail one trick in your run. But I really like the German Freestyle Motocross Championship and it's a really good thing!"

More information about Hannes: www.hannesfmx.com


Support us: Like and Share it!

Video of the month

Facebook /FORTY8Mag

Partner