Interview with Maikel Melero


The first time we saw Maikel Melero was at the IFMXF Contest in Linz/Austria, where he finished 4th and 5th at his first ever NOTJ event. He is also invited to ride the NOTJ FIM WC in Turin. The newcomer from Spain has a smooth riding style. He does a creative mixture of standard tricks, but also hardcore upside down tricks like the Superman Seatgrab Indy Flip. We didn't hear about Maikel before and were impressed about his massive run. So we decided to talk with the sikspak team rider about the past and future of his young FMX career.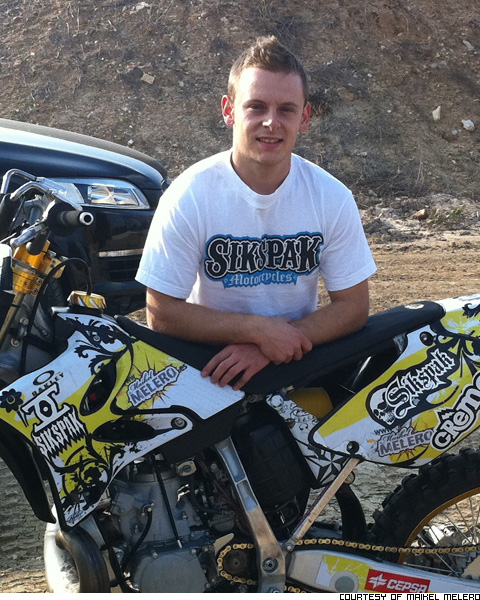 Hola Maikel! First of all, tell the guys out there some basics about you. Where do you come from, how old are you and what is your mission regarding FMX? Hola! I come from a small town called Cotillas in the province of Albacete which is located in the South of Spain. There is where I have my house, my family, and my compound. I turned 23 years old in January and my mission is to be ranked as one of the top riders worldwide.I train very hard every day to make my dreams come true. One of my dreams is to win the gold medal in the X-Games and have a good ranking at The Night of the Jumps. Luckily, one of my dreams came true last year which was to participate in the Rd Bull X Fighters.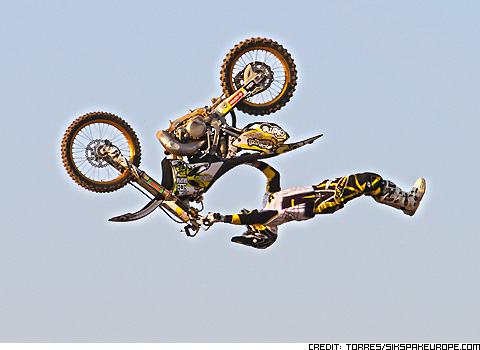 A lot of riders have an interesting story how they started with riding MX. Do you also have one? I always like the motorcycles. Since i was a little boy I used to read motorcycle magazines and always wanted to have my own motorcycle. My parents believed that motorcycles were dangerous (as most parents do) and were against buying a motorcycle for me. However, I think my persistence worn them down.

The first time I saw you riding was at the NOTJ in Linz/Austria. You did a great run with hard tricks like Superman Seatgrab Indy Backflip, Holygrap etc. You looked competitive compared to the other riders. I never heard of you before. How and when did you start riding MX bikes and what affected you to do FMX? My story is somewhat funny. My dad asked me on my 10th birthday "what do you want as a birthdy gif? a computer or a motorcycle? I had no doubts! My immediate answer was " a motorcycle". Since that day I've been riding motorcross and that is how my riding career started until I reached the FMX at 17 years old.


Practising is really important do ride safe. What kind of training are you doing to be in shape and do you have an own FMX compound? To stay in shape I go to the gym for two hours every other day. I love to ride my bicicle and that also helps me to stay in shape. However, I think the gym is the key to be in shape for the competitions.Luckily, I have my own compound and that allows me to train every day if the weather permits it. My compound is very well kept with foampit, 2 receivers, and 4 ramps.

A lot of good riders are coming from Spain. For example the E.T., Jose Miralles and Dany Torres. Do you know them good and are you practising with them? They are very good friends of mine. However, Dany is my closest friend and with him I train every day. I've known Dany for 12 years. If he's not in my house, I am in his house!

Let's talk about the Flip... How did you learn the flip and did you have any problem while learning this trick? I learned to do the flip in Dany's compound in 2007. I practiced it 30 times before going to the dirt. However, the first experience on dirt was not good. I landed on my head and broke my left hand. I had to wait three months to go back to the foampit. I practiced for one week straight until I felt confident that I could do it on dirt. My first flip on dirt this second time around went well and it has been easy afterwards.
You are doing the Superman Seatgrab Indy Flip. What tricks do you have planned to learn the next weeks? I am working on the backflip clifhanger and I am perfecting the under flip.

What do you think about tricks like the double flip and the frontflip? Too risky

Do you have planned to try the frontflip or the doubleflip sometime? It is possible to do them one day, but they're not in my priority list right now.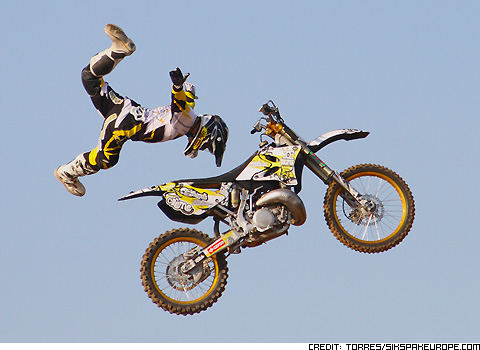 What are your plans for the upcoming season and which series and contests you are interested to ride in? My plans are to perfect the tricks that I already know and try new flips combinations. I would definitely would like to participate again in the XFighters and make a good ranking in the World Championship Night of The Jumps.

Do you have another job beside FMX or do you go to school/college? My job is FMX. I am dedicated to it 150%. I spend my free time with my family and building my own house with my dad.

What are you doing in your freetime beside 2-wheelers? I like to party with my friends and practice any new sport.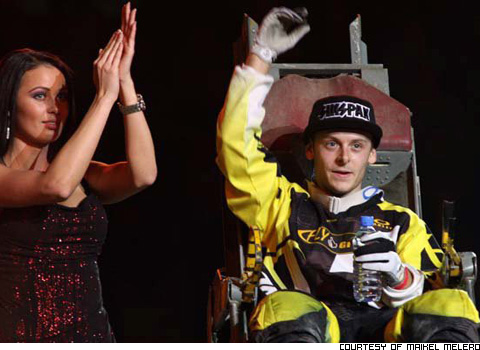 What kind of music do you like – for riding and for chilling? For riding, I like 50 cents and for chilling Mana.

You are living in Spain. What city or place should people visit, if there are travelling to Spain? South of Spain! Andalucia is fantastic!
What is the typical Spanish meal – and what do you like to eat? The typical Spanish meal is PAELLA. It rock! My favorite food is pasta and spanish ham (jamon serrano).


Your last words – do you want to say something to your fans, friends etc? To all my fans thank you so much for your support. I promise you I will continue training hard to go to the X-Games one day and bring the gold medal to Spain. Stay tuned for the new website!
Okay, now our classical word association.
Give me the first word that pops into your head:

USA or Europe: EUROPE
Sponsors: SIKSPAK EUROPE, CREME, bitxobambam, cepsa, oakley, flygroup
Favorite Website: www.sikspakeurope.com & facebook
Natural terrain/freeriding: Freeriding
Tattoos: No
50's: yes!
Best Trick: flip seat grab indy
Biggest success: X-fighters
Movie: fast and the furious
Travelling: I love it
Girls: o yeah!
Date of birth: 25/1/88

Right on – thanx for the interview and good luck in the future!
More information about Maikel: www.maikelmelero.es
Deadline of this game was:

February, 28th, 2011

Right answer: 4th Place
Winners are: T. Schuster, S. Schmid, M. Petke, T. Kerling