10 Questions with Fredrik Johansson
Fredrik Johansson from Sweden is well known for his great bike skills and his perfect extension. He finished the last IFMXF NOTJ events constantly with Top5 results. We talked with Fredd to know more about his passion ... FMX.
First of all, tell the guys out there some basics about you - where do you come from, how old are you and what is your mission?
Im 26 years young from Stockholm Sweden. My mission is to ride my bike, make my park bigger and sweeter so you never get tired of it. Improve my skills and ride on a really high level.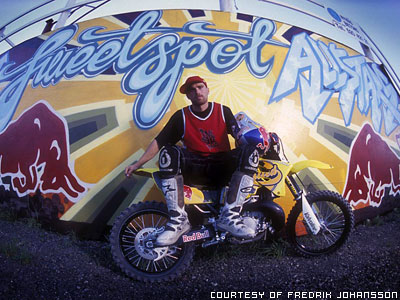 Fred, you came back from Dubai a few days ago.
What did you do there?
I was there with Jamie Squibb and we did a two day show for Red Bull.
Is Dubai a lot different from Europe? Did you enjoy your time there?
It is alot different. Everything seems new and fresh. Its very hot and you can see there is alot of money around. We had alot of fun, thats for sure...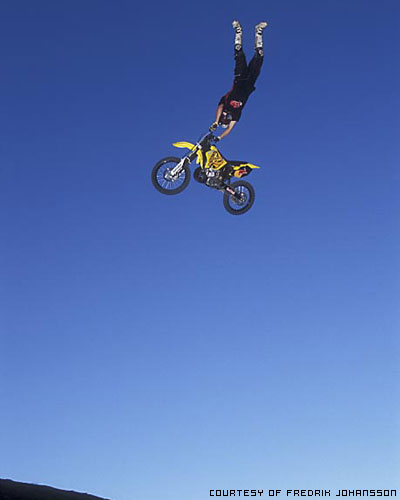 Now you are back in Sweden. How do you train in the cold and snowy wintertime?
We are riding with spiketires on giant rubberbands and with to much clothes on. Normaly a couple of hours to remove snow and ice from ramps, inruns and landings. We love it!
Pastrana made another evolution in FMX. He did the Double-Flip. Everybody is talking about Flips and the other sick tricks are in the background ... Do you think, that the people hype the Backflip to much and the judges are score them to overpriced?
I maybe don't think the flip is nesseserly overscored because it still is a little gnarlier trick, but the problem is that there is to many flips in the runs these days. But ofcourse i would like to bring the other hi-tech tricks back in the light. They deserves it for sure!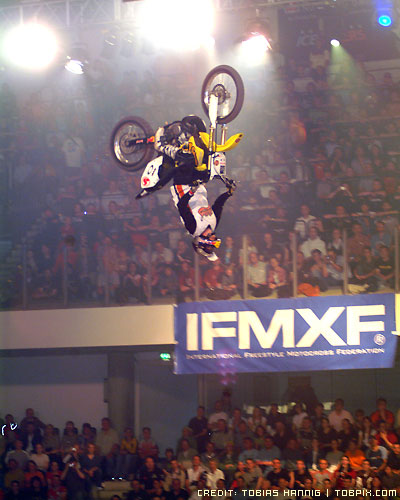 Fredd flippin' @ the NOTJ in Nuremberg 2005
Gaup and Rebeaud went to USA. Now they are big names there. Did you ever thought about to ride some contests over there?
I havent really thought about it much because I want to be at their level of riding first. Thats my first step. After that we will se what happens. USA? why not.
Did you hear about the cooperation between the FIM and the IFMXF? Tell us your feeling regarding the prospective cooperation between FIM and IFMXF?
I dont like FIM. I like IFMXF. Doesnt feel good but I have to wait and see.

What do you think the sport needs to get itself into better shape?
More events that is based on what the riders want. Im working on it, and I know other riders do it aswell. We will get together and do som really good stuff for the sport.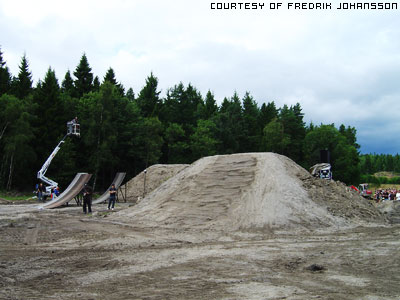 Fredd's FMX Park
What are your plans for the upcoming season?
I will ride my bike and improve my skills. We will do the Sweetspot Allstars Jam next summer to. Try to stay away of the stress that haunts me... Have fun!
Do you want to say something to your fans, sponsors, buddies etc?
May the force be with you ... Allways.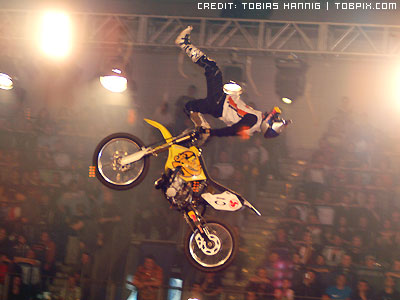 Fredd @ the NOTJ in Nuremberg doing a Stripper
Okay, now our classical word association. Give me the first word that pops into your head:
Ramps: metal mesh
USA or Europe: Europe
Sponsors: Free stuff
Favorite website: www.smhi.com
Double Flip by Pastrana: Dont ask me when I am going for it!
Metal or Hiphop: Hiphop
Natural Terrain: Da shit !
Tattoos: Fits the right people.
50's: Pure fun
Girls: Stay true
Movie: Empire strikes back
Travelling: Ok with I-Pod
Right on, thanks Fred. Hope to see around ...
More information and pix about Fred on his webiste www.fredrikjohansson.se