Interview with Mike Plümacher




MTB Dirt and Slopestyle meets FMX. This guy developed the first MTB Slopestyle competitions in Germany and built up the German scene. Since the beginning he likes big jumps and gaps and is well known for crazy tricks and all sort of impossible- or transfer jumps. Then he decided to switch from pedal- to engine power and started to ride FMX. One of his first tricks were the backflip. We are talking about 2-wheel wunderkind Mike Plümacher from Germany. We talked with Mike about the past and the future of his MTB and FMX career.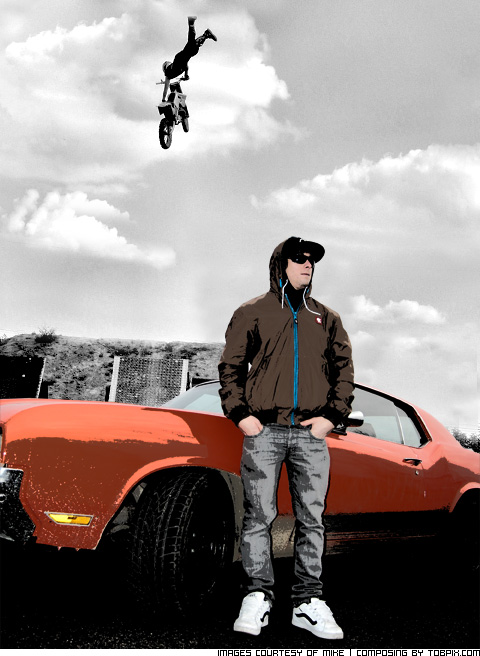 First of all, tell the guys out there some basics about you - where do you come from, how old are you and what is your mission? Hi, my name is Mike Plümacher, 22 Years and I moved from the outback of Germany to Berlin. My mission is to ride as much motorcycle as possible to push my riding skills and have a lot of fun while doing it!
You are a successful MTB dirt/slopestyle rider. Give us a small summery of your career. I'm riding MTB since 2003, started with Downhill races and decided later to switch to the fun side of riding, Dirt Jumping and Slopestyle. We developed the first Slopestyle competitions in Germany and built up the German scene. Since the beginning I liked the biggest Jumps and gaps the most and I'm well known for crazy tricks and all sort of impossible jumps or transfer jumps. Highlights of my carrer are for example, developing my own signature Dirtbike frame, 3rd place at European biggest Freeride festival in slopestyle, some big Contest like Whitestyle, 26trix, Vienna Air King and Adidas Slopestyle and the first Place at the Cross over FMX-MTB Session at "Bengsters paradise."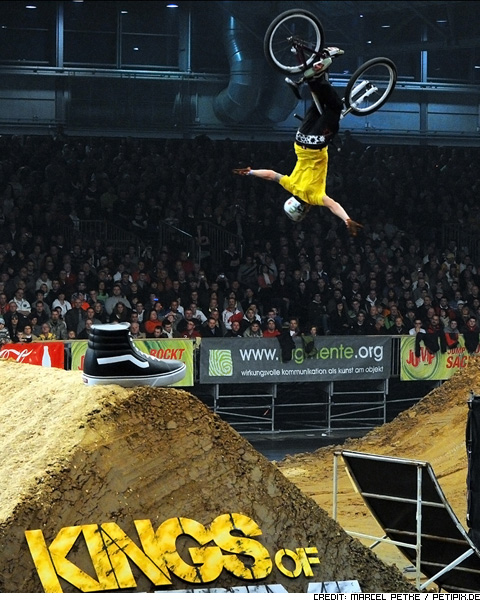 But then you decided to start also riding FMX. What happened? There was this one Show at a musik festival. We have had a big MTB Show to entertain the crowed in the afternoon, but the most visitors just lay down in the grass, chilling and watching us, big action but no applause from the crowd, it was good fun but kind of lame and not pushing us. Later this evening some FMX guys incl. Hannes Ackermann had a big FMX show next to the main stage. Thousands of people complettly freaked out, not cause of jumping – they just fired up their bikes! Only runaway their engines and everybody was on fire, girls put their boobs out and stuff. I was totally stoked first! But then they startet jumping and I was kind of bored really fast. After the show I started thinking about "What can I imagine to do on a motorcycle and so much air time." Half a year later there was another FMX show and the level was pretty low again. This was the point, I decided to kick some FMX asses in Germany ;-)
You took part in the German FMX Championship Competion (2009) in Riesa and made a backflip. What did you feel at this moment? I didn't feel much, I know what I wanted to do and I did it. But there have been only 2 weeks left for training and i haven't riden my bike all year long, cause of so many MTB competitions. So I checked in at Hannes Ackermann's (a good friend of mine) place for one week special training. I had to learn clearing the 20m gap first if I wanted to compete in the german championship. Haven't done it since then. But I knew there was no chance to get my skills high enought to compete with the other guys, but i feeled pretty good this day and I decided to show them the backflip is a non skill trick ;-) You only need balls. I haven't even been nervous, just focused on the jump. And you have to know that i didn't even try to jump the kicker ramp before, just jumped it once to flip it directly.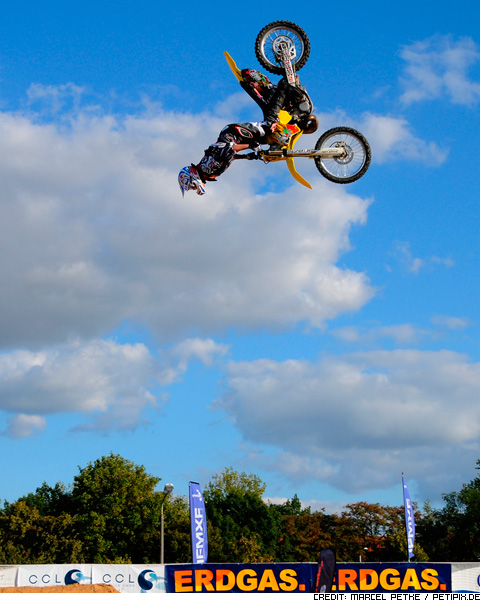 Are you completely focused on FMX or do you also work on new MTB tricks? Yeah, I would say at the moment I'm focused on FMX, cause everything is pretty new and I have so much fun riding dirtbikes with engines. But end of January there has been Kings of Xtreme where I rode my MTB again and it worked pretty well. I tried to do a Cliffhanger and Heelclicker on my Mountainbike – scary but funny. I want to try some flip combos, like lazyboy flips for example. And I'm sure it will work! Maybe later this year. First I've to ride my FMX bike.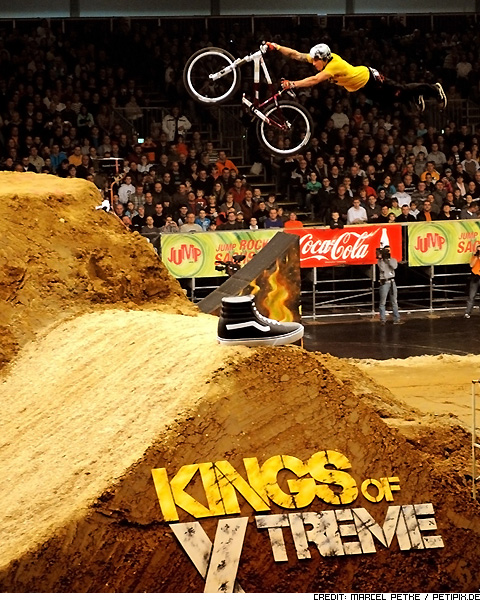 Tell us something about your FMX training compound. How many ramps and stuff to play do you have and what kind of setup? I'm riding at Stefan Bengs' place all the time and help him a lot to keep the park in shape and all kind of stuff like cut the grass and stuff like this. It's the best setup in germany as i know. We have 5 x Landings, 4 x 8m ramps, two of them in line (only line in Germany as i know) and should get one 8 and one 9 m raduis ramp next month! 1 x kicker ramp on a seperate landing, 1 x pitbike track, 1 x wallride and a wheelie box and a pretty cool Dirt Step Down!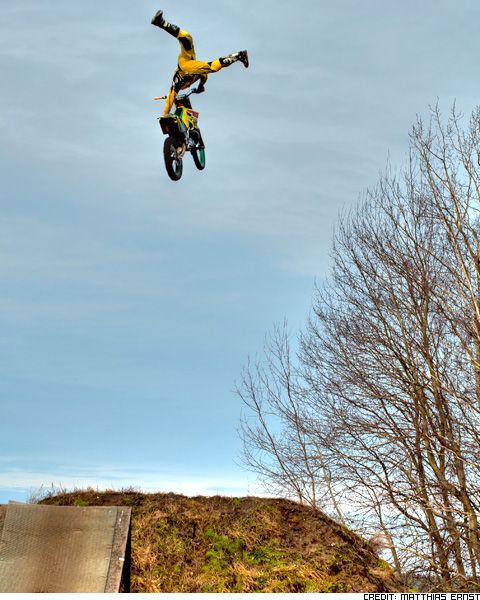 Stefan Bengs and you did found United Germany FMX. Tell us something about this project? After I moving to Berlin and got connected with the FMX scene I recognised a lot of trouble between the differnet crews. Dissing themselves, steal shows of each other and a lot of other trouble. At this time Stefan left his old team to start something new. We don't want to found a new crew that fights with the others, we want to unite the german FMX scene – we decided to found UNITED GERMANY! The idea behind this name is connecting the german FMX Scene. Everybody can join us, We're sharing nearly everything. We share our sponsors, shows and parks to each other. For example: if there are shows in the south of germany – we'll forward them to our members in the south. If there are shows with small bugdet we can hire our new comers. If we need a show setup we can help each other etc. Our sponsorships allow us to support the guys that don't got that much show experience and bring them some stuff to support them. The only reward we want to get from the riders we support is to help us growing United Germany FMX a put sticker on their bikes! We also founded the School of Cross together with Basti Paasch (WM MX competitor) this year to support and teach the upcoming wannbe FMX or MX riders!
What do you think about the German FMX scene – are there enough fresh and new riders in Germany? As i told you before we're searching for new talents like Luc Ackermann or Nico Melzig our newest member, we got a lot of riders in Germany and I think there are a lot of riders that want to try riding FMX but there are not enough Ramps and locations for try outs. That's one reason why we found our School of Cross.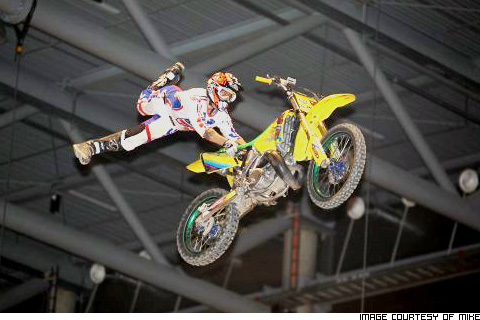 Do you have any tips or advices for kids, which want to start with MTB and FMX? Wear as much safty gear as you can get! Visit School of Cross to learn riding with the pros and do everything only if you trust yourself!
How do you prepare yourself during the cold wintertime in Germany? This year the winter is pretty perfect. The weather is so good and our spot has perfect conditions. I'm riding all the time! Riding some MX, jumping ramps and riding at our freeride spot. There's no better training!


Currently you are doing an internship at the IFMXF. What exactly are you doing there? I'm doing an apprenticeship in managment assistante in event, that means I'm doing everything :-) Building up the track, the pit, being riders nanny, filming, I'm responsible for the NOTJ Facebook page, sometimes I'm judging as well etc.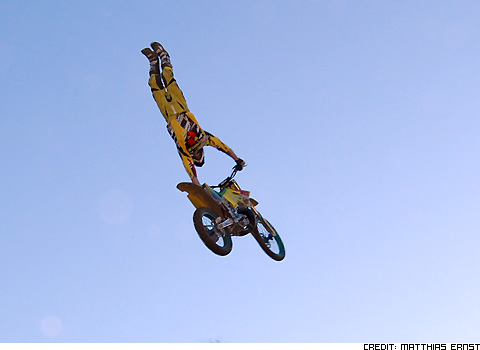 What are your plans for the future regarding new tricks and contests? I want to practise some tricks I'm really used to on a MTB, for example the 360. I want to compete at the UEM European Championship and the German Championship as well maybe some Flight Club stops.
In which direction will the new FMX tricks are going and do you like stuff like Wallrides etc? I would like to see the FMX future more in the direction of "back to the roots!" more dirt kickers, more freeriding but together with the new obstacles like quater pipes, wallrides, Step up step downs. I'm not a fan of this circle, 1 minute, 8 best jumps, high pressure indoor competions and tricks like double flips and frontflips. I think you cannot control them perfectly and they make the sport more dangerous as it is already. I like jam comps like Red Bull X-ray from Robbie Maddison. That should be the future!!
What are you doing beside FMX in your freetime? Haha freetime ... good joke :D there isn't that much freetime anymore. Riding FMX as much as possible is my mission. I also make some party like a partyanimal in my freetime and I like to be on fire all of the time. There are only a few days of chilling. I spend them with my good friends.
Okay, now our classical word association.
Give me the first word that pops into your head:
Dirt or Ramp: Dirt
USA or Europe: Europe
4-stroke or 2-stroke: 2 Stroke
X Games or X Fighters: X-Ray!!
Website: Find us on facebook!!!
Tattoos: a lot!!! please!!!
50's: Fun
Movies: producing and sometimes good waste of time
Music: Hilltop Hoods, Swollen Members
Travelling: really stressfull but nice most of the time...
WIN TCX DUNE MX BOOTS!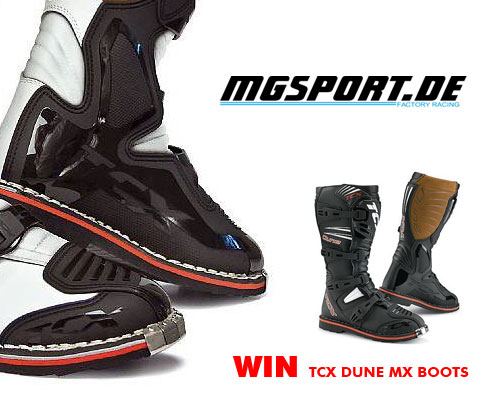 You only need to answer the following question:
Which FMX Crew did Mike Plümacher found together with his buddy Stefan Bengs?
Deadline of this game was:

March 30th, 2011
Right answer: United Germany FMX
Winner: M. Zipperle


Support us: Like and Share it!

Video of the month

Facebook /FORTY8Mag

Partner