Alvaro Dal Farra – Ride to Party


A career backspin of a FMX and Snowboard Pro
Alvaro Dal Farra is a multifaceted guy. He started his actionsports career with Skateboarding and Snowboarding, he studied at the Art Academy in Venice and finally in the beginning of millennium he bought his first dirtbike. His passion is style and design, so he decided to found CMYK Shoes company with his mate Andrix a few years ago. Now, after his active FMX prorider career he is working as a judge for RedBull X-Fighters, Night of the Jumps and he is coaching FMX and runs the DA BOOT SUPERPARK. We made a career backspin with Mr. Ride to Party himself.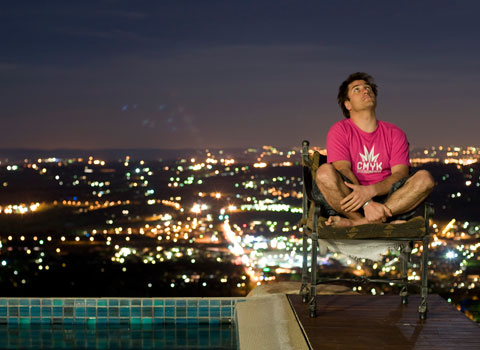 Hi Alve. Let's do a quick backspin about your FMX and Snowboard
career. Give the guys out there a small resume. I ever had a big passion for mx bike, but my family didn't allow me to ride. So I expressed my needs of "air" riding a skateboard first, then snowboarding. I bought my first snowboard when I was 18; I begun because I wanted to jump, I was really motivated to do my best and be part of the scene. In 1999 I built a snowpark in Nevegal, 15 minutes from home. In the same season I began to take part to Italian Snowboard Cup, with good results: I always arrived to finals, in my debut contest I even ended 2nd!

One year later me and my friends built a bigger snowpark, Alleghe Superpark (www.alleghesuperpark.com). I was continuing to compete, and step by step I started to shred with the most important italian pros (like Giacomo and FIlippo Kratter and Max Galfre, who were my Oakley teammates), I've been to the USA with them, and I competed to US Open: my level was growin' fast.


Alvaro is a successful Snowboarder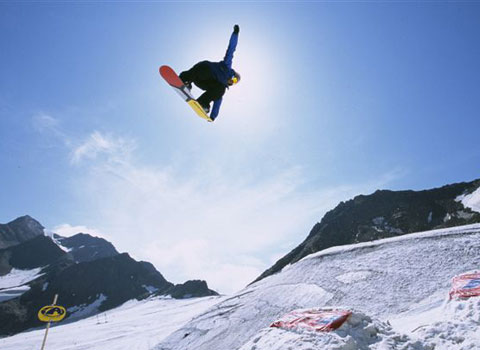 Meanwhile I was studying at Art Academy in Venice, and with my savings I bought my first bike, a Honda CR 125. I started to go to MX tracks with a friend of mine, just for jumping. Usually the tracks owners thrw us away, saying "next time come here with motocross dresses!" (in that times jump with shorts and basket jersey was the must to).

In 2002, when I was in Livigno for a late season snowboard shooting, the Oakley team manager called to invite me at a FMX contest in Rome, after two weeks. I came back home to put together my MX stuff, which I didn't know where it was, and I moved to Miki Monti place to try metal ramps: there I met Max Bianconcini, Jader Toninello and Luca Zironi, we begun to ride together, then we created Da Boot.
The following years we grew up together, doing a lot of shows, and creating parks and our structures to do shows and events all around Italy. Then I started to be part of international events, and to work under the management of Sebastien Billout, who brang me to the most important events of the world, as Red Bull X Fighters, Dew tour, LG action Sport, IFMXF, Gladiators Games, Masters of Dirt and others.


Osiris Ad featuring Alvaro (2003)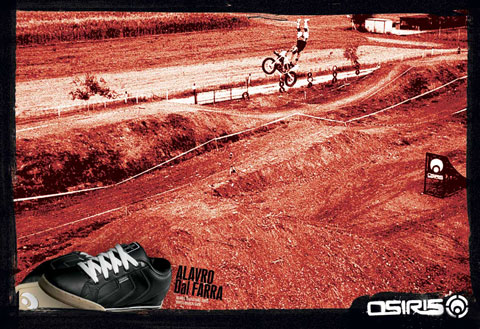 But then everything changed. You had a big crash - what happened. How long did it take to recover from this big injury? In 2009, after Lusk dead, I quit… I cancelled all competition and events on schedule, I can't enjoy my riding. To find motivation again I went to Japan with Eigo Sato, we visited the country and rode a lot. I came back to Italy with a renewed will to ride and have fun, then started again to ride in demos and I went in Russia for a beautiful tour. Back from the tour I trained hard to reach the perfect shape, with all my best tricks: I had to decide if go on with competitions or take it slowly… Then my big crash.


Alvaro back in 2004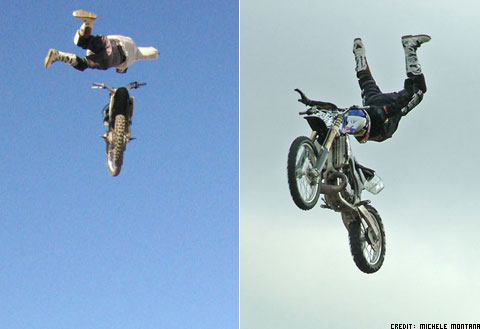 I was riding just for fun, filming for Da Boot video: during a flip nac nac one hand I lost the bike, I tried to move away from it and I crashed hardly at the end of the landing on the right side of my body. I broke my pelvis in 3 different places, 6 ribs, the sternum, the right shoulder and homerus; I reported a perforated lung, and important damages to spleen and liver.

My conditions were really bad for the first three days, I was in induced coma and the doctors weren't sure if I can survive. The 4th day my body started to react and feel better, so they woke me up. After one week my organs were stable, so they can fix my pelvis and arm. They moved me to Cesena hospital, I had my surgery with doc Monesi, one of the best in his field. After the surgery they moved me in Belluno, in my city's hospital. Another 20 days and finally I came back home, where I spent 40 days in bed, without being able to move. I spent two month of my life on a bed. After these long and hard times I slowly started to walk again, and with a lot of work of rehab I came back to live a normal life. Now, after one and a half year, I'm totally ok (but fracture and various problems leave a mark, sometimes it hurts).


NacNac vs. Backflip NacNac (2005)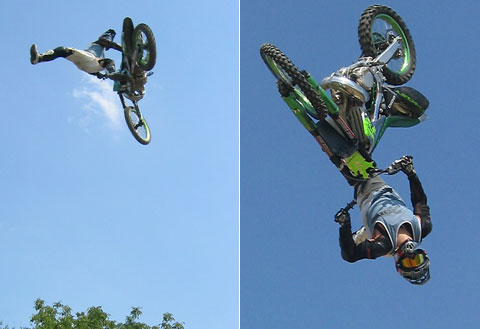 Are you completely healthy now and did you ever think about a
comeback? Now I'm ok, I can do anything I want, the grade of risk is the same for me than for the other riders. But if I think about my crash (in the worst case I can be dead right now) that stops me: I know myself, if I start to ride again I want to do everything at my best. Coming back to jump at an high level would be really hard, because my mind and my feeling would be different, I can't do it. What I want to do now is bring my experience to help other riders and organizers, to avoid bad situations and mistakes.
But you are still riding some MX and snowboard for fun? Yes, I can't stay away from my bike or my snowboard. I ride just for fun, but probably when people see my don't think that, because I have a good snowboarding level and my FMX experience gives me a good style and level in MX.


Alvaro is well know for his great bike design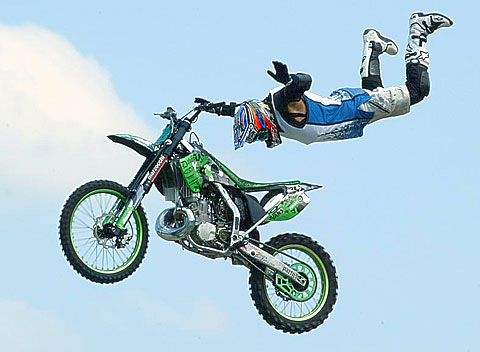 What are you doing right now? A lot of things: I'm judging Red Bull X-Fighters and IFMXF NOTJ, I cooperate with Masters of Dirt, I run my own shoe company, called CMYK, I help riders to grow and I run new projects like an FMX school and the Da Boot superpark, the perfect place for training of top riders. I manage Da Boot events and demos in Italy, I work with my old snowboarding crew in projects like Alleghe Superpark and other snowboard related things. I'm lucky to work with some TV networks, now I run my own format about FMX on Moto TV italian network, on SKY platform. Not bad, uh? I still have something to do :-)


Alvaro back in 2007 - riding with his Da Boot buddy Massimo Bianconcini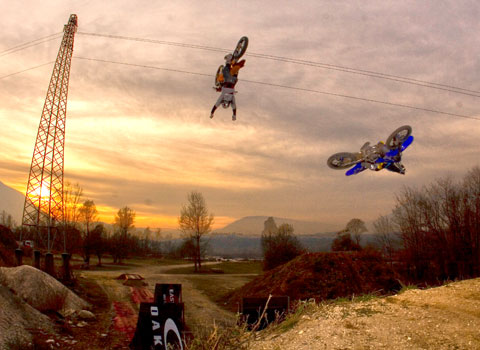 I met you a few times at NOTJ. You are judging there. Tell us something about the judging. Are the judges and you are working to make judging more transparent?
Yes, we work to improve the judging system and to give to riders the chance to show what they can do at their best. I'm trying to bring my riding experience into judging, to let the riders feel much confortable with a more fair judging meter.


Alvaro riding at the RB X-Fighters (2008) – now he is one of the XF judges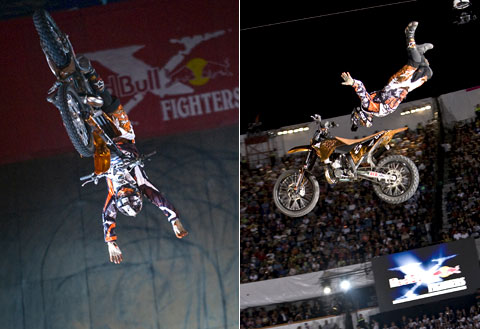 Tell us something about the CMYK Shoes project. The CMYK project was born 5 years ago from me and my best mate Andrea Codoro AKA Andrix. Since our school times we wanted to create a brand that represented us and bore from the true spirit of our world, the action sports one. Andrea earned a lot of experience working on snowboard boots field for several brands, e.g. Salomon Snowboars, and when he presented to me the idea of a shoe company, I can't say no… So CMYK was born.


Alvaro founded the shoe brand CMYK Shoes with his best mate Andrea Codoro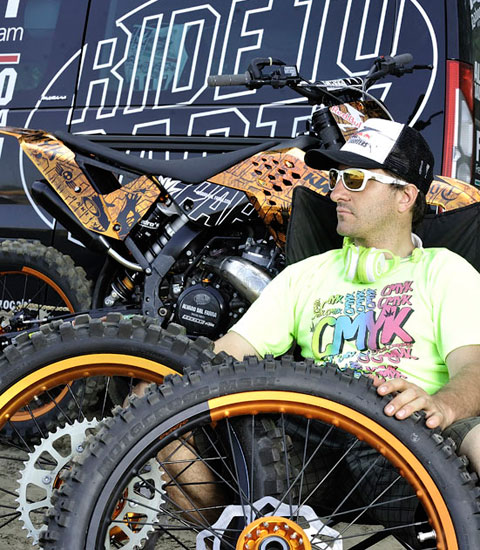 What are your plans for the future? My plan is that all my projects will grow and and work at their best. I hope that everybody can wear a pair of CMYK shoes, I hope to feel good and be happy. This is my plan, and I wish that will be the same for anybody else.


Alvaro is always going big - on (2009) and off the bike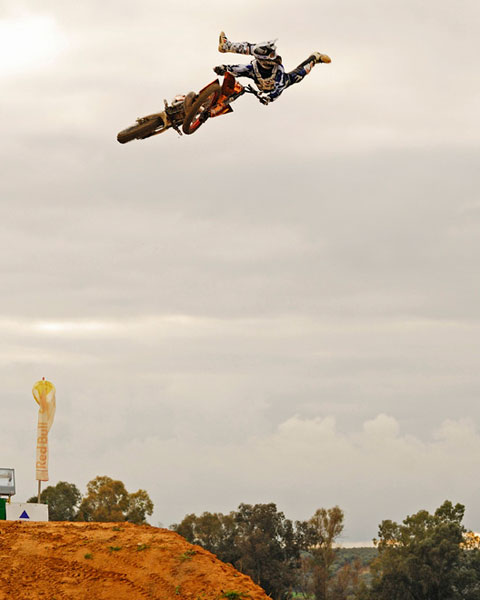 Anything you want to spread out to the world? I want to say thanks to everybody; I want to say: "smile!", also if you aren't in the mood, because wasting time being angry or sad is pointless… RIDE TO PARTY!
Alve, thanks for the interview and good luck for your plans in the future.
Thank you, too!

More information about Alvaro on his website www.alvarodalfarra.com and his project www.cymkshoes.com


Support us: Like and Share it!

Video of the month

Facebook /FORTY8Mag

Partner