AUSSIE FMX SENSATION JOSH SHEEHAN
JOINS THE RED BULL TEAM
by FreeriderMX.com.au and Grant 'Goba' Obrien | gobadirt.com
They say hard work pays off, and it definitely seems to be true for West Aussie FMX rider Josh Sheehan, who over the weekend in Rome for Red Bull X-Fighters, was rewarded with a flash new Red Bull helmet and welcomed to the Red Bull team by Aussie FMX legend Robbie Maddison.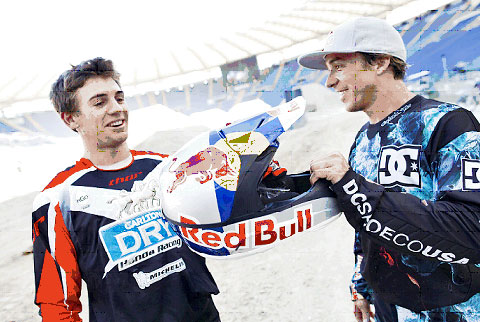 Brought up on a farm in the Australian town of Donnybrook, Josh Sheehan got his first bike to play around on at the age of 14. By the time he was of 16 he was totally hooked on riding and progressed from C-grade to A-grade in MX in just one year. One year later he started to ride more and more FMX with his mates and, in early 2007, he entered his first FMX competition. Despite crashing out of the comp, Josh knew he had the skills to progress and do better in the future. Healed up and with a few new tricks in his bag, he entered the Narrogin Revheads the same year and finished third.

Proof, if any was needed, of the 25 year-old's talent was provided in 2008 when he won the AFMX round during the Brisbane Super X, beating the likes of Kain Saul, Cam Sinclair and Levi Sherwood as he blew the competition and the crowd away during his run with the biggest ruler-flip ever performed.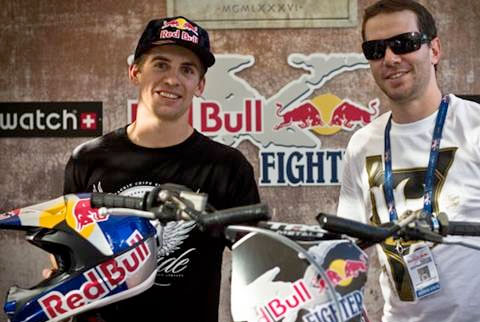 Josh and his manager Steve Sommerfeld

After his huge win, "Sheeny" was chosen to join the Crusty Tour in New Zealand, but an injury suffered as a result of a workplace accident forced him out. Unknown to the international FMX scene, Josh set a further benchmark in his young career when he became the first rider in the world to ruler-flip a 450 four-stroke bike.
Sheehan is today one of the freshest and biggest talents to emerge from Australia in a long time and was all fired about joining the Red Bull stable. He's what he had to say:
Josh, big news signing with Red Bull, tell us all about it:
Yeah I'm pretty stoked. My manager Steve Sommerfeld has been talking to them lately and while I knew things were progressing I didn't think it would happen so quick. It was a pleasant surprise today when Robbie "Maddo" Maddison welcomed me to the Red Bull family and handed me my first Red Bull helmet. Red Bull really help out their athletes a lot and I'm really looking forward to doing some great projects and events with them, and having their support behind me!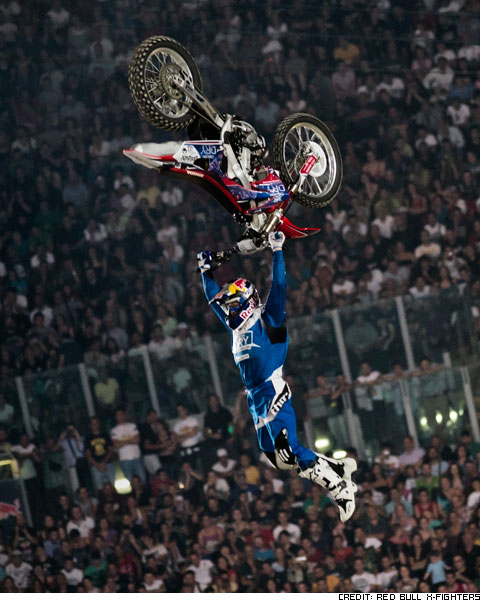 Josh on the way to his 1st X-Fighters podium

You've worked really hard over the last few years, what does it now mean to you to be chosen as a Red Bull rider: Yeah, well there has been many times over the years where I've been riding by myself in West Oz away from the action feeling like I was getting nowhere, and thinking how good it would be to ride some of the Red Bull events as they looked so good. Red Bull really look after their riders and help them attend these events all over the world so to be finally rewarded with their support really means a lot to me. It feels like such a great privilege to be a Red Bull rider.
You've had a very successful year riding the Nitro Circus Live Tour, and winning six straight IFMXF Night Of The Jump events in a row over the past two months:
There's a lot of things that have fallen into place in 2011. Through riding Nitro Circus I formed a good relationship with Travis Pastrana and got to visit his place in America and spend some quality time riding with him. Travis being a Red Bull rider put in a good word for me, plus my sponsor Valyside and Steve Sommerfeld have been working with Red Bull putting together a Coaching Clinic that I will be involved with, so a number of things including my desire to ride X-Fighters led to me securing the deal, and it has all worked out nicely.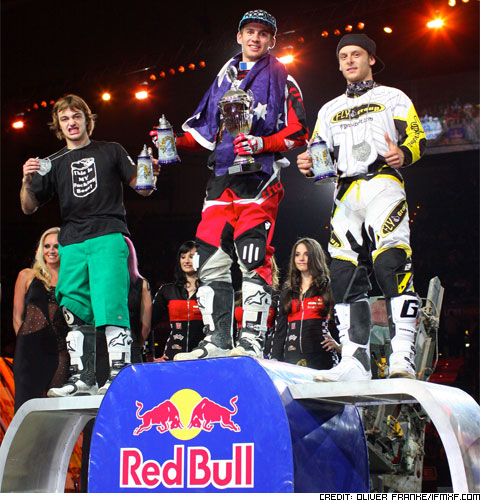 Yeah it's a great acknowledgement mate, congratulations! Tell us more about your time with Travis: It was great hanging out with him. We spent a lot of time training right after the Nitro Circus Live Tour ended. He wanted some motivation as much as I did so to both have the same focus it worked out good for us. It was a solid ten days consisting of gym work, a lot of riding in the foam pit, trying out new ideas on BMX – Body Varials, 360's, Double Backflips etc. That was the start of me learning the Double Flip as Travis would just say, "OK what do you want to do this week?" And I'd say, how about a 360 Combo, the Double, and a Front Flip on a mini-bike or something like that, and he'd be like, "Ok let's do it!" Travis was just a huge inspiration to be around. He's so driven and motivated and good to be around. Just knowing you're training with somebody who's won like 17 X-Games medals is a shock to start with, a little unbelievable really, but after a few days I didn't think about that and he helped me so much!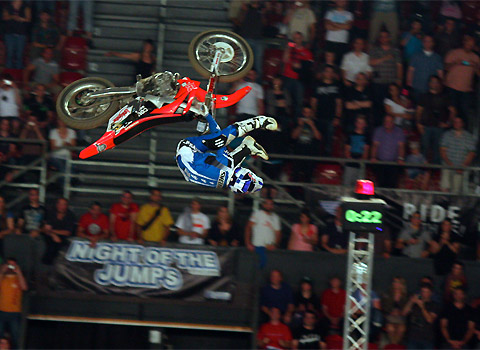 Josh doing a 360 Heelclicker at the NotJ in Basel
So hopefully we'll be seeing you at more Red Bull X-Fighters events now:
Yeah for sure, but after riding the course here in Rome I feel I'll need to build a few more big jumps when I get home so I can practice hitting bigger hits. I'll train my arse off with the aim of reaching the top level at X-Fighters and hopefully get to ride the remainder of the series.