Interview with Tom Wirnsberger

Tom Wirnsberger from Austria is riding a great season. He placed 7th at the Night of the Jumps European Championship in Linz and recently won the Flight Club tour stop in Türkheim/ Germany. We chatted with Tom how all starts in the age of seven and about his plans for the future.

First of all, tell the guys out there some basics about you - where do you come from, how old are you and what is your mission?
Hey there, I'm Tom Wirnsberger and I'm a 23-year-old Austrian FMX rider.

Almost every rider has a cool story how he started with MX. How and when did you start riding MX bikes and what affected you to do FMX?
I started riding bikes when I was 7. I participated many races but after some years MX wasn't exciting enough anymore. So I built a ramp and a small hill with my brother and that was the beginning from our FMX careers.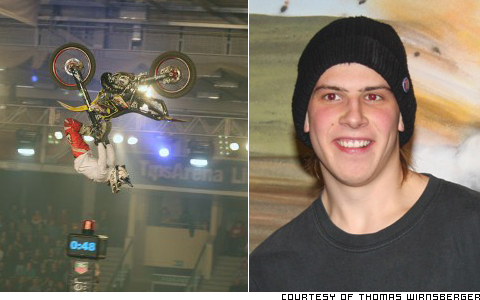 You have your own FMX compound. Tell us something about it. How many Ramps and Landings etc. do you have?
Our compound is situated under two bridges and now it's already the biggest compound in Austria. We have 4 dirt landings, 9 ramps, a mobile landing, a funbox, a step-up and also a foampit.

What do you think about tricks like the Doubleflip and the Frontflip and do you have planned to try tricks like the Frontflip sometime?
I've already done double flips into the Foampit. It was very hard, but I still try them.
Frontflips have to wait!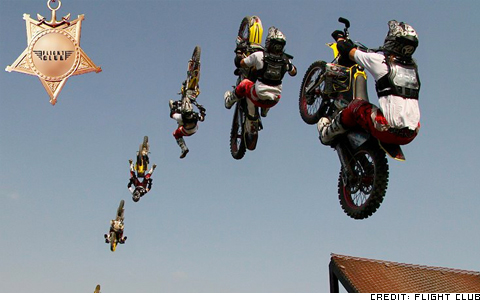 Tom Pages is going a completely other way. He doesn't make Flips anymore, but focuses on better extensions and Body Varials. What do you think about this decision?
I like his decision. To avoid flips doesn't mean to be a less strong rider or to have less risk. There are also many tricks like the body varial which are very hard to practise.
Avoiding flips means that you have the possibility to concentrate on all other tricks and to show them in a perfect execution.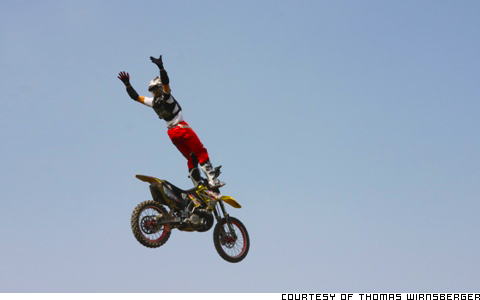 Taka successfully did a Rock Solid Backflip at X-Games. What comes next?
Do you think the Backflip Combos are exhausted soon?
This guy is crazy. I really look up at him for doing this combo but I don't think that Backflip combos will be exhausted. I'm sure that there will be somebody who tries to do a crazier trick, even if it's nearly impossible.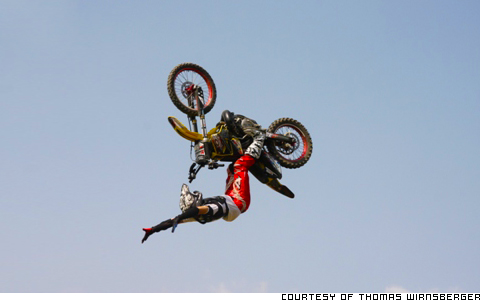 What are your plans for the current season and which shows, series and contests you are interested to ride in?
I will mainly concentrate on participating at large events, European Championship and World Championship. I am also seeking a permanent fixture at the "Night of the Jumps" tour.

Do you have another job beside FMX?
No, at the time I can completely concentrate on FMX.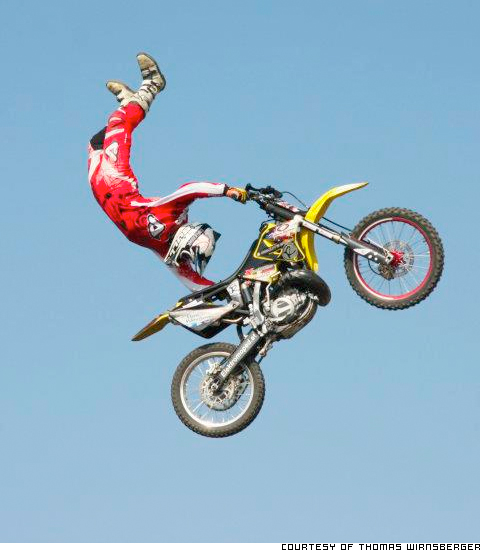 What are you doing in your freetime beside 2-wheelers?
In the wintertime I like to go skiing because I live nearby a first-class skiing area and in summer I often go swimming.

Austria is famous for it's good Kaiserschmarrn. What is your favorite meal?
Although Austria is famous for the "Kaiserschmarrn" I don't like it.
My favourite food is pizza.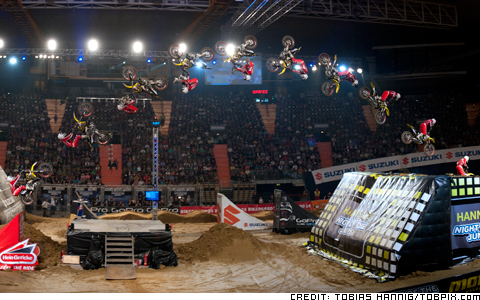 What kind of music do you like – your top 10 tracks on your mp3 player?
Metal. I don't have top 10 tracks because I like all songs on my mp3 player.

Your last words – do you want to say something to your fans, friends etc?
Yes, I want to thank my family and friends, for everything they do for me and to my fans: You're great. Thanks for believing in me.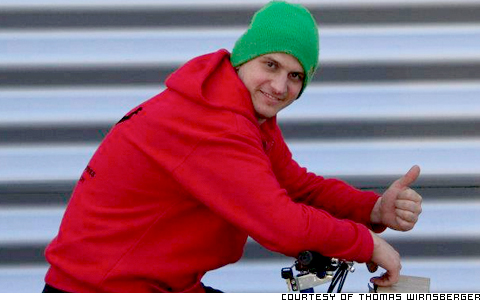 Okay, now our classical word association.
Give me the first word that pops into your head:

USA or Europe: USA
Sponsors: Elektromoped.at, Crosskrank, Brugger-Cargo
Favorite Website: www.fmx-tom.com
Double Flips: coming soon
Tattoos: some self-made tattoos
50's: in the garage for years
Best Trick: Cordovaflip
Biggest success: 7th place at Night of the Jumps European Championship in Linz 2012, 1st place at flight club in Türkheim 2012
Movie: all about FMX
Travelling: my next destination will be California
Girls: in a relationship
Day of birth: 4th December 1988

Right on – thanx for the interview Tom and good luck for the future!


Support us: Like and Share it!

Video of the month

Facebook /FORTY8Mag

Partner