BACK TO THE ROOTS OF FREERIDING
INTERVIEW WITH FILMER AND RIDER STEVEN HAUGHELSTINE
Elements is the critically-acclaimed 2011 film, directed, produced and performed by Freeride MX star Steven Haughelstine. Appearing in his own films, Steven gives viewers an insider's take on the realities of FMX. Closer to the action than ever before, this respected film has garnered rave reviews from MX writers across the globe and a legion of fans. Elements premieres on Extreme Sports Channel on Saturday 22nd December at 16:00, repeated on Sunday 23rd December at 20:00. Here, we catch up with the man himself.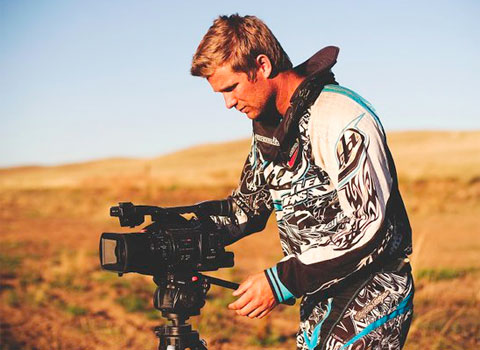 We've heard a lot about Elements. We'd really like to hear your take on the film and your motivation behind creating it?
"My take on Elements: I was sick of all the same old stuff I was seeing in motocross videos. I didn't have any money really to make the film, nor did I have any budget from any sponsors. I literally spent whatever money I had at the time from working, or doing freestyle shows on making that film. I feel that it was my first breakthrough in my life that showcased what I could do, and started to scratch the surface of what I was all about. Elements literally helped me grow as a person and a filmmaker. Save money, go on a little trip and film it. That's how I did it. "
You're known for your solo rides. Can you explain some more about this to us?
"At some point there has been a time for every rider that just wanted to go riding and none of their buddies were available to go. This is what I did a couple times, then said 'screw it, I am going riding anyway!'. I took my camera with me and filmed it. It actually turned out way better than I had thought it would, so I did more solo rides each time in better locations."
What's the worst situation you've ever found yourself in when solo riding?
"Solo riding is very dangerous. It is one of those things that you can not think about when you are out in the middle of nowhere all by yourself. If you think 'I better not get hurt' you probably will. It is a fine line and a mental game figuring out what risks to take, what jumps to hit, and how far out away from roads to go, etc. Puncture a lung, get knocked out, and you're dead. Compound fracture a leg, not good. It is an experience that can compare to nothing else I have ever done. Maybe not the smartest thing I have ever done, but a true testament to myself knowing that if no one is watching, I still love riding. Luckily I have been pretty on it when solo riding, I have had a couple close calls where I almost went over the bars into wash outs, but that's the thing. A guy could get hurt tipping over on a little trail. Just have to be as careful as possible."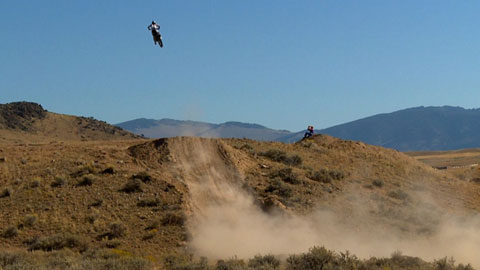 What has been your worst injury?
"Riding motorcycles, you get many injuries. My worst was a bail off my bike on an 80 ft. double. I broke both ankles and was in and out of a wheel chair for nine months with several surgeries. This is when I made my first motocross DVD. I call it a lucky break. Haha."
Your filming's impressive! How do you go about filming yourself while riding?
"Thank you! It takes visualising shots that you want, then figuring out how it will look, framing it up with the camera, hitting record, then getting on the bike and riding through the frame in the spot you had imagined. Then repeat, and repeat, and repeat. It takes a lot of work, but to me it is worth it. From a videographer's point of view, I get the shot I want. From a rider's point of view, I get to ride a lot. I figured it is just something unique and different, and has not ever been done in that quality of video. For anyone who has ever tried to film themselves instantly respects how much work it really is to get quality content completely by themselves."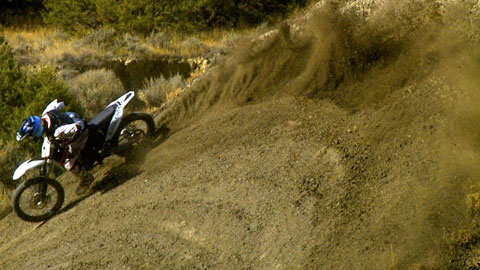 You meet up with the best dirt bike riders in the world in Elements. Who was your favourite and why?
"That's a tough question; I have a few favourite riders mainly for their overall personality and how it translates over to their riding. Most motocross, FMX, and Free Riders live the life of being a rider. It takes dedication and a lot of time on the bike to get to your personal top level of riding. My favourite riders are the ones who know what a good work ethic is, don't take riding for granted, put their heart and soul into riding and everything that comes with it, and at the end of the day are still good respectful people."

Elements sees you visiting the greatest riding locations known and unknown. Where's your favourite location to ride?
"In Elements, I travel to many places. On my personal list of top places to ride would be Caineville Utah, Saint Anthony Dunes, and my most crazy riding experience in the film was riding Eastern Montana solo."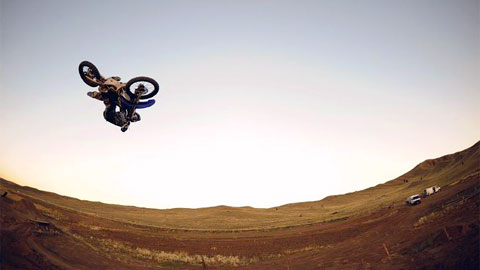 How did you get into Freeride MX?
"Well, like most guys, I raced. I made it pretty far, and was a top Pro Am racer in Southern California back in 2002. I grew up riding and practicing in the hills: Beaumont, Palm Ave, Ocotillo, etc. I grew to love just riding my bike, making turn tracks in the hills, and jumps here and there."

What advice would you give to newcomers to the FMX scene?
"FMX? Hmmm, the whole scene needs help in my opinion. If you are an up and coming FMX rider and you are reading this, my advice to you is do something new, but get all of your other FMX buddies involved. FMX needs new courses badly. Take a lesson from Free Riding and also BMX or Slope Style Mt. Biking. Do contests, or make your own since there isn't any. FMX is too small to not work together."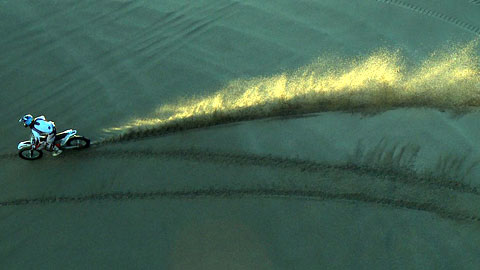 Who is your FMX inspiration?
"In FMX, I would say that guys like Todd Potter, Brody Wilson and Tomas Pages have the potential to progress the sport to where it needs to go. They are the think outside of the box kind of all around bad ass riders and good guys that can handle a new form of course design. I am sure there are some more guys out there that can help push the sport, but most of them are thinking just 75' ramps and 120' ramps with bigger tricks. We need better courses to keep it entertaining."

What has been your greatest accomplishment so far?
"I think for some people they think of accomplishments as trophies or metals. For me, I have acquired those things in the past with racing, but I feel my greatest accomplishments so far has been transforming my life from one of an everyday construction worker, to being able to do what I love for a living. It all starts with a feeling, a feeling that won't go away. For me it was: I need to do what I am good at, or I will be unhappy with my life."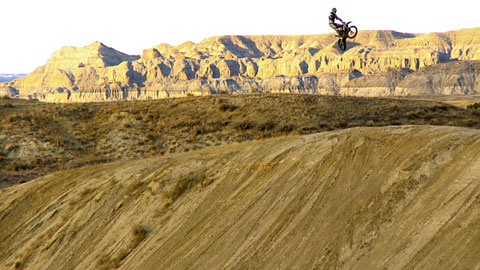 What projects are you currently working on?
"As of right now, I am doing a lot of freelance video work to save up money for my next project. Some of the latest productions I have done are: directing and filming the Network A series on YouTube "Renner's Upside Down and Inside Out", "Red Bulls Road to X Fighters" earlier this year, multiple promotional videos for companies ranging from Airwalk shoes to the US Marine Corps."

What do you hope to achieve in the future?
"In the future, I hope to achieve my goals of reminding people to do what they love, get out and experience the place you came from. Unplug, disconnect from the fake life we have been told to live, and reconnect with the out doors. Remind people that we are tiny on this earth, but we can accomplish a lot even for being so tiny." Be updated about my projects and check: www.freeridemx.com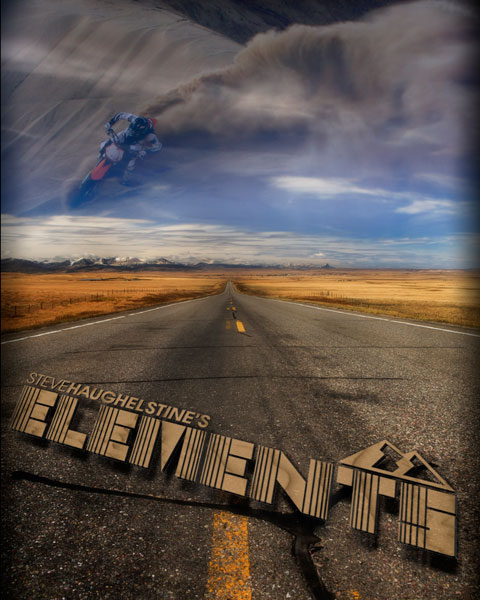 Elements premieres on Extreme Sports Channel
on Sunday 23rd December at 20:00
Extreme Sports Channel UK Sky Channel 419/Virgin Media Channel 527
Plus for instant access to live action from hundreds of events check out www.extreme.com

Right on – thanx for the interview Steve and good luck for the future!