Startalk with Emma McFerran

Interview and pics by Oliver Franke | Sequence by Gerd Rose
I few months ago we chatted wih Emma about her passion: FMX.
Two weeks ago Emma came over to Berlin and successfully performed the Backflip in the o2 arena! She is the only female ever to have been apart of Night of the Jumps and to have also flipped ramp to dirt at the event! We talked with Emma about her first time in Europe and her future plans.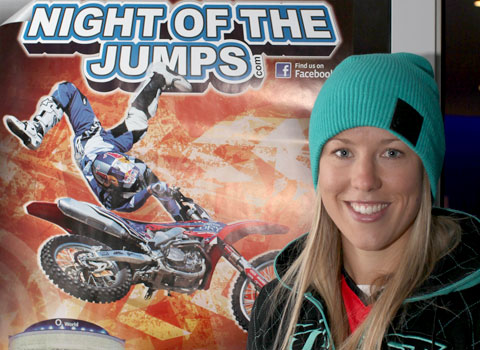 Hey Emma, how was NIGHT of the JUMPs Berlin for you?
Night of the Jumps was an amazing experience for me! Before I arrived I didn't know to much about the event and how the contest was ran from a crowds perspective.  The guys behind Night of the Jumps ran the even really well and turned the comp into an awesome show for the crowd. I am stoked to have been apart of such an amazing event and to have been able to land both my flips each night.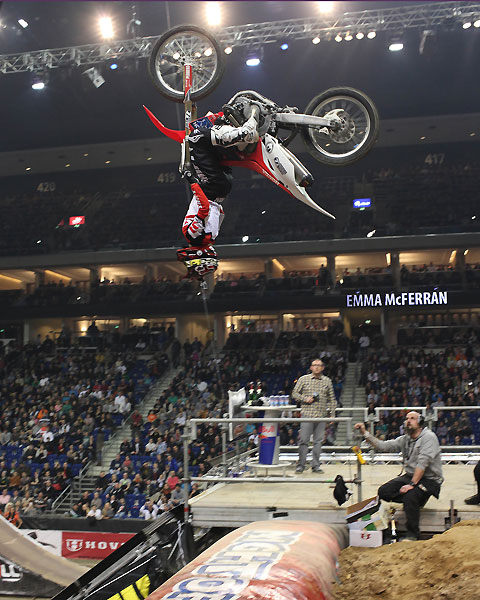 What kind of feeling was it, when you managed the flip. Was it something
special for you being the first woman ever that flipped at the NIGHT of the
JUMPs/FIM Freestyle MX World Championship?
I am so pumped to have pulled off my flips during the show! It's definitely a pretty cool feeling to think that I am the only female ever to have been apart of Night of the Jumps and to have also flipped ramp to dirt at the event. During practice I had a little trouble adjusting to the different set up and jumping the Euro kicker for the first time but I was so relieved to land each of my flips. When I got back to my room and relaxed that night, it all sunk in and I realised how pumped and lucky I was for the opportunity.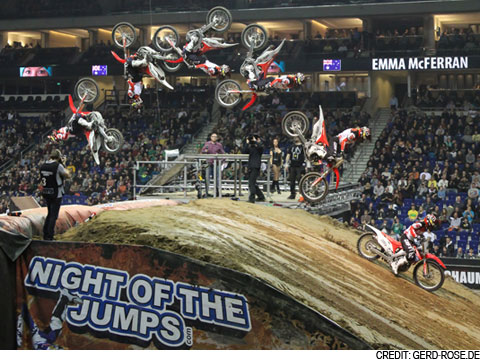 Was it the first time being here in Europe? Have you ever rode outside
Australia before Berlin? Yeah this was my first time travelling to Europe. Before last week, I had never been anywhere outside of Australia other than New Zealand. I had only ever travelled around Australia riding shows so this was for sure an amazing experience being able to fly across the other side of the world to ride!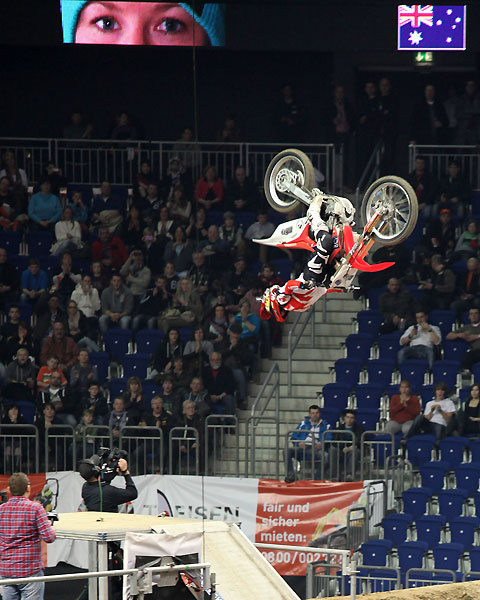 How did it come, that you did your first arena flip at the NIGHT of the JUMPs series?
When I started flipping, I signed up with Oliver Franke from Berlinièros Sports Agency who I was recommended to by Steve Mini. I was lucky enough to perform my first arena flip at Night of the Jumps Berlin thanks to Oliver who organised to get me over there and be apart of the event.
Right now only Jolene and you are riding Freestyle. Would you like to
compete with her and other girls in a contest or a series?
It's a pretty cool feeling knowing myself and Jolene are the only girls in the world to be riding freestyle! But I would love to see more girls taking part in the sport and one day have our own category at events like Night of the Jumps, X games etc. It would push my riding a whole lot more if there were other girls to compete with as right now I'm just taking it all at my own pace.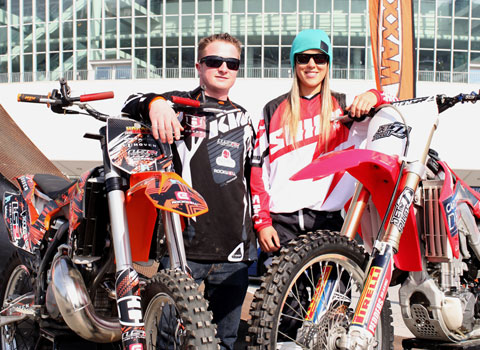 Next to the flip, what other tricks do you have so far?
Other the flipping I am currently doing Jackhammers, Supermans, Double Can Indys, Heelclickers and Seatgrabs which I need to tidy up.
Are you working on other tricks or may flip combos?
Right now I've just been focusing on the flip but I'm looking at getting off the kicker and flipping a comp ramp at a bigger distance.
What are your plans for the future?
I plan to travel overseas and do as many shows as possible. I'd also like to do a few smaller shows in my home country and hopefully have the chance to perform along side my brother Matty again.
Will we see you soon back in Europe or at the NIGHT of the JUMPs series?
I'd love to get back to Europe and ride in some more shows. I had such a mad time over there that I tried to extend my stay last minute but unfortunately was unable to. I think the guys at Night of the Jumps were pretty happy with me and it's looking like a have a few more lined up over the rest of the year which I'm really excited about.

Some facts about Emma:

Howetown: Melbourne, Australia  
Age: 25
Nick: Hazzard  
Bike: Honda 250f
Music: Pretty much everything these days  
Website: www.emmamcferran.com  
Facebook: www.facebook.com/EmmaMcFerranOfficialFanPage  
Twitter: @emmamcferran