Freestyle Motocross is all about style and design. Most of the riders are creating their own bike with passion. FORTY8.com introduces the individual and creative work of the riders.

Bike of the month February/March '14
Joel Brown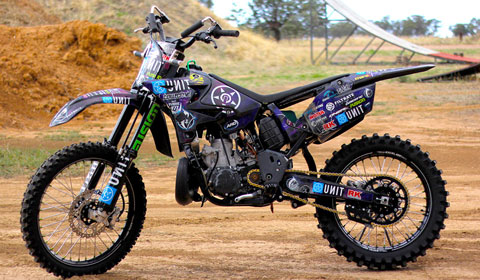 Hey Forty8 Fans,
this is Joel Brown from Griffith, NSW.  Australia. I am riding a 2012 YZ250. I try to keep my bikes engines as standard as possible, just so when I travel and get a standard bike overseas I just fit my parts and I'm ready to go. My graphics kit is made by The Collective Family in Melbourne.  The Collective know exactly what I like in my kits, and I like all of my bikes to have their own personality. I ride with a Supersprox rear 50 tooth rear sprocket and a 14 tooth front sprocket.  I find the YZ250 Standard gearing perfect for just about everything. Suspension re sprung and re valved by frank ponds at biketech in sydney. The GYTR/FMF muffler cable tied to the side plate to hug in nice and tight and jetted to suit. RAD hubs laced with oversize spokes to EXCEL A60 rims.


Click on the Thumbnails to discover Joel's bike:

Details of the components :
Black UFO restyled plastics
Renthal RC high fat bars
Sunline unbreakable clutch lever
Klayva flip levers
billet alloy fork pegs ( jackhammer flips )
GPR steering dampener
Samurai carbon tank covers
Samurai carbon ignition cover
Pro grip ribbed grip on side plates
Custom round bar subframe with grip wrapped bar and modified seat
Black gripper seat cover
Works connection frame guards with grip tape
Custom made foot hook lever dropped down so my foot fits in nice and tight
GYTR air filter
La corsa foot pegs
RK X ring chain


Follow Joel:

http://instagram.com/joelbrownfmx#
https://www.facebook.com/pages/Joel-Brown-FMX/265283403553829


Support us: Like and Share it!

Video of the month

Facebook /FORTY8Mag

Partner