Freestyle Motocross is all about style and design. Most of the riders are creating their own bike with passion. FORTY8.com introduces the individual and creative work of the riders.

Bike of the month April '14
Libor Podmol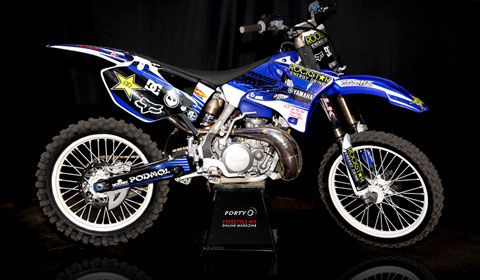 Hey Forty8 Fans,
let me introduce my lady! I have chosen the Yamaha YZ 250, cause basically I think this bike is the best two-stroke on the market. I didn't change the engine, since it has just enough power. I just add my FMF pipe for better sound and look.

Suspension is the most important thing of a FMX bike. I trust LKsuspension from Slovakia to guarantee that the landings are as soft as possible. To keep my bike always straight I use the GPR steering dampener. And for small but lovely parts like clutch, covers I have Works connection parts, so my bike feels special. I foot hook for no hand flip and flip levers for some flip tricks.

We are Freestylers and design always has been important for us. The last two years I used to have black and white design, but for 2014 I went back to blue.

I have painted my wheels white since I think it looks cool and I've never seen anyone else with white wheels. Got cool "newschool MX design" with all my sponsors and wrote down the names of my passed away buddies from riding to represent their spirit since they left for better place way too early.


Click on the Thumbnails to discover Libor's bike:

Details of the components :
FMX pipe
LKsuspension
GPR steering dampener
Works connection levers and covers
white rims
flip levers


Follow Libor:

http://instagram.com/liborpodmol#
https://www.facebook.com/LiborPodmol.FMX


Support us: Like and Share it!

Video of the month

Facebook /FORTY8Mag

Partner