Freestyle Motocross is all about style and design. Most of the riders are creating their own bike with passion. FORTY8.com introduces the individual and creative work of the riders.

Bike of the month January '14
Les Parsons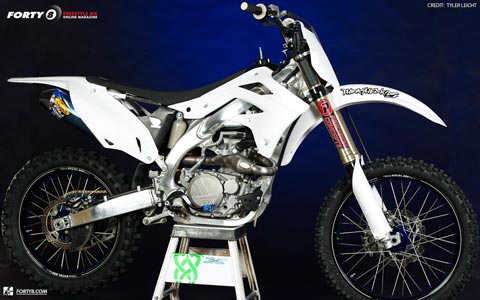 Hey Forty8 Fans,
This is my 2013 Kx450F. I've always ridden 4 strokes and in October 2012 I switched from a 250f to a 450f. All I can say is the power is unreal! A few main things help me make the decision to get the Kawasaki and that is the reliability and the power.
Reliability is the key for me, cause if you cannot fully trust your equipment then you cannot focus on riding. I run a Flo Motorsports 53 tooth sprocket to get as much use of the bottom end as I can and have a slower approach coming into a ramp to get the most pop. I use aftermarket pegs from Flo Motorsports as well for a little more support, they have a wider platform, replaceable teeth and are much lighter than stock pegs. Flo products being made from 7075 Aluminum just adds to the reliability part of things. The products are great and withstood the abuse I have put on them for the past year, couldn't be happier!
Like I said before I like to use the bottom end and the full FMF exhaust gives the bike a little more snap and sounds rad! I have a Ram Mounts Go Pro mount right under my top triple clamp at the moment, I use these as opposed to the standard mounts cause they are stronger and more versatile. It's nice to just unscrew a couple things and then reuse the mount as opposed to throwing it away, not to mention they have them for pretty much everything! (Literally)
I never had suspension done on my bikes before until I got into a jam and Rich Kearns was kind enough to let me borrow his suspension so I could keep riding. As soon as I rode with his I sent my suspension to the same company as him to have the same set up. Since then Precision Concepts has been a tremendious help! I also use a GPR Stabilizer to keep my bars in the same position I leave them in when I let go, Nothing worse then expecting them to be there and having to search for them.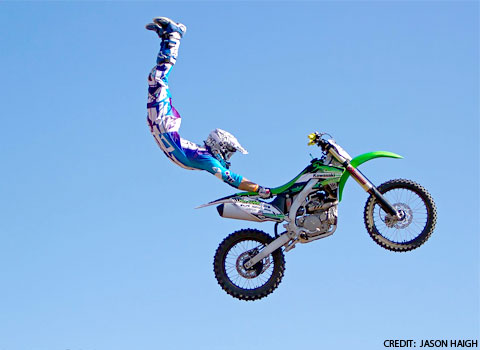 You can have the best suspension in the world but if you do not have solid Wheel set then its not going to do much good. Luckily Rad Manufacturing Hubs and Excel America have been kind enough to help me out this year! I couldn't be happier with the results from both. Being a heavier guy and having a tendency to flat land my wheels have definitely been put to the test! No issues yet!
As far as controls go I have Torc1 Racing levers, shifter, grips and brake pedal which work perfect and look sweet! Been threw a few crashes and everything is holding up great! Pretty stoked on them helping me out this year! Bars, I'm not too picky about I run taller bars at the moment but will probably end up going with a little smaller of a bend since I can't go threw the bars as it is.

Click on the Thumbnails to discover Les' bike:
Air filters...known fact that bikes do not run if they cannot breathe or intake dirt and other debris. This is why I run No Toil Performance filters. NoToil is from what I've found to be an Amazing product! First time I ran their filter with their oil I thought theres no way this thing is going to get very clean. I was wrong, I used their filter cleaner and after cleaning the filter looked brand new with no damage to the filter itself! Best of all, BIODEGRADABLE! You can wash the damn things in your kitchen sink! haha
Flip levers and a foot hook will be 2 new additions that will be going on the bike relatively soon, just need to do some research before investing.
I do not have graphics on my bike yet, because I've been waiting for some answers from a few potential sponsors, so to those who are supporting me this year I apologize!
Lets PARTY!
Les Parsons

Details of the components :
Pegs: Flo Motorsports
Sprocket: 53T Flo Motorsports
Hubs: Rad Manufacturing
Rims: Excel A-60
Air Filter: NoToil
Chain: RK Gold Chain
Stabilizer: GPR
Levers: Torc1 Racing
Brake Pedal: Torc1 Racing
Shifter: Torc1 Racing
Grips: Torc1 Racing Enduro
Header: Fmf Megabomb
Bars: Pro Taper -Pastrana Fmx
Exhaust: Fmf 4.1
Misc: Ram Mounts GoPro Mount


Follow Les:

https://twitter.com/parsonsfmx
http://instagram.com/parsonsfmx/#
https://www.facebook.com/les.parsons.56


Support us: Like and Share it!

Video of the month

Facebook /FORTY8Mag

Partner